Designated Survivor Season 1 Episode 12 Review: The End of the Beginning

Lisa Babick at . Updated at .
Goodbye, Peter MacLeish. It wasn't nice knowing you. At all.
Despite that, he and his wife's demise on Designated Survivor Season 1 Episode 12 was still a shocker.
Who would have ever guessed how committed MacLeish's wife was to whatever crazy cause they were involved in that she'd actually kill him and then kill herself?
I suppose in her mind it was the only logical solution to a problem they weren't going to be able to escape. MacLeish was busted, and if he was busted she would be too. 
There would be no mercy for them for their involvement in the Capitol bombing.
But now that they're gone what does that mean for the investigation?
The only lead Hannah and company have is a picture of the woman who threatened Atwood. Is she the mastermind behind all this craziness?
Who else is involved? There has to be others who have connections to the White House, right?
After Designated Survivor Season 1 Episode 11, I was convinced that Hookstraten had nothing to do with the bombing, and I'm still holding fast to that belief.
She's definitely out for herself. She made that quite clear to Aaron, but she starting to come across as a straight arrow.
It all might be because she sees everything she does as one step closer to getting herself into the Oval Office, but she wants to find the truth about the bombing too.
If she was involved, she wouldn't have been so persistent at finding out what happened to the shooter. And she wouldn't have been so shocked at what Aaron told her.
She's one tough bitch, that's for sure. She just might be the person Kirkman is going to need by his side to get through the MacLeish ordeal.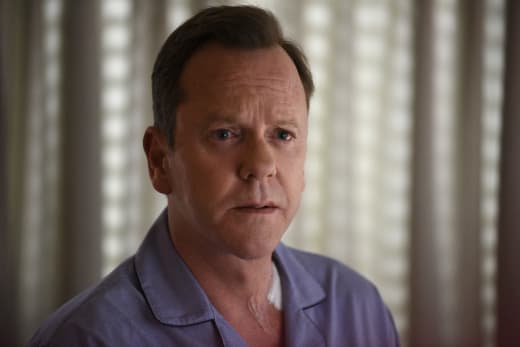 If Kirkman feels he can trust her. 
He was so hell bent on getting MacLeish,  
I wonder how he's going to react when he finds out what happened.
He's probably going to realize he's dealing with something much more dangerous than he ever thought.
And he'd be right. Right now he's as clueless as we are at this point.
MacLeish getting shot by his wife wasn't the only shocker this hour. 
Atwood losing his boy was a hard swallow, but it showed just how dangerous this conspiracy is.
Of course, the people behind the bombing wouldn't keep up their end of the deal, but it's too bad the boy had to die. 
No one is safe.
And Kirkman is learning a few new rules about being President. 
One of the complaints I had earlier this season was why he was so open with Alex about everything.
Well, that door finally closed thanks to Hannah and Mike. 
Alex might be the First Lady, but who's to say she's not involved? 
Granted Mike was saying that the circle needed to be closed to protect people, but still. How do we know she's not involved?
At this point, no one can be trusted.
But you have to admit, Alex realizing she was being cut out was sort of heartbreaking.
But I'm glad Kirkman is finally acting like the president he's supposed to be. Keep the home life at home.
Alex: What is going on? Is it MacLeish?
Kirkman: I can't tell you.
Alex: I can handle it.
Kirkman: Alex, you're not hearing me. I can't tell you.
Alex: You mean the President can't tell me.
Kirkman: Right now we're one and the same.
What did you think of "The End of the Beginning"?
Were you surprised at the MacLeishes? Do you like Kirkman's new tight circle stance? Is he being unfair to Alex?
Hit the comments and share your thoughts.
If you need to catch up, you can watch Designated Survivor online right here via TV Fanatic.
Lisa Babick is a staff writer for TV Fanatic. Follow her on Twitter.