Emerald City Season 1 Episode 10 Review: No Place Like Home

Lisa Babick at . Updated at .
Right now, I have a love/hate relationship going on with Emerald City.
If the series ends with Emerald City Season 1 Episode 10, I will not be a happy camper. Not just because I've enjoyed the series and want to see a second season, but also because there were too many questions left unanswered.
Sorry, David Schulner and Shaun Cassidy. The story isn't complete.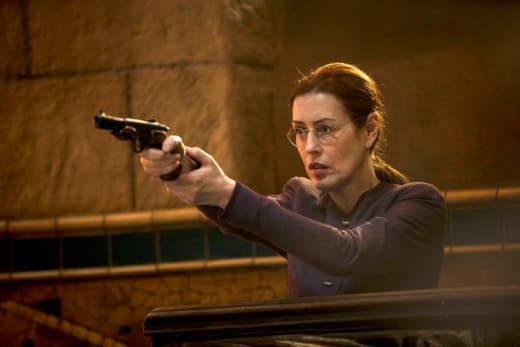 The best part about the entire Emerald City series was West and Tip. There was nothing that could compare to their chemistry and camaraderie. They were perfect together.
I loved how they each looked out for one another, like a mother and daughter. It was beautiful to watch. 
It's just too bad Tip had to give up who he really wanted to be to fulfill his destiny. Once he put on that crown, Tip was no more. 
I was sort of torn about what Ozma did to Eamonn. It would have been much easier if she would have killed him, but what she did was much more cruel. To take away his family's memories of him so they had no idea who he was was the ultimate punishment.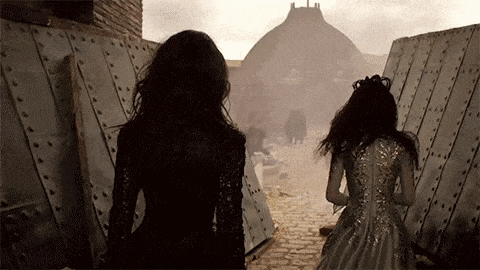 I bet Eamonn wishes he wouldn't have just killed her when he had the chance. But he was acting on Frank's orders. If he didn't do what Frank wanted then who knows what kind of horribleness Frank would have done to Eamonn's family.
Not that what Eamonn did was right, but he had to make a choice. And it's something he had to live with for the rest of his life. 
I'm guessing that he was the one who brought Ozma to Mombi to hide, but how did he know about Mombi? And why did she agree to keep Tip as Tip for him? What did she get out of the deal?
Ozma became a little bitch at the end too. How did she go from being so compassionate to being so cruel? Is that what power does to someone? Wasn't it enough that she took his family away from him? What was the point of casting him out as well?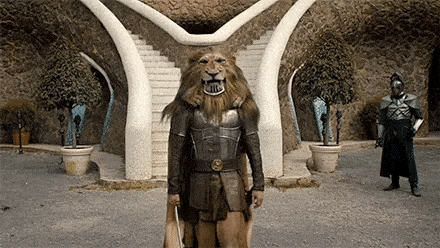 Dorothy showed some of her wrath as well after Frank went crazy on the witches and tried to slaughter them with the guns. She'd seen enough and went after Frank, but as it turned out the guns didn't do anything to the witches but stun them for a bit.
The biggest question I have is what exactly is Dorothy? Is she a witch? And if she is, does that mean Jane is a witch too?
Because if Dorothy's not a witch then how was she able to use East's magic? 
And why did Jane send Dorothy back to Kansas while she stayed behind? Was Jane the real Wizard of Oz and Frank was just her curtain?
I always wondered how it was that Frank was able to gain control over the witches and it would make sense that there was a woman behind him who was the brains of the outfit. Doesn't it?
Why else would she stay behind if she really didn't have to? Why wouldn't she have gone home to be with her daughter? Why send her with Karen?
Glinda had her standoff with Dorothy, but nothing really came of it. They sort of stared each other down then they all went back to Emerald City.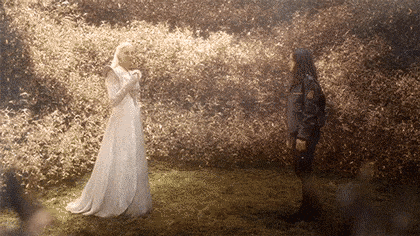 Glinda was a bitch to West, which wasn't surprising and nothing seemed to be accomplished on that front. She didn't seem very impressed that Ozma was back. 
Why couldn't West just zap some sense into her sister? Why does she always seem to be groveling around Glinda? I'd love to see a showdown between the two of them. West would kick her ass once she got her groove on.
It was disappointing to see Frank die the way he did, even if it was poetic justice.
But it's also disappointing that Vincent D'Onofrio will be done with the series if it's picked up for a second season. I loved his portrayal of Frank, and his absolute meltdown at the end was phenomenal. 
Don't even get me started on the violence that came to Jack. Was it all really that necessary? Were the soldiers just taking out their anger and frustration on the helpless Jack because they could? 
I'm glad he survived, but still. He didn't deserve what happened to him. What was the point of all that violence?
I'm not too happy with how the season ended. It would have been nice to have had all of our questions answered...to have some sort of sound conclusion should the series not be renewed (ala The Exorcist), The red-skinned man was enough of a tease to make me want to tune in again next season.
And I really like how it ended with Lucas and Dorothy reuniting, but did it really make sense that he was there to take her home? If Jane wanted her home, why send her back to Kansas in the first place? Or was that him telling her he was bringing her home?
See what I mean?
What did you think of the season finale?
Will you be satisfied if the series ends? What questions do you need answered?
Hit the comment and share your thoughts! If you need to catch up, you can watch Emerald City online right here via TV Fanatic.