The cherry trees may be blooming in DC, but young love certainly is not.
Relationships were falling apart left, right, and center on Madam Secretary Season 3 Episode 14, but as always, there was still work to do. International aid deals wait for no broken hearts.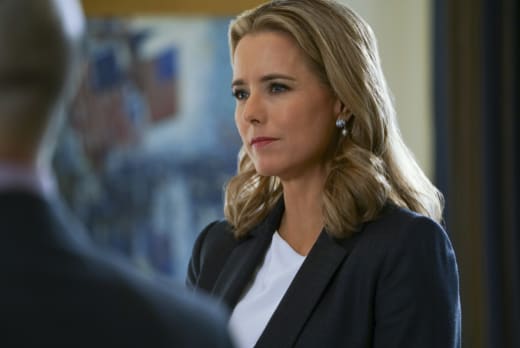 Daisy's heartbreak was the most unexpected, and the one I don't regret. Her beau seemed liked a boorish bro-dude, but turned out to be a CIA operative using the job at State as a cover. I'm not sure yet if this redeems him or makes him even more reprehensible. 
At the very least, it does get MS back to it's Season 1 thriller roots. 
Honestly, Daisy may be mourning lost possibilities, but did anybody think those two had a future beyond a few very hot and heavy rolls in the hay? Kevin, or whatever his real name was, was a palette cleanser, not a prince charming. 
I'm just hoping that Matt isn't waiting in the wings to pick up the pieces yet again. I'm not against those two pairing up again and making it work, but it can't be on such uneven terms. He needs to be the one to go out and date some perfectly nice, beautiful woman
The jealousy needs to go both ways.
What's with women and the fairy tale? Even if you grow up thinking you want to look life square in the eye, there's still this part of you that's...looking for the pink, bubbly, happily-ever-after thing.

Elizabeth
We already knew Jay's marriage was on the rocks, and Abby's not-quite betrayal actually seems par for the course to me. Not sure why she's calling *his* best fried, but it was probably the same instinct that led her to get the terrible suburban mom stacked pixie haircut.
Of course, it's hard to believe Scott is his best friend when Jay doesn't recognize his phone number. Or did Scott pick up a burner phone just to talk to Mrs. Whitman?
The whole overly convoluted plot was totally worth it for all of Blake's buttinsky comments, and the revelation of his love of Dateline.
Matt: Is this more Dateline?
Blake: It's semi-legitmate journalism.
And the Venezuelan Foreign Minister's obsession with Costco big box stores totally made his presence worthwhile. Honestly, just having Colombia and it's insurgent guerilla groups make peace would have been a big deal, adding in the MOU wasn't really necessary.
Except that it facilitated the whole exchange in her office. I swear, I nearly choked on my drink because I laughed so hard and then I couldn't stop giggling. 
Offering Hamilton tickets or a box store membership is just too ludicrous for the writers to come up -- it had to be sourced from the DC rumor mill about one or more actual diplomatic negotiations. 
Foreign Minister Rojas: What about a membership at one of those big box stores you have here?
Elizabeth: Yeah. You bet.
Rojas: Inflation in Venezuela makes prices on basic goods very high. So if I could purchase a few things in bulk, even with the cost of shipping, I'd be a hero to my mother.
Elizabeth: Oh, yeah. I get it. I've got a pantry full of toilet paper. We're gonna make that happen.
The other thing that bugged me about the "Romeo & Juliet" peace deal visit was Stevie. Oh Stevie, it's not your fault. But after losing the poet laureate, who the hell would give make you responsible for somebody as important as Soledad seemed to be? 
I just hate hate hate this arc. Isn't Stevie still in school? Does the ethics office not exist in this universe? Has no (rightly) disgruntled staffer leaked to the press about this egregious act of nepotism? I know they want her as a more regular cast member, but yeesh.
Elizabeth [after Stevie describes what a Memorandum of Understanding is]: It's nice to know that *one* of my kids listens to me.
Stevie: Actually, I was listening to Russell Jackson.
Although, at least I have feelings about Stevie's arc. I'm completely ambivalent about Henry's current operation, although I still wonder exactly what his weekly schedule looks like every time he's shown at some undisclosed monitoring location. 
He's still at the Military College right? Does he have class on Monday and Wednesday, then run ops on Tuesday and Thursday, with open office hours Friday before noon? 
For all my snark, and generally not caring about whatever the militia they're hunting down, I'm holding out faith that it'll all connect. We haven't been let down on that front so far, so I'm willing to give it time.
Seriously, it's like The Bachelorette, but with righteous politics and world influence.

Matt
Going forward, Elizabeth is going to have a tough call to make when she faces something that so many women have -- workplace harassment. I'm really looking forward to her punching the guy in the face on Madame Secretary Season 3 Episode 15 ("Break in Diplomacy").
Of course, I'm also a little confused that that's the biggest problem with the Philippines' "controversial" new president, since his real world counterpart has much more serious baggage. Still, it's good to have a light shone on such a pervasive problem that usually gets laughed off or disregarded.
Elizabeth KO-ing a foreign leader won't be the only bit of excitement though. The Secretary has Jay trying to ferret out just what Kevin did for the CIA and why he was in the State Dept. It doesn't really seem like his wheelhouse, but it's a good distraction from his marital woes.
There's no distracting Henry from worrying about Ian though. He might not like him or feel as responsible as he did with Dmitri, but he's a man of action. Waiting by the phone will never be his strength.
Foreign Minister Rojas: Nevertheless, I must go back to Caracas and rather awkwardly withdraw my support for your memorandum until the situation is settled.
Elizabeth: Can you just stick around for another day? Just give us a chance to straighten this out? Anything you need, my staff will provide it. And...I might have a lead on a couple of Hamilton tickets. We'll get you up to New York. Stay at the Plaza Hotel.
Rojas: Eh, I've already seen the original cast.
If you were left a little confused after the month long hiatus, remember that you can always watch Madam Secretary online to catch up on the seemingly minor arcs. If history is any indication, the smallest of details can end up being super important, so go refresh your memory!
And as always, we want to hear what you thought about "Labor of Love." Will Daisy ever be happy? Should Stevie be fired? Will Elizabeth ever find a jacket with full length sleeves? Do you like the attempts at the ensemble, or should MS be all Elizabeth, all the time? 
Elizabeth Harlow was a staff writer for TV Fanatic. She left the organization in October 2018.