In back-to-back episodes, team members deal with the ghosts of their past, so they can move unfettered into the future.
First, Pride and Rita tentatively start again on NCIS: New Orleans Season 3 Episode 17.
First, Rita is proving to be an able ally for Pride in her position of ADA. She's going to be helpful to him as he attempts to bring down corrupt Mayor Hamilton.
Pride knows Hamilton is dirty, but Rita knows where to look to find the evidence that he needs to prove it. 
Rita is the one who discovers Hamilton has been denying development in the rundown Clearwater neighborhood. Why is the question that she and Pride still need to answer.
Which could get tricky, since Hamilton knows about their past and renewed relationships.
Clearwater is at the heart of this case of the week. The question the team needs to answer is why a decorated Marine attacks a bar owner and a pawn-shop owner.
It was obvious that the Marine, Brossette, who his neighbors painted as a savior, had a good reason for his rampage. Pride got on his side when he learns that women, including Brossette's wife, are being abducted as part of a sex-trafficking ring.
Rita understood the circumstances in the end and rightfully agreed to help Brossette all that she could.
Hamilton interfered with the investigation all the way through, which makes me wonder if he knew about illegal activity in that neighborhood already. He wants to keep Clearwater out of the public eye, for some unrevealed reason.
He just keeps appearing on the fringes of a lot of crimes, so he's in deep.
Pride is out to corner the elusive Hamilton, but he has only his gut to go on. But in a morally ambiguous political climate such as New Orleans, he really needs irrefutable proof.
That's where Rita comes in. She's inside the justice system and has access that Pride doesn't, barring Patton gaining it illegally, which won't stand up in court.
Also, as Gregorio points out, a relationship with Rita is good for Pride. He needs to lighten up and have a life outside of work. 
Everyone on the team seems to be aware of this budding romance, except Loretta for some reason. She needs to go out to Pride's bar more often to keep up on the gossip.
The husband-and-wife team of Scott Bakula and Chelsea Field are great together, so why not have more of that? Just don't let it be a cheap ploy and kill her off by season's end. Pride deserves better.
Gregorio got her fresh start on NCIS: New Orleans Season 3 Episode 18.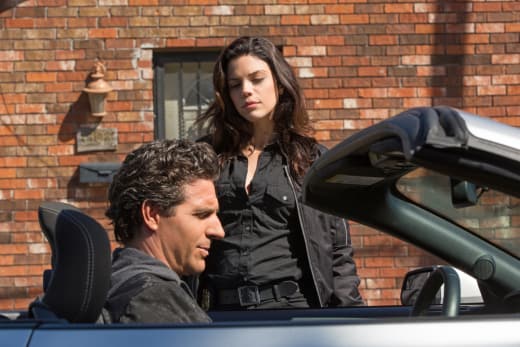 Ethan McKinley, her con-man ex-husband, was back in town and looking for her help, after he became a suspect in the murder of a crime-family member.
It turned out Ethan wasn't totally a FEMA funds-embezzling scumbag. He's a scumbag, no doubt, but he also helped the FBI set up the head of the Aufiero crime family. But as Pride pointed out, that was an act of survival, not altruism.
When it comes to Gregorio, he's got a lot of 'splaining to do. He's the one who forced her to leave N'awlins the first time, but he's also the one that put her on the path to becoming a law-enforcement agent. So Ethan figured he did her a favor, helping her to find her true self.
She rightfully didn't agree.
It was an interest sting that Ethan conjured up to ensnare the Aufiero brothers, even if it was rife with self-interest.
It was fulfilling to see Gregorio finally out-con the con and bring him in, and also to recover the FEMA funds that she had felt responsible for all of those years.
And cheers to Percy for being a good friend and trying to get Gregorio back in circulation. It looks like Gregorio might finally be ready to move forward.
So it appears that Pride vs. Hamilton is likely to be the ongoing storyline for what's left of the season. It's about time for Hamilton to go anyway. Parts of New Orleans need help that a slimy, self-interested politician isn't likely to provide.
King Pride for Mayor! Not likely to happen, I admit. There's too much grey to fit into Pride's black-and-white world.
To catch up on Hamilton, watch NCIS: New Orleans online.
How are you liking Pride and Rita? Was it healthy for Gregorio to get some closure? Wasn't it a nice change of pace for Sebastian to again be seen as competent, even if he still was comic relief to a degree? Comment below.
Dale McGarrigle is a staff writer for TV Fanatic. Follow him on Twitter.