The Vampire Diaries Season 8 Episode 15 Review: We're Planning a June Wedding
Paul Dailly at . Updated at .
What happens when Katherine Pierce gets wind of the love of her life marrying someone else?
A hellish, explosive and downright shocking wedding. 
Yes, you guys, the Steroline June Wedding was the primary focus of The Vampire Diaries Season 8 Episode 15 and, boy, it was it a fantastic hour of television.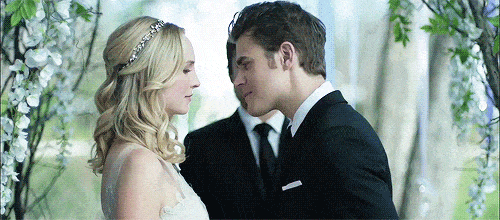 Who knew Stefan and Caroline would be getting married under such dire circumstances? I mean, they've been to hell and back. (Not literally; that seems to be what it takes to become a Donovan these days.) 
So much has happened between them. The odds were stacked against them from the start, but seeing them get their happy ending was a powerful moment for the series. 
Let's talk about how stunning Candice King looked as a bride. Have a look...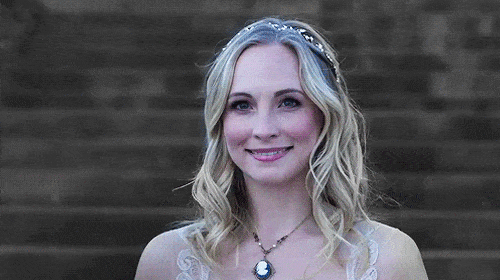 The award for the best-dressed bride on the small screen has to go to Caroline Forbes. 
It's just a shame that their moment of happiness was short-lived. Let's face it: We all thought Katherine was going to make an appearance at the nuptials. 
She was poised to return and snap Caroline's neck to reclaim her man. If you watch The Vampire Diaries online, you will know Katherine Pierce is one smart cookie, so taking her down for good was not going to be an easy task.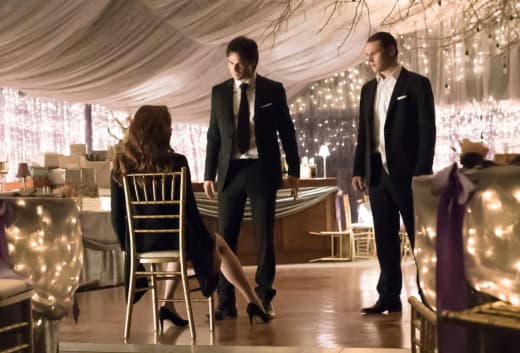 It was ridiculous to realize that Kelly died around two years ago and no one seemed to give a damn. Hey, it sucks to be a Donovan.
Melinda Clarke was a delight as this unhinged version of Matt's mother with a murderous streak. She was pissed because she was chased out of town by her son, but did she stop to think about all of her sins?
When she died from the fall, she must have been thinking about ways to make the residents of Mystic Falls pay. To an extent, Vicki died. She deserves a little bit of slack, but she never really cared about Matt. 
If she did, she would not have carried herself the way she did, trying to sleep with the first man/teenager in sight. I liked Peter's optimism about this clean slate with his baby mama. 
That confidence probably resulted in him dying a slow and painful death after being hacked and slashed by his former love. Seriously, this show really hates the Donovans and the Bennetts. 
They're the most unfortunate families on all of TV. 
After the reveal that Matt was the one who brought Kelly and Vicki back, I think he'll be the one to perish on The Vampire Diaries Season 8 Episode 16. 
Being a Donovan must be Matt's personal hell, and I don't see him reacting well to the news that he was partly responsible for bringing hell to Mystic Falls. 
Vicki's return was already spoiled weeks ago on Twitter. As with any spoilers, I take them with a pinch of salt until there's confirmation they are, indeed, real. 
Bonnie (apparently) dying from the bell ring was horrible. If she's dead, I think most of the fanbase will rule the end of this iconic series a dud. 
Yes, she was linked to Elena, but I thought there would be a new and creative way to bring Nina Dobrev's alter ego back.
The manor exploding made me gasp. As soon as Bonnie and the twins made their way to the restroom, I just knew it was blowing up with them inside. 
Bonnie was prepared to give up her life in order to be with Enzo, and I just could not deal with it. Good old deceased Lorenzo showing up to tell his love to live a happy life was great and all, but the emotional impact of that scene will be gone if she is dead. 
Poor Bon-Bon was contemplating not even attending the wedding in the first place. Obviously, dealing with Stefan was going to be difficult for her. 
She knew he was in full-blown ripper mode when he forced Enzo to part with his heart, but it was still very raw for our favorite witch. She needed time to heal before forgiving Stefan. 
That said, Bonnie showing up in that gorgeous dress for the wedding was delightful. We all know how much Caroline likes planning things, so having her rush her wedding was a travesty. 
Getting married wearing Katherine's necklace was yet another blunder on the big day. At least she ended the day married to a human. 
As much as it sucked that Alaric didn't attend the wedding, it was so nice of him to call in a favor with Valerie allowing Lizzie and Josie to accompany their mother on her big day. 
Valerie was one of the better new characters on The Vampire Diaries Season 7, but I don't want her doing any spells on the series finale if we don't physically get to see her. 
If she's not returning, she can keep her spells out of the narrative.
Alaric revealing to Dorian all of the crazy things that bonded our gang as a family was another solid moment. The episode did have all the nostalgia of a series finale. 
We've all made terrible mistakes in our lives, done things that no apology can heal, but you just have to keep going, trying to find some new happiness — no matter how much you've lost. The strange thing is, losing those people is what brought us together. It's how we found each other. It's what made us family.

Alaric
I really don't know where they're going with this, but I can't wait to see how it all ends. Bonnie's apparent demise naturally leads the way for Elena's return. 
Let's hope she had a good nap because she's going to need to have her wits about her to put her doppelganger in the ground once and for all. 
Other tidbits from the episode:
Damon handing Caroline over the necklace needed to happen. Even though he can be selfish as hell, Damon respects Caroline. Caroline has to put up with him because he's now her brother-in-law. 
I vote more drunk Stefan before the curtain call. 
Bonnie dancing with both Damon and Enzo was poignant. They are the two best men in her life. 
Can Dorian and his crazy file of Stefan's kills just disappear now? 
Over to you, The Vampire Diaries fanatics. What did you think of the penultimate episode?
Hit the comments!
The Vampire Diaries' series finale airs March 10 on The CW!
Paul Dailly is the Associate Editor for TV Fanatic. Follow him on Twitter.