The Vampire Diaries Season 8 Episode 16 Review: I Was Feeling Epic
Paul Dailly at . Updated at .
Series finales can go one of two ways: They can limp to the finish line, or they can be a satisfying affair that brings a series full circle in a natural way. 
Thankfully,  The Vampire Diaries Season 8 Episode 16 was a beautiful ending to a series that has struggled creatively for the past few seasons. 
Let's talk about Stefan's sacrifice first. It made sense. There was no way Stefan was going to be able to apologize for the things he did in the past, so the best way to do so was to sacrifice his happiness to allow everyone else their own.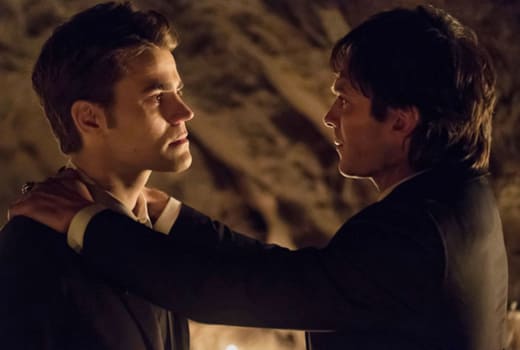 Giving Damon the cure and taking Katherine to the bitter end of her existence was his way of atoning for everything he has done over the years. The battle he had with Damon over who was going to die solidified the Salvatore brothers' strong bond. 
Neither of them wanted to see the other die, but one of them had to go. That was the only way to save the lives of many and send Katherine Pierce back to wherever the heck she was going. 
I genuinely thought Damon sacrificed himself. But as soon as we saw Elena meeting up with Stefan, I knew Stefan had sacrificed himself.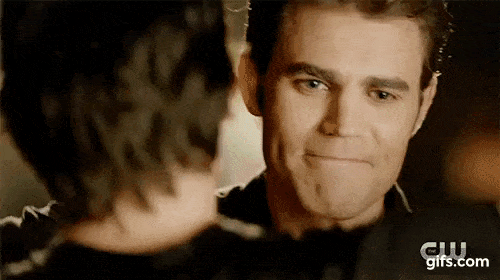 Stefan's final meeting with Elena was a tearjerker. Poor Elena was trying to figure out what the hell Stefan meant as she questioned whether she had woken up from the sleeping curse. 
I managed to keep it together for the most part, but when "Never Say Never" by The Fray started playing as Stefan met up with Lexie, I lost it. It hit me right in the feels. I'm sure I wasn't the only one. 
Caroline knowing what Stefan did for everyone was obviously something she would struggle to get over, but Elena telling her Stefan got her message helped her move on. 
Hey, at least they got their June wedding. It would have been horrible if they passed on without getting married. There were seeds peppered throughout the early episodes of the series that these two would become a thing at some point. 
It took the retrospective special for me to get to grips with that. I remember I scoffed at the very idea of the two of them becoming a thing because it just felt off. I grew to like them together, and I'm thankful we got to see their wedding before the ultimate sacrifice. 
With Caroline helping out at the Salvatore Boarding School, she's keeping busy in the aftermath after the vast loss in her life. Alaric has not been my favorite character over the past few seasons, but he made perfect sense when he told Caroline to get out of Mystic Falls. 
He may not be in a relationship with Caroline, but he holds her dear to his heart, and they have the twins together. He knew he could not have explained to the kids that their mother was dead without falling apart. 
There's no doubt in my mind that Caroline would have made the sacrifice with Stefan if she did not have Lizzie and Josie. She would die for love, but now that she's a free agent, does that pave the way for her to make a go of things with Klaus?
He did lose the love of his life on The Originals Season 3, so there's probably a good chance of it. Klaus did say in the past that he would be Caroline's last love. It would be a great storyline to be explored, but I don't see The Originals taking place in Mystic Falls very much. 
Bonnie's plan to do the spell was a daring move. She did not think she was strong enough and I was fully prepared to watch her die. This show hasn't been good to the Bennett family, so I wouldn't have been surprised if Julie Plec appeared on screen to stick the knife in herself.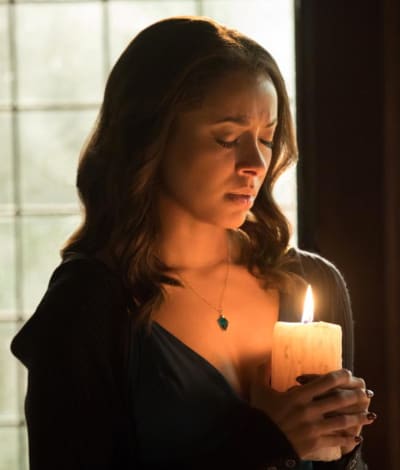 Breaking the sleeping spell seemed a little too easy when you consider the fact that Kai explicitly claimed that any attempts to break it would bring a whole lot of death with it. 
Seeing all the ancestors helping Bonnie was cool, but I'm not buying her breaking the spell. It seemed easy. Bonnie should write a tell-all and title it, "Bonnie Bennett: My Life as a Loophole." 
Seriously, the number of loopholes that woman has managed to find in magic is crazy. Her moving on to travel the world with Enzo at her side was the best way to wrap things up for her. 
Having the spirit of Enzo with her wherever she goes is better than not having him at all. 
Elena living a happy life as a human with Damon was a perfect end for me. Being a vampire was not something Elena ever wanted, so living out a natural life with her one true love made it all worthwhile. 
I guess the whole afterlife thing was each character's representation of what peace looked like for them. Yes, it was very peaceful, but who the heck would want the likes of John Gilbert next to them in the afterlife? I'd take Katherine Pierce any day.
"I Was Feeling Epic" did The Vampire Diaries justice. Beforehand, I wasn't ready to see the show I've spent eight years of my life watching, loving, hating and loving again just disappear into the ether. 
It was a love letter to the fans who have stuck with the series through the good and the bad I'm thankful to have spent the time getting to know this world and its characters. 
It was poignant, well-acted and nostalgic. There was nothing more I could have asked for of the finale. Getting to see everyone make it to their place in life was amazing, and I can't wait to watch the series again down the line. 
Over to you The Vampire Diaries Fanatics! What did you think of the last-ever installment of this vampire drama? Did it leave you wanting more, or was it the perfect way to say goodbye to the fans?
Hit the comments below. 
You can watch The Vampire Diaries online right here on TV Fanatic if you want to relive any of the crazy developments. 
Paul Dailly is the Associate Editor for TV Fanatic. Follow him on Twitter.