Arrow Season 5 Episode 19 Review: Dangerous Liaisons
Paul Dailly at . Updated at .
The cracks are really starting to show amongst the members of Team Arrow. 
That much was all but confirmed on Arrow Season 5 Episode 19 when Felicity sided with Helix in her quest to save the world from the wicked Adrian Chase.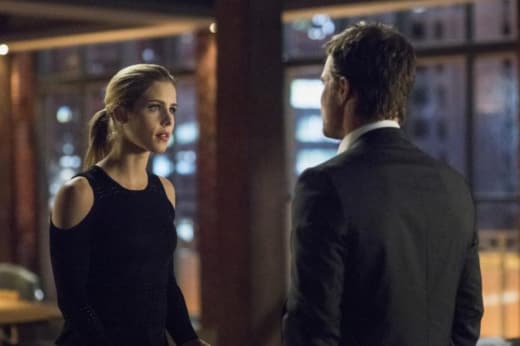 Here's the thing: I don't trust Alena one bit. The way she was giving Felicity information on a need-to-know basis made me think the worst of her. 
Now, that's not to say I expected her to tell Felicity her deepest, darkest secrets, but Felicity was showing a lot of trust in the hacker group. Trust is something any functioning team needs, but it's scarce on Team Arrow. 
Felicity did what needed to be done, and all she wanted was for her team members to support her. Even though they were all wanting to take down Adrian, Felicity buddying up with Helix was risky. 
Sometimes, you need to take risks to get results, and that's what I liked so much about Felicity tonight. In the past, she's been relegated to the periphery while Oliver made every dumb decision he could think of. 
Maybe he'll think twice from here on out about undermining her. It has been teased to death that Felicity is going to go dark, but I don't see it that way. It's more like she's getting the stuff done the others in the team can't do. 
Alena disappearing was not entirely unexpected. Killing the agent earlier in the episode gave me some flashbacks to Kacey Rohl's role on NBC's ill-fated Hannibal. 
She wanted Felicity to think that killing the agent was an accident, but she knew fine well what she was doing. If Helix has taught us anything over the last few episodes, it's that they know their stuff when it comes to hacking. 
I loved the twist with the computer blowing up. If anything I expected Adrian to throw one of his flying stars at Oliver and Felicity to signify that he was ready for one last fight. 
Having Oliver and Felicity trapped in the lair will probably turn out to be therapeutic for them. They have so much to discuss and having them confined to the lair in a life or death situation will be the best way for them to hash it out. 
Elsewhere, did anyone else tear up when Rene got to meet Zoe? It's crazy how I hated Rene at the top of Arrow Season 5, but now, he's one of the better characters. 
He had some demons he was battling, and that's part of the reason he wound up losing his daughter in the first place. More than anything, he seemed embarrassed to meet Zoe. 
He failed her as a father, and he was scared she would resent him for the way her life turned out. It was unsettling to see the reaction on her face when she realized there was no way she was going home that night. 
The poor kid witnessed the death of her mother, so she can understand how it all went wrong for Rene. It was poignant that Lance was the one who orchestrated the whole thing. 
He would give anything to be reunited with Laurel, so helping Rene was the next best thing. Rene has forged a great friendship with Lance over the past few episodes, and I hope to see that continue. 
I can only imagine what the heck Black Siren is going to do to poor Lance when she arrives back in Star City. She's wicked. 
Finally, it seems that Lyla really has changed since taking on Amanda Waller's role. The bulk of Diggle's rage about the man not getting a trial was down to the way he was treated unfairly earlier in the season. 
He felt like he was speaking to someone who was not his wife. Lyla has been very understanding and friendly, but she was very calculating tonight. She knew this was a chance to strike Helix, so she went for it. 
I liked that Helix managed to trick her and went elsewhere, but something tells me Lyla and Diggle are going to have some tough conversations about their future. 
"Dangerous Liaisons" was a solid episode of this CW drama. Thankfully, the storylines are getting more interesting as we approach the conclusion of the season. 
There's no way we've seen the last of Helix. They know a lot more than they're currently letting on and that will likely be part of next season's mystery. 
Remember you can watch Arrow online right here on TV Fanatic. Get caught up now via TV Fanatic!
Over to you, Arrow Fanatics! What did you think of the episode?
Sound off below!
Paul Dailly is the Associate Editor for TV Fanatic. Follow him on Twitter.