When it comes to attraction, sometimes your head and your heart have nothing to do with the equation. 
Jane (or Jane the horndog), found herself lusting after Fabian on Jane the Virgin Season 3 Episode 16. Fabian seems like a sweet enough guy, but it's not his intellect that Jane is drawn to. Have you seen those abs?
That's not to say there was a lack of emotional depth going on in this installment. The topic of grief and moving on was never far from the narrative forefront.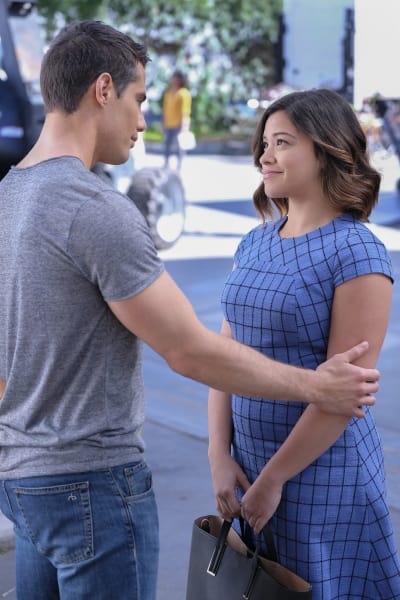 There was no denying Jane was after Fabian's body. It's been three years since Michael's death, so Jane hasn't been physical with a man for a long time.
Despite his surface level interests and intellect, Fabian actually turned out to be a nice guy. Even though he wasn't reciprocating Jane's attraction at first, Fabian was nice enough to try to help her gain more Twitter followers. 
He also genuinely seemed to admire Rogelio and wanted to get on his good side. This could all turn out to be an act, but I don't see Fabian as being that devious of a human being. 
Fabian also earned more points when he showed up at Jane's book fair. He took an interest in her and ended up developing the same attraction and asked her out (followed by making out!).
I loved the lusty water falling on their bodies daydreams. They looked downright hot and the actors looked like they were having a lot of fun.
Jane was more than ready to get back into bed with another man, specifically Fabian. If we're thinking about Jane's journey since Michael's death, someone like Fabian is the perfect choice for Jane's current state of mind. 
The possibility for a long term relationship with Fabian is slim to none. However, Jane isn't ready to emotionally move on from Michael just yet. Jane's resistance to using her personal history to market her book was a perfect representation of where she is in the grieving process.
The novel could be a huge hit, but the marketing team needs to be able to sell a book by a brand new author. In this day and age, terrific reviews won't be enough.
Jane's personal life would easily up the book sales. I understand Jane wanting her writing to stand on its own merit, but that's not always how the world works.
We as the viewers tune in each episode because we find Jane's life compelling. Therefore, it only makes sense for her to use her life as a way to sell more books. Her life has definitely been anything but boring.
But Jane's reluctance goes so much deeper than she initially lets on. Jane doesn't want Michael to become an anecdote. He wasn't just someone from her past she used to love. He's someone she will always love.
Which is to say, you're in a long term relationship with grief. But it has to evolve, and it's okay to keep letting go. You have to.

Alba
While Jane and Alba were always close, there's a new level of intimacy that's developed since Michael's death. Jane and Alba lost their husbands. They can relate to each other in a way Xo can't fully understand.
Alba points out something extremely profound about the grieving process. It's never over. Grief is something that you carry with you. Some days are more painful than others.
The story Alba told about being at the grocery store and seeing her husband's favorite ice cream was important for Jane to hear. Even if your daily thoughts aren't focused on the person you lost, that doesn't mean they aren't always a part of you.
Even the idea of moving on can hurt. Moving on with your life means having to let the person you loved go. The letting go can also bring on more grief and guilt.
Jane's attraction to Fabian is a step in the right direction, but he's also a comfortable place for Jane to settle at the moment. She can be sexually attracted to Fabian while still loving her deceased husband.
The tricky, more emotionally complex scenario will occur when Jane begins to develop real feelings for someone. Jane just isn't there yet.
Much of the focus has been on Jane's journey's since Michael's death, but there were others who cared deeply for him. Rogelio had barely mentioned Michael since the time jump.
Listening to Rogelio talk about not wanting to replace Michael was getting me all misty-eyed. Their bromance was one of the highlights of the show for me.
Michael was my best friend. I really loved him, and I still think about him every single day.

Rogelio
Rogelio probably didn't have much of an emotional outlet when Michael passed away. He was barely on speaking terms with Xo, and he didn't want to burden Jane with his grief. 
So Rogelio had been keeping his feelings in about losing his best friend for three years. Michael was important to him, and the idea of getting mani-pedis with Fabian scared Rogelio. 
But moving on is part of the grieving process. He loved Michael, but that doesn't mean he should miss an opportunity to develop new friendships. 
Not only are the writers thoughtfully crafting Jane's journey through grief, but they are also walking us through our own journeys. Alba's speech to Jane about needing to move on but still remembering the past could easily relate to how the audience is watching the show now. 
Time may not heal all wounds, but those wounds begin to hurt less as time goes by.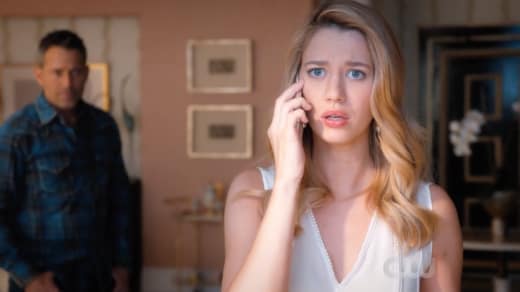 Elsewhere in the episode:
Luisa and Rose finally returned since the time jump. So have they just been traveling this entire time? I found it interesting Luisa hasn't been allowed near Rafael's twins. Luisa has made many questionable, if not downright idiotic decisions, but maybe wanting to be close to her family will finally get her to see the light about Rose.
Now we know Rafael and Elvis were setting up surveillance to spy on Luisa, not Petra. If only Rafael knew Eileen wasn't really Eileen!
Alba was really quick to assume Jorge was dumping her. She pretty much shut him down the second she told him she wasn't going to have sex without marriage. Alba didn't give him any time to digest the news. Luckily he is still interested in dating her.
Anezka is back, but is now in jail. What does she have on Petra that could lock her up as well? Is Petra behind Scott's murder after all?
I liked how Chuck noticed before Petra that Rafael was giving her longing looks. Sorry Chuck, but you're no Rafael. Time to head back to your hotel. 
So what did you think about Jane and Fabian's steamy kiss? Should Luisa finally ditch Rose for good? What are your predictions for Jane the Virgin Season 3 Episode 17
Hit up the comments below, and don't forget you can catch up on all the telenovela drama when you watch Jane the Virgin online via TV Fanatic!
Amanda Steinmetz was a staff writer for TV Fanatic. She went into retirement in June of 2027. Follow her on Twitter.