Convincing an arms dealer to negotiate a temporary peace treaty between two of his clients is nothing getting your kids into college.
Elizabeth took multitasking to a whole new level on Madam Secretary Season 3 Episode 19 as she managed to broker a deal to save thousand from starvation and still "be" with the family for the reveal of Ali's big news.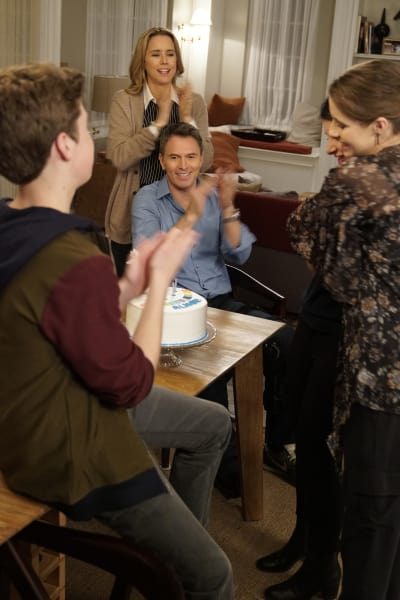 While the nitty-gritty of implementing a cease fire through back channels and arranging aid for thousands of people was interesting, and tracking terrorists provides high stakes, it was the McCord home life that stole the show. 
Henry and Elizabeth's relationship is clearly the bedrock of Madame Secretary, but I loved how this really broke down how they parent, and how they make their family work. It doesn't just happen. It's a coordinated effort, a deliberate exercise, not just a series of off the cuff reactions.
But I think the key to their "solid parenting strategy" is more than just being deliberative and collaborative. It's that they balance each other out. They're a team. And they're setting some serious #parentinggoals for those of us at home.
Henry: Look, before we throw out a solid parenting strategy that's worked *pretty* well for more than two decades, let's deal with the problem at hand. There's only one thing we can do.
Elizabeth: Right. Nothing.
Henry [simultaneously]: Talk to her.
Henry: The key to our solid parenting style is that we're always on the same page. [Elizabeth gives him a look] Usually always.
Elizabeth chose her partner well, and Henry takes on a lot of the parenting responsibilities like we should all expect of modern men. But as one of the most powerful figures in our government, even a stupendous co-parent doesn't solve all of a working mother's problems.
Sure, she gets more help than most mom's do in the form of able assistant Blake, but she is still, like so many women, constantly multitasking. That's why I absolutely loved, loved, loved the scene where she takes the Skype call with her family in the pantry.
Other than Stevie utilizing nepotism to get her internship and a recommendation letter to Harvard law, family and state department usually seem to operate in two different worlds. It seems a little unrealistic to me, and this was a perfect (and hilarious) way for them to collide.
That ringtone!
Henry: Stevie hears from Harvard Law this week, too, right? Did you make a thumbs up for her other choices list for her, too?
Elizabeth: She aced her LSATs and she has a letter of recommendation from the White House Chief of Staff
Henry: And her mom's Secretary of State. [scoffs] It's a lock.
Elizabeth: Ish. [knocks on wooden door frame]
I also really enjoyed seeing some sibling tension between Allison and Stevie. Not because I'm an evil person who wants families to be unhappy and constantly at each other's throats, but because Allison is kind of the odd one out, and Stevie is a hell of big sister to live up to. 
Katherine Herzer really nailed the late night ice cream scene where Ali shared her insecurities with her mother. That girl's face is so damn expressive.
Elizabeth: Your dad and I, we love our kids more than you can imagine. Mostly 'cause your ours. But we also love your differences.
Allison: Even Jason?
Elizabeth: Even Jason.
There is one aspect of the sausage making plot I feel the need to comment on: Senator Scumbag. 
It wasn't the deal making that bothered me. Tit-for-tat is how Washington works (along with most parliamentary systems). As long as the "tat" is something that will benefit the constituency of the legislator, the system is working.
But using a State Department plane for a vacation to Cabo is misuse of government resources, plan and simple. 
Senator Carpenter: Now, if the Secretary of State were to put in a word on my behalf, I'm sure DoD would shake loose a jet. [chuckles] And then I might be inclined to help you with your request.
Elizabeth: So...if I call DoD, you will pass the emergency waiver?
The character may be the embodiment of everything that's wrong with our government, but I was still excited to see John Cullum on the screen. I'm more than willing to have the not-so-good Senator make an encore appearance if it means more of the gentleman I remember fondly from 90s hits Northern Exposure and ER.
My affection for the actor has be wishing the character will see the error of his ways and reform, but this isn't an after school special, and based on Elizabeth's history, we should all be prepared to see him pay for his misdeeds.
Senator Beau Carpenter: We have these food aid rules for a reason.
Elizabeth: Yes, to, uh, subsidize US farmers so they can sell off their grain overages.
Carpenter: Now, that's a very simplistic...
Elizabeth: ...And to give US shipping companies the monopoly so they can overcharge and underperform on delivery. It is a...inefficient and wasteful system.
Carpenter: Welcome to the United States government.
Senator Asshole's comeuppance is going to have to wait though. Madame Secretary Season 3 Episode 20 ("Extraordinary Hazard") is all about Jay.
I have to admit that my first thought wasn't concern for Jay's fictional safety, or even Sebastian Arcelus' career prospects, but rather: Will this solve Jay's marital woes?
It seems like that's the least the writers could do for the beleaguered character after they interrupt his relaxing fact finding trip to Nice with a kidnapping. 
I knew as leader of the free world, I would make some tough decisions, but whether to give a billion-dollar yacht to a an arms dealer...that I did not see coming.

Dalton
The B plot will, of course, be more of Henry and the VFF. I so wish I could get excited about this arc, but really, the teaser information is always just so...dry.
"Henry suspects the doomsday cult is planning an attack in Israel." We know. That was what happened in this episode. 
Even Jason's C plot sounds more interesting, and it's going to revolve impressing a girl with a calculator of all things. I wish I had more faith that we wouldn't be see him typing "5318008" and flipping the display upside down. Like Jason, my expectations are low.
I'm not even applying to colleges unless I know that they'll take me. Underachieve, it's the only way to go!

Jason
Watch Madam Secretary online and catch up on all of Elizabeth's ingenious solutions to world crises. You won't regret it.
And you won't regret joining the conversation with other Madame Secretary Fanatics in our comments section. We want to hear your thoughts on Ali's school choice, who's to blame for bungling the VFF case, and how Elizabeth's deal with the Senator is going to come back to bite her!
Elizabeth Harlow was a staff writer for TV Fanatic. She left the organization in October 2018.