Things are going downhill for the NCIS squad in New Orleans.
Pride's pursuit of Mayor Hamilton got derailed indirectly as the result of a weapons heist on NCIS: New Orleans Season 3 Episode 21.
It was an interesting case of the week with far-flung implications.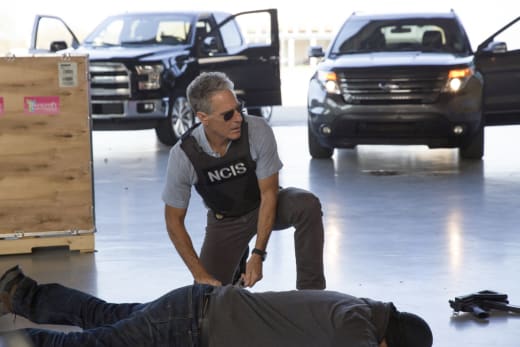 A heist crew made up of successful young women stealing guns so that villagers in the Sudan could protect themselves from Boko Haram terrorists?
Yeah, that's not a storyline you see every day.
No wonder it took LaSalle, Gregorio and Percy a while to figure this out. It's just so unlikely.
These sorority sisters, while volunteering in Sudan, got psychologically scarred while witnessing the brutality of Boko Haram razing a school for girls they had set up.
That part was certainly believable. You feel for these well-meaning philanthropists.
But their solution was to rip off weapons from Nadine's company and smuggle them into Africa. Other than the one ex-Marine, where did they learn those skills? Pledge Week?
Equally improbable were Boko Haram terrorists coming halfway around the world just to intercept said shipment. Couldn't they locate enough guns back in their own continent?  
Law enforcement in U.S. metropolitan areas tend to frown on such activity. And they certainly found their way around New Orleans quite well for tourists with guns.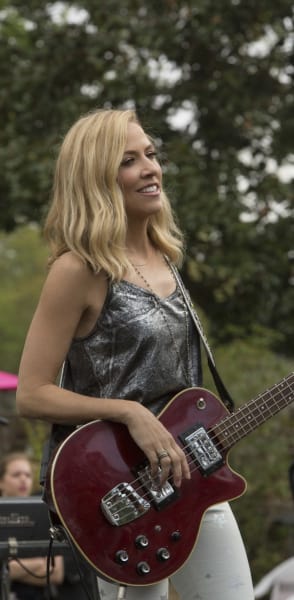 There was a nice Sheryl Crow cameo at the party. When's the new album drop?
It was great that Percy was back, at least for an episode.
She and LaSalle got to do the will-they-or-won't-they shuffle a little more. I'm still not buying it. No need to force a relationship out of a partnership.
Percy's preconceptions led her to misjudge Nadine as a carefree rich girl at first. 
But even after Percy learned the truth, letting a wanted weapons thief escape "to warn the villagers" was just a bad call.
Especially when it's so artistically captured at just the right moment by a security camera in the charter area of the airport (huh?).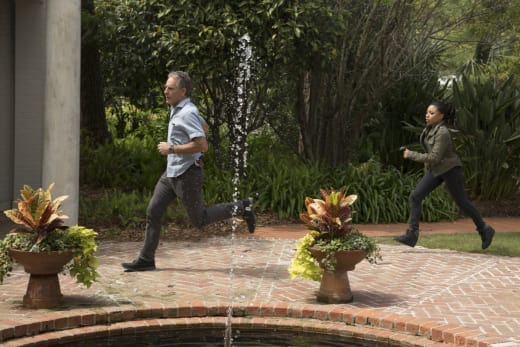 And she did such a bad job covering up her actions, both with Pride and the judge. I guess doing the right thing for the wrong reason just isn't an outstanding legal defense.
Pride wasn't without fault here, either. 
I don't understand why he felt the need to play some of the wiretapped materials for Bancroft.
He knew Bancroft had an idea where the guns were, so probably a determined bluff could have gotten him at least as far as he got without giving up the wiretap on Hamilton.
And what about his lecturing Percy about how they can't help Nadine in her quest? He has never hesitated to go beyond his jurisdiction to find justice, although Africa may have been stretching that concept.
I bet he's missing Rita now. She would have backed him up a lot more than that wishy-washy ADA.
And how did word about the wiretap get back to Hamilton so quickly, anyway? What's that going to mean for the handful of episodes left this season?
It was a good idea to put Sebastian back in the lab, where he does his best work. Percy is back (I hope), so there's less need for him in the field.
The next two episodes, on May 2 and May 9, promise to be all Hamilton, all the time. Please let this storyline get wrapped up this season. There is no need to carry it over anymore. The jousting between the two has gone on long enough.
Besides, a new mayor would mean a new, energizing backdrop for the show. Maybe someone other than the N'Awlins standard of a sleazy white man. How about a crusading minority female instead?
To catch up on the Pride-Hamilton feud, watch NCIS: New Orleans online.
Did Percy make the right call? Did Pride the right call? What will Hamilton do next?
Comment below.
Dale McGarrigle is a staff writer for TV Fanatic. Follow him on Twitter.