Outsiders Season 2 Episode 10 Review: Stranger in a Strange Land
Paul Dailly at .
Is Haylie ready to side with the Farrells?
It certainly seemed that way on Outsiders Season 2 Episode 10 when she was introduced to the way the family lived on the mountain. For her, it was an eye-opening experience. 
Growing up, she probably only heard bad things about the people so envisioned she was in a lot of trouble. She was...at least, initially. Like most of the people on the mountain, Foster did not want her there. 
He wanted justice for the water being poisoned and did not seem to care that Haylie had no idea the water had been poisoned. Working with the people who likely poisoned the water, Haylie was no doubt questioning her role with the company. 
She did not want to believe what she heard from G'Win, but she had probably questioned what was next on the agenda for the government to get the Farrells off the mountain. 
Haylie seemed open to finding out more about the Farrell way, but it was unclear whether she was grasping at straws to secure her own safety. Being locked in a cage and, well, treated like an outsider, is not the best time to poke fun at the ways of the Farrells. 
What I liked about Haylie's ordeal was that she got to know first-hand that the people atop the mountain were not as evil as what they had been made out to be in the media. 
If you watch Outsiders online, you probably remember when Lil' Foster was first arrested, he was practically told to admit to Breece's murder. The lawyers did not give a damn that he was innocent. 
They only cared for making the Farrells look worse in the eyes of the public. It's sad, but that's the only way they can make these people pariahs. 
Getting Haylie hooked on the Farrell wine was a good trick. You could tell she was having the time of her life, but she was still worried at the prospect of being murdered. 
There was a mother whose son was poisoned, and she wanted justice. That justice came in the form of attempted murder, but how else would you expect someone to act who lost their child like that?
All of the scenes with Hayley and G'Win were electric. Having these two together was great, but it sucks we probably won't get to see that happening again anytime soon. 
G'Win knew she was going to have to be ruthless to Haylie to get her point across, but she did take a little bit of pity on her when she learned that Haylie was not in the know about what happened. 
The Farrells likely thought anyone who worked for the energy company would know everything about what was being done about the situation. As you are probably well aware, trying to get anywhere with an energy company involves several hurdles just to speak to someone.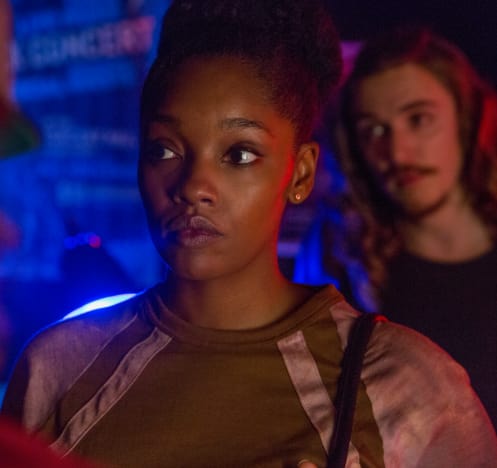 Elsewhere, Hasil had to break it to Sally Anne that the only job he could do that would pay the bills was fighting for money. It's tough going for an Outsider to try to make a living off the mountain.
Being pregnant, Sally Ann knows the bills are going to mount before she and Hasil know it. That's why she agreed to let the love of her life continue with the fighting.
The most interesting aspect of it was that Sally Ann was taking the reigns on the business side of things. With Butch calling the shots, it was always difficult to tell whether Hasil was being fleeced. 
That probably explained why Butch was against Sally Ann stepping in. She was right to. Also, watching the fight must have been horrible for her, but at least she could tell him to stop if things got bad. 
Hasil has always been a good fighter. He knows what he's doing, but it only takes one punch in the wrong place to end his life. Hopefully, he manages to stay lucky. 
While all of this was going on, Wade continued his romance with Dayna, and I'm actually digging it. If Dayna can take away all of his angst, then she can stick around for as long as she wants. 
Wade did seem to worry about moving on from his late wife, but it has been several years, so he needs to think about the future. With all of the change in town, he might as well try and change his life. 
"Stranger in a Strange Land" was a solid episode of this WGN America drama. The acting and writing continue to be a strong point for this series, and I cannot wait to see how Outsiders Season 2 concludes. 
Over to you, Outsiders Fanatics! What did you think of the episode?
Sound off below!
Paul Dailly is the Associate Editor for TV Fanatic. Follow him on Twitter.