Scandal Season 6 Episode 11 Review: Trojan Horse
Paul Dailly at . Updated at .
Was that the best episode of Scandal, like, ever?
On Scandal Season 6 Episode 11, Mellie got her way and became the President of the United States, a mere few scenes after Liz had her skull cracked by Samantha.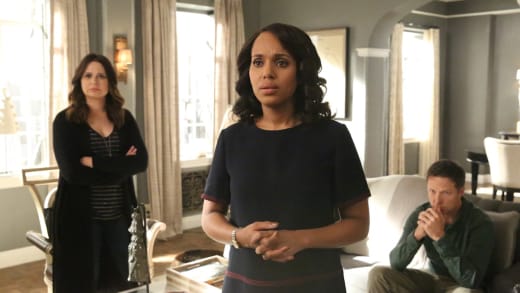 It was great. I wish I could say I was shocked by Liz's death, but the revelation that she was working with PEUS sealed her fate.
I did not expect her to go in the first scene with PEUS, but I was wondering what Samantha was doing behind her. 
Liz proved earlier on Scandal Season 6 that she was willing to go wherever there was power.
If you watch Scandal online, you will already know that she's been an opportunist all along. 
At least Portia De Rossi can say she got one of the most brutal deaths in Scandal history. 
Elsewhere, the recent events have made Olivia think about all the wrong things she and everyone around her have been doing, and it resulted in a return to form for the character. 
Seriously, I never thought it would be possible, but I really like the character again. She knew the right thing to do was to have Cyrus in power, even if that meant herself being sent down. 
Her being arrested would have made Mellie and PEUS fall like dominoes because of how corrupt Mellie's office was, but there was no way it was going to work out like that. 
The B613 plot got old quickly, but PEUS has helped inject a much-needed dose of adrenaline back into the show, and I cannot wait to see how the rest of the season plays out. 
I loved the closing twist with Fitz saving Rowan's life. I thought Olivia was going to hit Fitz with a chair, but it seemed more like she realized how much he loved her to go that far for her.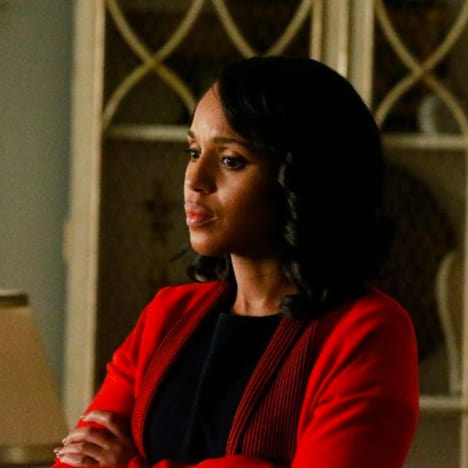 Having the couple lock lips once again was a long time coming, and I'm actually excited to see where their relationship goes when Fitz is no longer the President. 
Will they be able to make it work out this time? Hopefully, because Scandal has never really played the relationship drama card well.
This hour proved the series still had the chops to be a political thriller. 
I have to give props to Mellie. It would not have been her to roll over and die to let Cyrus take the presidency.
She definitely thought about it, but with Liz in her ear, she went forward with her plan. 
Having PEUS controlling the country should make for some more shocking twists along the way.
Will Mellie go completely dark, or will she allow Olivia and Fitz to take down the puppet masters?
When you think about it, Mellie has some juicy stories she could tell about her former husband's private life with Olivia. The possibilities are really endless. 
Other tidbits from the episode:
Cyrus appears to be turning over a new leaf, but will he be able to find a way to win Michael back, or has that ship sailed?
Something tells me Charlie is going to have some words with Quinn about mothering Huck. He looked so jealous. 
It would not surprise me if Samantha knew Jake was in David's house at the top of the hour. If Rowan was being bugged and watched 24/7, then we can probably assume David's house is littered with cameras. 
Angela was furious with Fitz for the way he turned on her. I do think Angela was happy to go forward with taking down Olivia. Deep down, she probably knew Fitz loved her more. 
Over to you, Scandal Fanatics! What did you think of this crazy episode?
Sound off below!
Paul Dailly is the Associate Editor for TV Fanatic. Follow him on Twitter.