Scandal Season 6 Episode 12 Review: Mercy
Paul Dailly at . Updated at .
If you had asked me at the beginning of Scandal Season 6 if I thought it would serve as a return to form for the series, I would have probably laughed in your face. 
Scandal Season 6 Episode 12 was another crazy hour that made me realize why I fell in love with the series all those years ago.
Having all of the characters together to take down the enemy was the best move.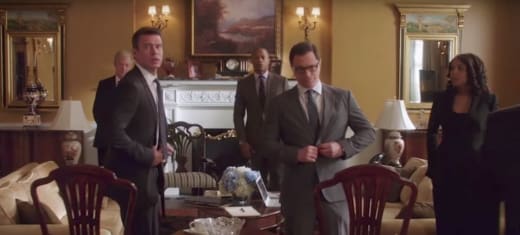 Characters like David, Jake, and Marcus have sat perched on the periphery this season, with nothing to do. A show like Scandal has a lot of key players, so I can understand that it happens sometimes. 
David has never been the most faithful person, so I think he's not the innocent bystander he makes himself out to be with the ladies. He needs to own his shit, and maybe he'll find someone who is not working for the likes of Peus. 
I don't know what to say. I spent a lot of time with Elizabeth... a lot of time, but I never really knew her.

David
Did David have a mental break in which he forgot that he and Liz were having a lot of sex before her death? 
Mystery Woman, or whatever the heck her name is was on fire this evening with her witty comments. She thinks she's this big, powerful person. Peus may be, but she's someone who will probably be dispatched without much fanfare. 
Getting to see her stuck with Abby was a delight. She manipulated the life out of Abby just a few weeks ago, so Abby getting to watch her get arrested by Olivia was a dream come true.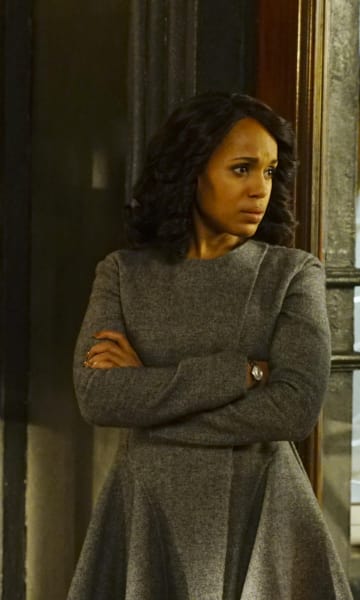 Olivia Pope is back, you guys and I cannot wait to see what she does next in her tirade of terror against the terrorists. 
Olivia: Mr. Peus thank you for finally showing your face to me. It's going to make it that much sweeter when I destroy you and everyone close to you.
[Peus Exits.]
Huck: What do we do?
Olivia: I have no idea.
Character wise, Olivia has been all over the place for the better part of three years, but this storyline has helped her turn her focus back to being a fixer, and that's what she does best. 
Bringing her focus back to fixing really makes this feel like the beginning of the end for the show, but we still have at least one full season left, and I just hope the writers keep the writing true to the character for the duration. 
Yes, she's back with Fitz, but that does not mean she's going to take his orders and that was proven tonight on more than one occasion. I found it really mature that she turned Jake's focus away from the relationship to get the job completed. 
How would these people get work completed if they wallowed on who has been getting between the sheets with one another? They would probably be dead right now if that became a topic of conversation.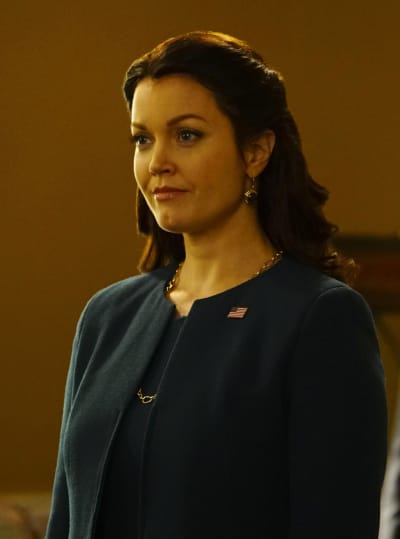 My jaw dropped to the floor when Mellie opened up about Defiance in that room with the likes of Marcus who had no clue about it. She was under a lot of pressure, what with the whole getting rid of Jake. 
Mellie: You have to allow me to do something.
Mystery Woman: And I will. What do you take me for... Betty Savage?
I did like Marcus giving Mellie the pep talk. It was like something Mellie would dole out to someone. He's been spending way too much time with her if he's already acting like her. 
Seriously, though, it could have been catastrophic if Defiance was made public. Maybe Peus had the whole White House bugged, and it will become common knowledge. Maybe that will be the thing that allows Peus to take control. 
Sheesh. That's a scary thought. I have no idea what these villains want with the White House. Why do they want to control everything? Thankfully, Mellie gave Luna the spot as VP. 
It was a great way to spin the death of Frankie, but Peus is not going to react well to being kicked out the door like that. Something tells me he could be going after some of our favorite characters before we know it. 
"Mercy" was another shocking episode of this sudsy ABC drama. It's convoluted, farfetched and a whole lot of fun. That's the way I like my Scandal, you guys. 
Other tidbits from the episode:
Cyrus gearing up to kill Rowan was quite the shock, but did he seriously think killer Rowan would not figure it all out? You would think Cyrus would be wiser since he's, like, just out of jail. 
I do not care for the Quinn/Huck/Charlie love triangle. I refuse to see Quinn and Huck as anything other than platonic. Put this one to bed, Shonda. 
Rowan forcing Fitz to ask for his help was everything and then some. He's always been this character who thrives with power and took whatever chance he could. 
I'm starting to feel bad for Abby. Yes, she made a mistake, and her friends need to understand that. Gladiators stick together 'til the end. 
Poor Elizabeth North. She was relegated to Jake's personal cemetery. 
Fitz kissing Olivia in front of Rowan to piss him off was hilarious. Fitz may not be the smartest of guys, but he sure knows how to cause a stir. 
Over to you, Scandal Fanatics! What did you think of the episode?
Sound off below!
Remember you can watch Scandal online right here on TV Fanatic. Get caught up now!
Note Scandal Season 6 Episode 13 airs May 6 on ABC!
Paul Dailly is the Associate Editor for TV Fanatic. Follow him on Twitter.