Scandal Season 6 Episode 9 Review: Dead in the Winter
Paul Dailly at . Updated at .
Huck lived to fight another day!
That was confirmed on Scandal Season 6 Episode 9 when things took a dangerous turn for the character.
It was bad enough him finding out that Meg was not the woman he thought she was, but pushing him into the water was just horrid.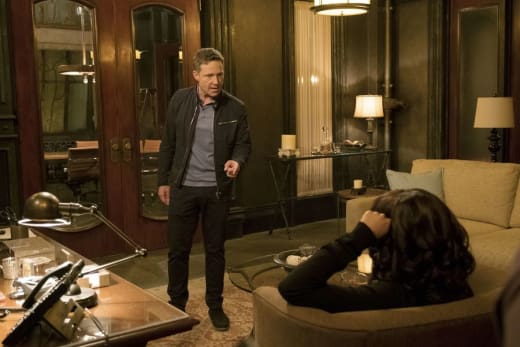 It was over-the-top, Scandal has always prided itself in being a series that goes to any lengths necessary to shock the audience. 
Huck has always been an analytical individual, so his thought process while trying to make it out of the dire situation did not surprise me in the slightest.
In the process, it gave him the drive to continue his mission of survival. 
Quinn was a standout character for me.
While Liv seemed to be ordering everyone else around, Quinn was consistently out in the field trying to find a way to save her friend. 
Those who watch Scandal online will already know the pair had a strong bond, so she was always going to take the news in a bad way.
Murdering Meg was not part of the plan... at least until Huck was found. 
Quinn murdering Meg was her way of lashing out.
She was frustrated and had no idea whether she was going to see Huck again. It was perfectly understandable.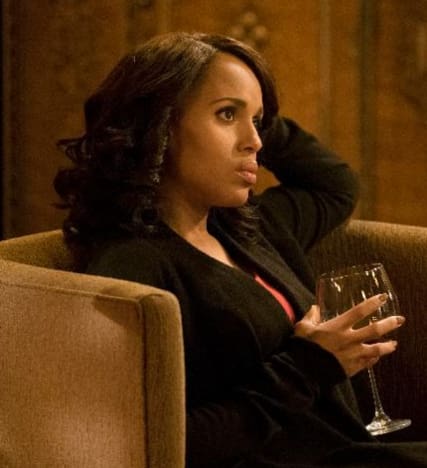 Liv was something else tonight. She must have slapped Abby, like, 20 times to get her point across.
The fact of the matter is that Abby already knew she had done wrong. 
In fact, she knew that on Scandal Season 6 Episode 8, but it was not like she was given much wiggle room to get out of the situation.
Samantha and her friends made sure that Abby was stuck in a corner so she would have to play along with their sick game. 
I did laugh out loud at Samantha telling Abby never to call her again.
Samantha was still probably pissed at Abby getting ready to reveal the goods to David. There was really no way Abby could have been wiped out. 
The investigation would definitely have found something amiss and exposed Samantha and her sketchy friends. 
I did find it surprising that Fitz managed to talk Olivia into forgiving Abby.
Abby had already opened up to Fitz about what went down, and you could tell she was remorseful. 
What I did find silly was that it took them so long to realize that Jennifer had a cell phone with her.
It was a bit bizarre how they wound up finding Huck at the quarry and that he was still alive. 
Did we not witness him bleeding out on Scandal Season 6 Episode 7?
Did Meg give him a blood transfusion before sending him into the deep blue sea?
Kidding aside, it was a decent episode. Yes, some of the scenes were diabolical and stretched too far, but it was a fun episode to watch.
It's just a shame it was not resolved last week. 
Something tells me the show's drastic uptick in the ratings had to do with viewers thinking they were getting the truth about Huck's fate.
My main niggle is still characters who disappear for weeks on end.
Cyrus and Mellie have, like, fallen off the face of the earth. Hopefully, Abby and Olivia join forces to take the organization down. 
That said, the storyline is probably going to drag out for the rest of the season.
It does look like it will take a back seat on Scandal Season 6 Episode 10 as the series celebrates 100 episodes. 
I don't know how to feel about the parallel universe, but we'll see what happens. 
Over to you, Scandal Fanatics! What did you think of the episode?
Hit the comments!
Paul Dailly is the Associate Editor for TV Fanatic. Follow him on Twitter.