Madam Secretary Season 3 Episode 22 Review: Revelation

Elizabeth Harlow at . Updated at .
It's finally over. 
The VFF terror attack fizzled out on Madam Secretary Season 3 Episode 22, much like my interest in the arc. Henry may be constantly doubting his faith, but the fact that this story finally ended renewed mine. 
Much more interesting than bio-weapons were Blake's and Stevie's bombshells. Well, one was like more like a flash-bang, but you get the drift.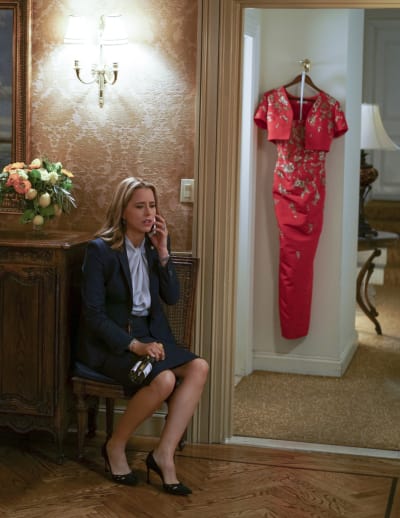 How did the writers manage to make the plot to an international thriller movie so damn boring? Was it just because the whole thing was too drawn out? Or because it was so very predictable?
Okay, so I didn't see the attack being diverted to Rome coming, or the last minute head fake where Dalton was the real target, but that still didn't get my blood pumping.
There were never any real stakes to this story. I almost wish the weapon hadn't been thwarted; at least that would have shaken things up.
Henry: I'm sorry that you felt ambushed.
Elizabeth: I'm sorry that I called you out in front of the leader of the free world.
But not only did I never think that Henry was in any real danger, let alone Dalton or Elizabeth, there was never any doubt that the whole thing would be stopped just in the nick of time. 
The trick is to convince us that somebody we care about could die. That would mean putting somebody outside the McCord family at risk – or allowing for a cliffhanger once in a while. 
At least with previous Spy! Henry arcs, he's been in the thick of it, or the plot wasn't stopped. The beauty of the Murphy Station story was that it sent him out in the field and provided us with second or third tier character that we got to know but were still expendable. 
Elizabeth: You ambushed me!
Henry: I would have told you, but we were a little busy trying to prevent a bioterror attack.
Elizabeth: If only there were some method of communication where you could send messages almost instantaneously...
Even though neither had anything to do with international diplomacy, I much preferred the B & C plots. Stevie is being an idiot about not going to Harvard, but it would be hard to keep Wallis Currie-Wood around so much with her character in Cambridge.
So I understand why the writers don't have her going, I just wish they'd had a better reason. And that Stevie could have come around to this idea without looking like such a flake who is really just scared to leave the nest and start her own life.
Because staying to help out with your family is BS. Allison is leaving for college, and Jason will be 16. The McCords make more than enough money to have some kind of...well, not a nanny per se, but somebody to keep an eye on the teenager when they're away.
I don't make it, clear my search history!

Jason [in the nurses office]
Or, you know, Henry could stop taking foreign assignments or anything where he's likely to get shot. Hell, with Allie going to school nearby, she could be the one to step up and keep an eye on the little troublemaker. 
Even something as banal as her getting crazy scholarship money to Georgetown Law would make more sense.
But as annoyed as I am with the reasons given for her deferral, I love that we got more Russell out of this story. I think I love semi-reformed Russell even more than I loved Machiavellian grump Russell. 
You've proven yourself to have more character and integrity than 99% of the pampered, gelatinous blue-bloods who skulk through the halls of Harvard.

Russell [to Stevie]
I honestly think I would have been more shocked if the ex of Blake's that we met had been a woman. I never really considered the possibility that he could be bisexual (shame on me), I just assumed that he was gay.
Having Blake out himself as bisexual was a bold move. While Grey's Anatomy's Callie was a "switch hitter," there aren't an abundance of bi characters on network TV. Bisexual men are seriously underrepresented. 
And when Blake talked about bi-phobia, that's a real thing. Sara Ramirez, who played the aforementioned Callie, called out ABC's The Real O'Neals for a joke making light of the issues bisexuals face.
If I can't be honest with people about who I am then how can I ever have an honest experience with them?

Blake
I don't even need this story to go any further – sexuality does not need to define Blake, after all. He's scathing but dedicated, loyal, a natty dresser, and wants to contribute to making the world a better place. Who cares who he dates?
I'd love to have him just casually mentioning the men and women that he dates now. Just like Daisy did when dating Kevin, just like Jay abashedly disclosing his "press contact" to Nadine. 
But I did love his disclosure to Elizabeth. Blake may be friends with the rest of the team, but his relationship with Elizabeth is special. And Elizabeth's response to him was perfect. She's two for two in handling disclosures about their personal lives with flawless grace and empathy.
Why can't all bosses be so wonderful?
Matt [in a bad Italian accent]: Ah, Roma...city of carbs-ah.
Elizabeth: I have to admit, I've been dreaming about the stracchi for the past week. [high fives Matt, receives glare from Nadine] And the deal with Russia on tax avoidance.

We're heading into the season finale, but with the VFF and other long running arcs already wrapped up, Madame Secretary Season 3 Episode 23 ("Article 5") won't be focused on closure so much as revealing new mysteries.
The theme seems to be "blast from the past," and on that note, fan favorite Dmitri is back! He should be more willing to help Henry out since Mr. McCord got his sister into witness protection with him.
And if Dmirti's back, you know that means that Russia is back as the global big bad. It's been fun, Minister Chen, but the writers have to keep up with current events. Or at least a reasonable facsimile thereof. 
Nadine: So you have anxiety about running into old colleagues?
Blake: Not unless you count waking up at two am in a cold sweat from stress nightmares where I'm back there and all the doors are locked and I'm naked, but...[Nadine laughs] not really.
Henry's been tasked to work Dmitri for Elizabeth's benefit this time. She's busy trying to stop Russia from invading Bulgaria. The reasons for invasion aren't exactly clear, but France is refusing to help her, and this is all starting to feel like the Tri Wizard Tournament is going down or something.
Elizabeth won't let a little thing like Russia's looming attempt at world domination stop her from playing matchmaker, though. Even though Nadine and Mike B seem to be moving things along on their own, when Elizabeth hears about something from Mike's past, you know she won't be able to stay out of it.
Handsome really does come with it's own free pass, doesn't it?

Matt
You can always watch Madam Secretary online, and remember, we want to hear your thoughts in the comments section!
Were you shocked by Blake's revelation, or was that the worst surprise ever? Would you give up Harvard Law to stay home and babysit your kid brother? What's your solution to the Henry problem?
Elizabeth Harlow was a staff writer for TV Fanatic. She left the organization in October 2018.