Everyone is struggling on Queen Sugar Season 2 Episode 1 but some are handling it better than others. 
The biggest surprise is Ralph Angel still hasn't told his family about the new version of his father's will – the one that gives him sole ownership of the family farm. 
I give Ralph Angel a lot of credit. Someone less thoughtful might want to grab it all for himself, but Ralph Angel was being cautious.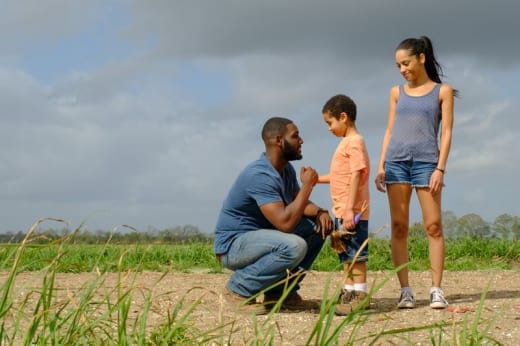 On some level, he needs this to be a real family farm even if his sisters aren't involved in the day-to-day operation. 
The flip side is that he fears they will only try to wrestle control from him once they find out that the will was changed. 
It doesn't appear that he'll have many issues with Nova, although I don't think she'd want to be shut out entirely. Charley is another matter. 
Violet: You see what you want to see, but the rest of us, we see Ralph Angel busting his butt trying to make this farm work.
Charley: So am I.
Violet: I know that, baby, but you've got multiple degrees behind your name proving what you already know; that you can do this. All I'm saying is it wouldn't hurt to affirm him every now and again. Thank you, yes, good job, instead of keeping him under your thumb.
Charley: No that, that's not what I'm doing. Trust me, I know exactly what it feels like to be under someone's thumb.
Nova: What are you talking about?
Charley: Those Wall Street guys, they won't give me the loan for the mill unless Davis signs off on it.
But Violet is right. Charley can't seem to cut Ralph Angel a break. She second guesses his every decision and finds fault with his every move. 
He deserves better from his sister, only Charley's so wrapped up in her own drama that she can't see it. 
Charley's problems are two-fold. 
First, she can't stand not being in control. From what we've seen, Charley was the driving force behind the scenes of Davis' career. Now she's struggling to find her own place that doesn't include being Davis West's spouse.
I guess I should be used to people thinking there's no me without Davis.

Charley
The second problem is that she truly loved Davis, and for a long time, their marriage seemed to work. Now she's stuck trying to figure out how it all went wrong, and those answers are hard to find. 
A complicated divorce isn't making it any easier.
Remy: You two are still together as far as the world knows.
Charley: Not for long. Our lawyers are working on terms right now.
Remy: And once it's safe for you to be seen drinking with another man, then we can toast to that, but from now on...for now, I think it's best for both of us if we just keep things professional.
I'm proud of Remy for putting the breaks on their budding relationship. Davis and Charley are so entangled in one another's lives that there really isn't room for a new romance. 
Remy Newell is a smart man and one worth the wait. 
The other smart person in this episode was Darla.
With everything going so well it can be easy to let things slide, but Darla isn't doing that. She's going to narcotics anonymous meetings and talking with her sponsor even if Ralph Angel doesn't completely understand why.
Darla: It just feels like all of this is moving really, really, fast.
Ralph Angel: Fast? I mean it took us a long time to get to a place this good.
Darla: I've been wanting this so badly for so long that I let us skip a bunch of steps, and I can't play house anymore. It's dangerous, at least for me.
Ralph Angle: You breaking up with me?
Darla: I don't think so. We need to be able to stand on our own before we can move forward together. You understand?
Ralph Angel: As long as we not breaking up.
Darla: We're not breaking. We're just slowing it down.
Darla deserves a huge amount of credit for knowing when to take a step back and ensure she's on solid footing so that she can move forward with Ralph Angel and Blue.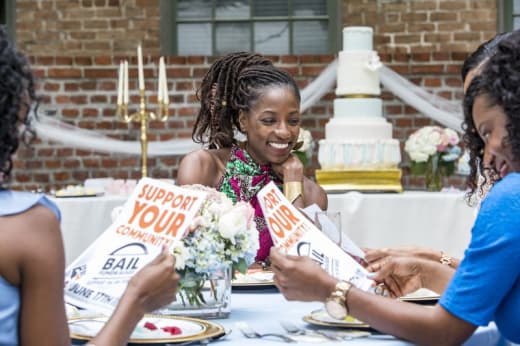 Nova isn't nearly as self-aware. 
I hate that Nova and Calvin appear to have broken up, but I hate how she's handling it even more. 
Having a stream of look-a-like men in her bed might be an adequate distraction, but it won't heal her broken heart. As a matter of fact, it will probably do more harm than good. 
When Micah was missing, I found myself hoping that Nova had called Calvin for help tracking him down just on the chance we might get to see these two share screen time once again. No such luck. 
Finally, we get to Micah. 
That poor kid. 
Granted, his parents love him, but they're so embroiled in their guilt and fear and power plays that it was up to Aunt Nova to offer him a hug and realize that he was so terrified that he had soiled himself.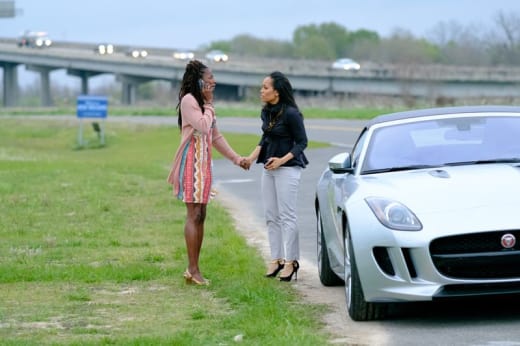 Instead of focusing on the horrible ordeal their son had just endured, Charley and Davis ripped into one another yet again. 
And then Charley doubled down on her mistakes by signing Davis name on those loan papers. I can't even imagine how that's going to come back to bite her.  
Gosh, even Hollywood and Vi were still on the outs.
Charley: Even Hollywood and Vi didn't last.
Nova: I know. I thought they were forever.
Charley: Me too.
Me three! I still have hope for these two, but Hollywood's got to get off that darn oil rig before anything can be set right for this couple.
However, my favorite Queen Sugar quote was a quiet moment between Violet and Blue…
Blue: I miss Pop Pop.
Violet: Me too, baby. Every day.
I like that they haven't forgotten about Ernest and that he's still talked about often. That's the way it should be. 
Don't forget to check back in tomorrow night for Queen Sugar Season 2 Episode 2.
And if you need to catch up, you can watch Queen Sugar online here at TV Fanatic. 
C. Orlando is a TV Fanatic Staff Writer. Follow her on Twitter.