Still Star-Crossed Season 1 Episode 2 Review: The Course of True Love Never Did Run Smooth

Lisa Babick at .
All is not fair in the City of Verona.
Rosaline confronted Prince Escalus about being forced to marry Benvolio on Still Star-Crossed Season 1 Episode 2, but the outcome wasn't what she expected.
Rosaline isn't the type of woman who's going to be forced into anything. She has no desire to marry Benvolio and will do whatever is necessary to get out of the situation. Or at least she's going to try her best.
Even though there's heat between her and Benvolio, her heart belongs to Escalus so it makes sense that she would use their history to make her appeal.
Imagine her surprise when Escalus said it wasn't the best decision and that the two of them would marry instead.
Rosaline was in seventh heaven.
I'd rather be a servant until the day I die than be the wife of a Montague.

Rosaline
Not only did she get out of a horrible situation with a Montague, she was going to marry the man she truly loved. They even sealed it with a kiss. Rosaline was about to become a princess just like Cinderella.
It turns out Prince Escalus isn't a man of his word as he chose duty over love.
But is his love for Rosaline as strong as he thinks it is, anyway?
If he truly loved her why did he leave Verona in the first place without even saying goodbye?
He broke her heart once and he broke it again when he changed his mind about the decision they had just made the night before.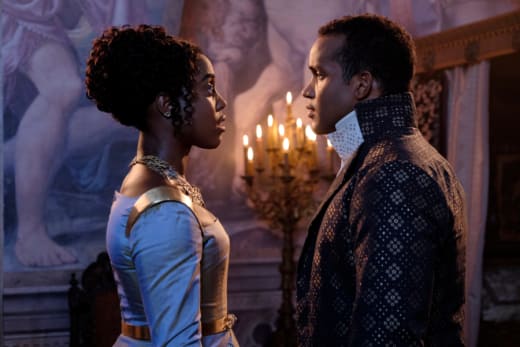 Granted, he had a good reason, but why did Rosaline have to be the one who had to marry a Montague? If he married Rosaline then Livia would be the one to marry instead.
Maybe his shock over what happened to Romeo's body clouded his judgment?
Rosaline was confused and angry that he did an about face over her marrying Benvolio.I hope she doesn't forgive him.
I'll be very disappointed if she does. No matter how much she may love him, he doesn't deserve to have her.
Prince Escalus: Believe me, Rosaline. This is for the best.
Rosaline: Keep telling yourself that.
Marrying Benvolio might be the best thing for her. There is definite chemistry between them. It might even protect her from Lady Capulet who is out to get her any way she can. 
Lady Capulet is overwhelmed with grief and she's looking for someone to blame for Juliet's death. In her mind, Rosaline is already guilty.
If Lady Capulet finds out Rosaline's role in Romeo and Juliet's marriage and Juliet's ultimate death, Rosaline is in for a great deal of trouble. 
She may get into trouble anyway, but it'll be lessened with the two houses joined.
It's still unclear why Lady Capulet is hiding Count Paris, but he survived his duel with Romeo thanks mostly to Livia. How long will she keep the secret?
Is there a possibility of a romance between Livia and Paris? It seems likely.
Lord Capulet has secrets of his own. He has no money and can't even finish the beautiful cathedral he was having built in the Capulet name.
The Capulets are the most powerful family in Verona, should anyone learn of his money issues it could spell doom for the family.
Unfortunately for him, Lord Montague already knows the secret and is going use it to his advantage.
He already set it up that the marriage between Rosaline and Benvolio should take place in the cathedral. It threw Lord Capulet for a loop and he ended up killing the architect in order to protect the secret, but it may turn out that he will have to go to Lord Montague for some help at some point.
Montague would love that as he's already relishing the idea of the union between the two families.
But what will happen when it's learned that he was behind the marriage of Romeo and Juliet? 
It definitely won't be pretty.
What did you think of "The Course of True Love Never Did Run Smooth"? 
Will Lady Capulet learn the truth about Rosaline's part in Juliet's death? 
Will Rosaline give her heart to Benvolio?
Hit the comments and share your thoughts!
If you need to catch up, you can watch Still Star-Crossed online right here via TV Fanatic!