The Originals Season 4 Episode 12 Review: Voodoo Child
Paul Dailly at .
Hope Mikaelson is gone... for now. 
On The Originals Season 4 Episode 12, Inadu continued her mission to terrorize the residents of New Orleans, and there were some moments that were genuinely creepy.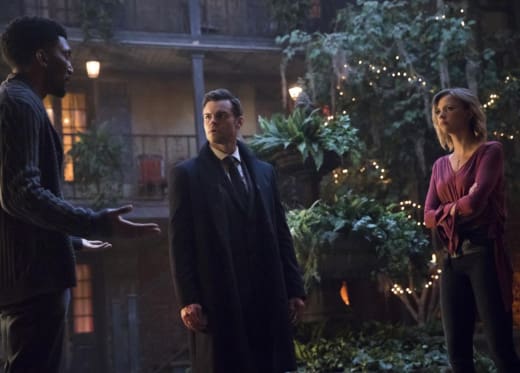 As soon as we witnessed Inadu's spirit leave the youngster's body, I thought that her plan was screwed. However, my jaw dropped when she essentially became a ghost. I have no idea why Hayley even thought lunging at her would be a good idea. 
If you watch The Originals online, you will already know that all of her encounters with the villain have resulted in her being sent flying across a room. She may be a strong werewolf, but she's no match for Inadu's magic. 
I'm really struggling to get on board with Hayley dropping Elijah like a hot potato. She has been vocal about the family changing its ways, but she was also part of the problem. As much as I would like to say I'm Team Hayley on this one, I'm not. 
She knew fine well what she was getting into when she and Elijah started boning. The Mikaelsons are wicked people, but it seems like Hayley is not going to be able to get over the events behind the red door. 
What happened behind the door was violent, and there's no excuse for it. Hayley is clearly concerned that what she witnessed was the real Elijah. All we need is a heroic act from the character to make everything right. 
Elijah thought he was waking up to Hayley's love, but things have been less than savory between them. So, we now have another toxic relationship on The Originals. Yay!
I'm now thinking Klaus, Hayley and Hope will be leaving town on The Originals Season 4 Episode 13. 
Whether Hope will wind up in the Salvatore School in Mystic Falls, I really don't know now. There's a good chance that the casting scoop about a teenage Hope means that there will be a magical loophole that allows the character to move into someone else's body. That could come at the expense of a time jump. 
A time jump would be fun, but we already got one this season, and it helped get the show back on track. Do we really need another? I think not. The Originals is on fire. 
I loved getting to see Klaus react to the news that his daughter was being kicked out of her own body. He was livid and rightfully so. His murderous streak reappeared, but at least it was only members of Inadu's gang that were killed. I've missed the ruthless version of Klaus. 
I'm unsure about what the heck Vincent's plan is, but I don't think we needed to witness the Mikaelsons lose again. That already happened on The Originals Season 3 Episode 22 when the family was poisoned, and Klaus was put in Marcel's version of prison.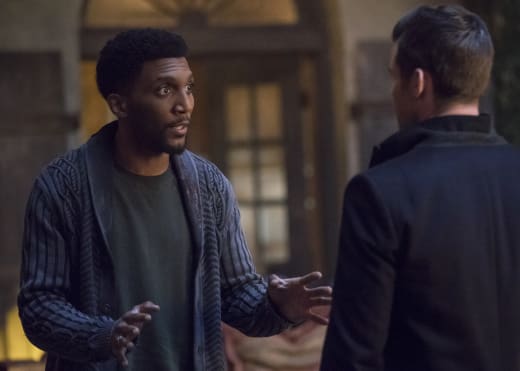 I was getting ready to yell at the TV when Marcel went outside to fight and the time was running out. The thing I loved about Vincent this week was that he called everyone else out for doing nothing. 
The character has long been the voice of reason, so I'm all for him calling out the others when he needs to keep them in line. 
I'm sorry, you guys, but I just can't get on board with Rebekah being jealous over Marcel and Sofya. Too long has passed and Marcel has moved on. Sofya seems like she's here to stay and that's fine by me. 
It seems like she's finally put her beef with the Mikaelsons aside, and it was very mature of her to let Klaus in on what it felt like when Inadu was taking over her body. I don't think I'm the only one who thinks all of these characters are going to be friends by the end of the season. Hey, stranger things have happened. 
Was anyone else happy to get some Freelin scenes? It's been too long. I liked that Freya knocked Keelin out. She knew Inadu would waste no time in going after her. 
"Voodoo Child" was a solid episode of this CW drama. The stage is set for a killer season finale, but I'm scared about which characters we may lose for good.
Over to you, The Originals Fanatics. What did you think of the episode?
Sound off below. 
Note: The Originals Season 4 concludes June 23!
Paul Dailly is the Associate Editor for TV Fanatic. Follow him on Twitter.