Animal Kingdom Season 2 Episode 6 Review: Cry Havoc

Lisa Babick at . Updated at .
What a stupid girl.
That's the only thing that came to mind during Animal Kingdom Season 2 Episode 6 when things were looking very, very bad for J. 
Did Nicky really think Javi's goons were going to be afraid of a girl holding a gun she didn't know how to use? I'm surprised they didn't start laughing.
It was sort of ironic that Nicky had just told J she wanted to learn about the family business when Javi and friends came knocking.
If J broke up with her to protect her, he certainly wasn't going to let her in on jobs. It wasn't his choice to make.
It was easy for her to figure out the church job. Who knows how many other jobs she's already figured out?  
But all of that doesn't matter because right now she is part of the family. J almost lost his life trying to protect her and silly Nicky almost lost hers by being completely stupid.
Though you have to give her a helluva lot of credit for at least trying to come up with a solution to the situation.
Even though she was out of her league with the gun, she fought as best she could when they grabbed her. She wasn't going down without a fight.
It was a great and intense sequence from the moment Javi entered Smurf's house until Javi left.
I really thought J was a goner. And who didn't cringe when Javi stepped on J's injured leg? I'm surprised he didn't pass out from the pain alone. 
J showed how much of a fighter he really is this hour. I kept wondering if it would have been any of the other guys (other than maybe Pope), would they have been as strong as J?
This is sure to earn J some points with Pope. Oh, how I wish that Pope was J's dad. How awesome (and sick, I know) would that be? J is turning out to be the smartest and the strongest of the group.
I loved that he and Nicky reignited their romance before the trouble started. She finally realized what a loser Craig is, and with this intense shared experience with J, it's sure to bring them closer. 
J almost lost his life for her. FOR HER! She has to realize how significant that is now, right?
And now that she's right in the middle of this Javi mess, J is going to be extra vigilant in trying to protect Nicky. J is pissed, and Javi is in his sights. Watch out!!
Javi should have made sure he was dead before he left. It was a big mistake on his part. 
Doesn't it seem like Javi is looking for some sort of maternal acceptance? The way he behaves makes you wonder if Smurf is his mom. 
It was kind of creepy that he threw Nicky out of the van at the place where Smurf buried his father. Smurf was literally shocked that Javi even knew about that spot. 
Things are falling down all over the place in Smurf's world, and she needs to get a grip soon. It seems about the right time that she get back together with the boys because she is going to need their help.
This isn't a job she can do on her own, no matter how independent she thinks she is. 
Pope already is involved, so it won't take much to bring the others on board.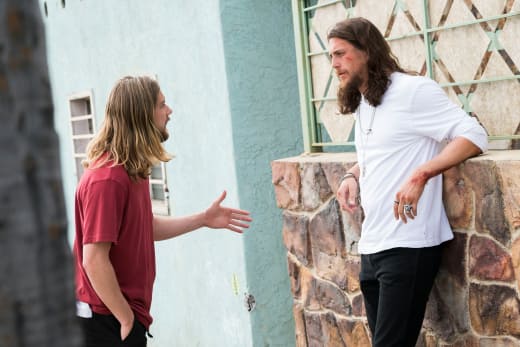 They all need each other right now because everything is getting crazy. 
Catherine's cop friend from the bar knows something happened to her and is watching Baz like a hawk.
Pope is smitten beyond hope with Amy and her church. That's only going to spell big time trouble.
Craig is sticking up people for their pee so he could get a job because that's not going to backfire. 
Deran isn't willing to cooperate with the Association chief. The guy doesn't seem like the kind of person you want to mess with, and Deran was warned.
The Cody family is starting to crash and the only way to save it is to become the strong family unit it used to be before. They need each other now more than ever.
But it may be already too late!
What do you guys think? Will the Codys be able to save themselves before everything comes crashing down? Will Nicky become part of the family now?  
Hit the comments and share your thoughts.
If you need to catch up, you can watch Animal Kingdom online right here via TV Fanatic!