Dark Matter Season 3 Episode 6 Review: One More Card to Play

Kathleen Wiedel at .
Having not even seen so much as a preview trailer, I entered Dark Matter Season 3 Episode 6 with no expectations. So the return of the alternate-universe crew of the Raza proved rather a surprise.
A pleasant one, too, as the story turned into the two crews trying to out-think each other – which admittedly could've gotten old fast, but the witty banter kept things fresh and moving.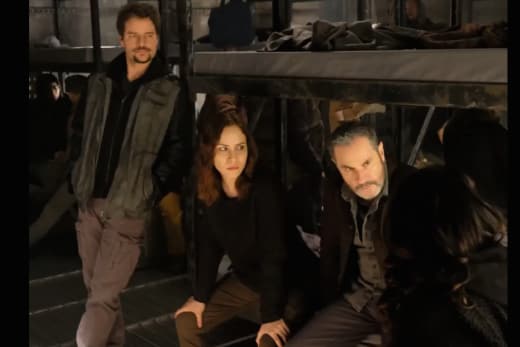 On a side note, it seems that Alternate Jace Corso had just as much luck as prime-universe Corso (or One, for that matter). While him "not being a team player" meant they didn't need to bring back Marc Bendavid, it's the tiniest bit disappointing not to get that interaction.
Ryo's story has grown less interesting with every episode as his character devolves into little more than a petulant child stomping his foot.
I desperately hope that his vendetta against the Raza, courtesy of the alternate crew, actually turns into something more than hot air, because at this point I've lost almost all interest.
By contrast, the alternate crew (composed of Portia, Boone, Tash, Wexler, and the Android) proved for an entertaining A-story as they enacted a dastardly scheme to rip off any- and everyone they could.
This, happily, provided a lovely assortment of downright hilarious dialogue, such as this exchange:
Marcus Boone: Much easier to eavesdrop when no one knows your listening.
Portia Lin: Right. So the snoring was just for show?
Marcus Boone: Had to convince 'em.
Portia Lin: And the drool?
Marcus Boone: It's the details that make it work.
Another highlight of the episode was the face-off between the two Androids towards the end, when they act all matter-of-fact regarding the exchange of hostages.
Something to ponder: Prime-Android lied about the state of the blink drive. It's not damaged beyond use, they just don't know if//what the Zairon scientists might have done to it. So... was Alt-Android lying, too?
Another excellent moment came a little earlier, when Alt-Android shot Tash rather than let her destroy the Raza. This made for a call-back to their previous appearance in Dark Matter Season 2 Episode 8.
It was supremely satisfying for the writers to remember that Alt-Android is loyal to Portia above all things. Did she kill Tash? It's not clear, but it wouldn't surprise me...
Alt-Wexler: What's with the "no can do" attitude?
Alt-Android: That wasn't pessimism. Simply a statement of fact. Like, "We stole a ship," "We're flying through space." Or, "I could detach your head with minimal effort."
Alt-Wexler: Okay.
Alt-Android: Minimal.
Alt-Wexler: Yeah.
Alt-Android: Effort.
Alt-Wexler: Okay.
Alt-Android: Minimal. Effort.
Alt-Wexler: I got it! Testy robot.
Given Portia's appearance with Commander Nieman of Ferrous Corp at the end of the episode, something tells me this isn't the last we're going to hear from that crew.
The departure of both Adrian Maro and bodyguard Solara elicited mixed feelings. On the one hand, Adrian proved a rather different sort on the ship, and Solara definitely less divisive an addition than Nyx in Dark Matter Season 2.
On the other... well, Adrian pretty much spelled it out himself.
Adrian: What are we doing here?
Solara: Talking?
Adrian: No, on this ship, with the crew of the Raza? They're the galaxy's Most Wanted. Legends. And we're useless.
Solara: Speak for yourself.
Adrian: Because of us, they almost got killed on the Traugott colony, got trapped in a time loop, got sent off on a wild goose chase--
Solara: Uh, again, I need to point out that was *all* you.
The two of them could still return later on, especially if Adrian continues to act as the team's handler. His role as a catalyst could be served just as easily over long-distance communication.
Sure was nice of Truffaud to let him hitch a ride with her ship, though. A little out of character for her to be so generous, but maybe Adrian was going to pay up later.
One quibble I had with this episode: why did Portia not kill Three? As far as I could tell, there was no reason at that point to keep him alive. Maybe she was feeling sentimental? She and Marcus did have a... thing... after all.
Okay, it did allow for some really absurd flirting, innuendos, and puns between Three and Tash later, but still.
Finally, let's spend a little time talking about Six. He left the ship only a few episodes ago, seemingly the first crewmember not to leave by violent death. Oops.
Obviously, we didn't see his dead body here, but the grim fate of the colonists was heavily foreshadowed in Commander Nieman's coda at the end of Dark Matter Season 3 Episode 5.
You could say it was predictable, but the universe of Dark Matter isn't exactly a bright, happy place full of sunshine and rainbows and unicorns. Not to mention this wouldn't even be the first civilian mass-casualty event on this show!
Sure, it was a bleak fate. And, yes, there are viewers who called such a thing happening from the moment Six left. But there's still story left to tell, and we'll just see where it takes us.
Remember, you can always watch Dark Matter online! And tune in on July 14, 2017 at 9/8c on Syfy for Dark Matter Season 3 Episode 7, "Wish I Could Believe You."
What did you think of "One More Card to Play"? Were you happy to learn who from the alternate universe hitched a ride? Did you enjoy the two crews trying to out-think each other? What happened to Six and the colonists?
Let us know in the comments below!