The Bold Type Season 1 Episode 2 Review: O Hell No

Yana Grebenyuk at . Updated at .
Things got interesting on The Bold Type Season 1 Episode 2, with the core three characters wrapped up in some eventful situations. 
Sutton had to navigate her career and where she was heading, following her dream or choosing something practical. Jane also hit a wall in her professional career when she had to write about her best orgasm. Unfortunately, she'd never had one.
As for Kat, she was doing her best to determine where she stands with Adena and her identity.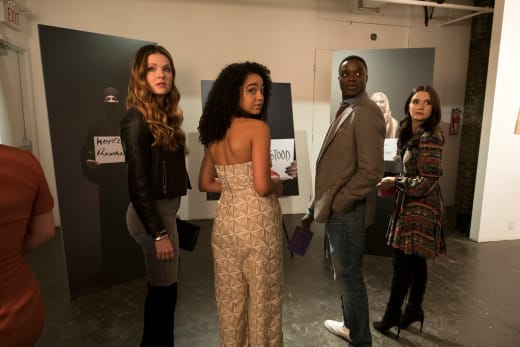 Things got plenty intense when Kat had to help Jane out of a Yoni ball situation that I still feel very blessed to have seen.
There is nothing like strong female leads ruling their lives not because everything is going great for them, but because they don't stop when it gets difficult.
Kat's journey once again proved to be very close to home and very relatable to those who had to work through a shift in their identity. 
It makes me immensely happy seeing Kat exploring her sexuality and trying to understand what her feelings for Adena mean.
This means we will see more of Kat getting nervous around Adena (and maybe other girls), and I'm very on board with that. If Kat interacting with Adena isn't me on a regular basis, I just don't know what is.
Struggling with what she feels when she thinks about Adena vs. her perception of what being a lesbian means is a conversation worth having. It isn't always obvious for girls when they realize that they could like other girls, especially when thinking about just the sex portion of it.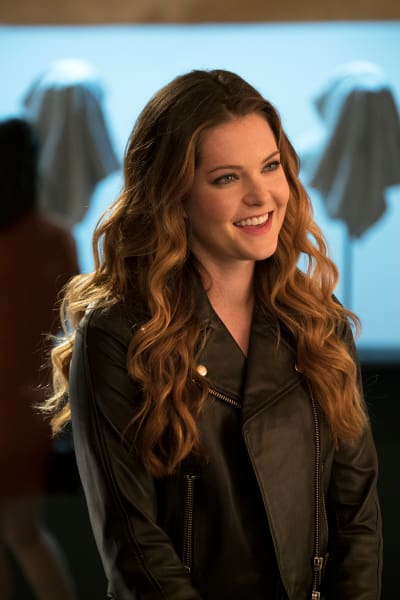 Kat shows good examples of that, connecting more with a person who happens to be a woman while thinking she could never do certain things. And it is easy to believe her until you see how she lights up when she sees Adena.
It isn't about sex, not always, and it seems to take a connection with someone like Adena for Kat realize that in herself.
It brings up the question of sexuality and how it isn't as simple as one dream or one experience or one porn video. Everyone finds their own way, and there is no shame in not having it all figured out or not knowing how you feel.
Kat is still uncertain, and I believe this is all headed to her noticing that she is sure whenever she sees Adena. They aren't together and for now it seems like it might not happen, but something has awoken in her, and it's something she will continue to explore.
Word of advice though, the options aren't only gay or straight. I believe in you Kat, you got this!
Mr. Grey will see you now.

Richard
Sutton trying to figure out how to make her dream happen while still worrying about money is a story I didn't see coming right off the bat.
At the same time, though, it spoke to me, just like it will speak to many people who just got out of college or will in the near future but don't have a safety net.
As someone who almost committed to a career in which I couldn't see myself being happy but paid well, I get Sutton's struggle with her decision. 
The way Sutton chose to go for something that might not make her successful but could make her happy was a cathartic experience. It is that perfect reminder that sometimes doing what you love will be terrifying but that doesn't mean you shouldn't explore it.
Sutton spending her hundred dollar bill was her chasing fashion with everything that was in her, showing courage that I found crazy inspiring. 
Not to mention the nod that it sent at Sutton and Jane wanting to be as brave as Kat, only to then really got for it with their own courage.
Now Richard and Sutton are a different story altogether, if only because I didn't expect to like them together as much as I do already.
Is anyone else with me on that?
Richard and Sutton seemed like a forbidden relationship destined to fail because there was a risk that there would be no substance. Instead, I was very happily surprised by the support Richard showed Sutton without using his power to influence her progress at the company.
Richard offered advice when Sutton was looking for it while letting her figure out where she belonged at the magazine.
I am excited to see where these two will go in the future as a couple because there is something wonderful about seeing a healthy couple that isn't boring and doesn't have drama for the sake of drama.
Jane: We're both straight.
Kat: Actually, since we're here, I am having these sexual identity issues.
Jane's story touched upon something that many women experienced, and it did it in a serious but funny way.
It wasn't something Jane figured out in a day, although she did discover some ways to learn more that had me questioning how it even made it on screen.
All of them watching porn was unexpected and raised the bar for me when it comes to The Bold Type because now I demand to see this level of honesty in every episode. And I respect the reminder that it isn't just porn or it doesn't even have to be, courtesy of Sutton and Kat.
As for Kat having to take one for the team to help Jane get that ball thing out of her? Now that is a true friend.
It was silly because that obviously doesn't always happen, but it was presented as a great reminder that there no barriers holding anything back. This kind of honest stuff will continue to appear because it can happen, and why not have that experience with Kat, Sutton, and Jane?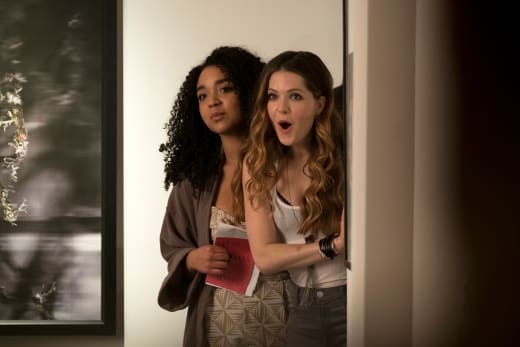 And if I ever had to do this for my friend, I could see myself worrying about the state of my Fitbit. I have to say, this scene nailed why I adore this show so much, and it might have been the best part of the episode.
Specifically, this wasn't put in there as some weird sexy thing, yet it did achieve some major comedy gold, just like that little fantasy Jane explained. That overthinking is exactly why I get her so much.
As for Jane's new guy, I don't know what to think about him yet. I am not feeling it, but it wasn't a huge part of her journey, so I can roll with it for now. This will have to play out a bit more for me before I decide how much I am meant to care about him.
For now, though, he is Ryan or just that guy that works in that other magazine who heard Jane talking about her vagina. 
This is an infection waiting to happen.

Jane
Alex is a small piece of the puzzle (for now), and I already want to see even more of him.
So far, he has been a supportive friend for both Jane and Sutton, sounding off while not pushing them too much. Each of them reached their own conclusion with their problems, but he was there for them if they needed to talk things out outside of their core group.
Based off some information from an interview, Alex was actually meant to be the lead of the show but it changed direction and the ladies became the central focus. 
While I am all for Kat, Sutton, and Jane as the main story, I would still very much like to explore Alex's position at Scarlett. And I can't be the only one who felt like Jane and Alex could have something more.
Sorry dude who writes for that other magazine, but it looks like I am Team Alex at the moment. 
There is no way this woman is enjoying this. Can somebody please make her stop moaning?

Sutton
Once again, The Bold Type has surprised me by being the female empowerment show that I didn't know could exist. 
It has the female friendships that we deserve to see all the time, yet it is unique the way it tackles them because it could never be this good on another show.
Finding a show that you look forward to can be rare. The Bold Type is filling in a gap I didn't know I had in my TV show heart. It continues to speak to women and their stories, not all the same but all very important.
I can't wait to see the journey each girl goes on and the representation it offers, particularly with something like LGBT representation. Watching Kat going through it is true to form and worth experiencing for yourself.
Kat: The female form is actually quite beautiful.
Jane: Can you not narrate this?
What did you think of this episode? Which scene did you love the most? Which character are you connecting with the most so far? What do you want to see more of, or what would you want to see less of right now?
Let us know what you think below.
And don't forget that you can watch The Bold Type online right here on TV Fanatic if you are loving this show as much as I am right now.
Yana Grebenyuk is a staff writer for TV Fanatic. Follow her on Twitter.