The Night Shift Season 4 Episode 3 Review: Do No Harm

Stacy Glanzman at . Updated at .
How weird would it be to have your hand attached to your leg? 
That would be insanely hard to get used to, even if it was only for a few months. 
But, like the patient on The Night Shift Season 4 Episode 3 decided, it would be worth it if it meant eventually getting your hand back where it belongs.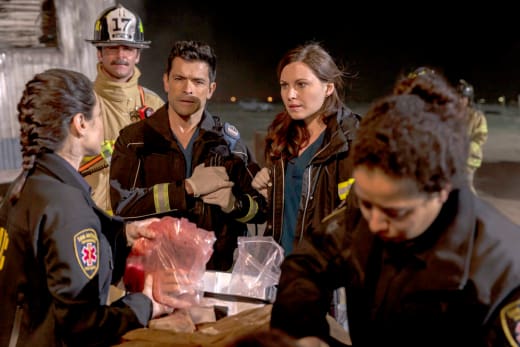 The Night Shift isn't generally like other medical shows that make it a point to tackle the craziest, rarest, and most unrealistic but still possible cases that exist. This was definitely one of the weird ones. 
Like he said, it'll be an interesting conversation starter. 
It's a little odd that after years of drinking contaminated well water, the effects of the lead poisoning only now affected him when he was already being treated for the oil rig accident. Quite the coincidence.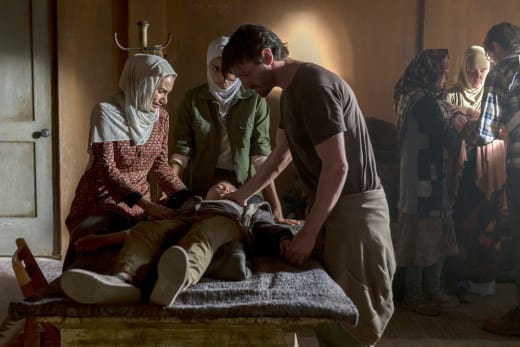 Speaking of effects on people... There was some question as to how TC might be dealing (or not dealing) with Topher's untimely death. 
First of all, the TC we know and love has always been rash and impulsive. Yes, he suffers from PTSD, but let's be honest, Topher's death had nothing to do with how he handled the situation with that kid. 
If it had happened a month earlier, before Topher died, he still would have moved hell and high water to get that kid to the OR and save his life. It's just who he is. 
Does that mean Topher's death had no effect on him? Of course not, but really, who can tell with him anymore? The guy has unresolved issues; one more is probably not making a huge difference in his behavior. 
Amira: All we can do is make him comfortable. You're not in Texas anymore. We don't get happy endings here. We're in a war zone.
TC: Thanks. I hadn't noticed that.
TC and Amira are complete opposites in their outlook, but it's working for them. 
Amira has this cynical but realistic approach. She looks at the bigger picture which she knows means they simply can't save everyone. She's not willing to risk saving multiple people later for one boy now. 
TC, on the other hand, is very much an "act now, deal with the consequences later" kind of guy. Neither of them is necessarily wrong, and it's hard to blame TC for wanting to do everything he could to save a child's life. 
The question is, will his actions have consequences later? 
Amira was skeptical for a reason; chances are we're going to find out exactly what that reason is sooner rather than later. 
Again, I think the two work well together. Amira admitted that following every rule is not always the best approach, but he needs her to reign him in when he goes too far. 
She's been there a long time and will be there after he's gone, so it wouldn't be a bad idea for him to listen to her too. 
Of course, the sooner TC gets back home, the better, so maybe we should all be rooting for him to screw up and get sent back to Texas.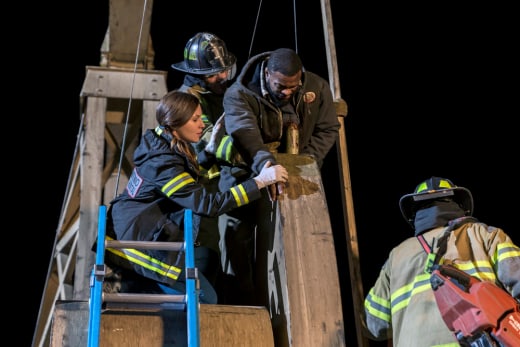 Cain isn't growing on me, at least not yet. 
Kenny has a point. It does feel like he has come in and started throwing his weight around a little bit. It irked me when he questioned Jordan in the field. 
He's a doctor, and his opinion is valid, but he's still the new guy. So far it feels like he's being pushed on us a little too much too fast. 
So Annie jumped off a bridge. That happened. 
They brought her back, had her make amends with Jordan and Scott, and then she just went and jumped off a bridge. That is not how "Wild" ended. Maybe she should have given it a second viewing? 
Let's hope that Scott has a new sponsor, because when he finds out, he may need to call someone. Preferably someone who won't show up and offer him a drink. 
Seriously though, first Topher, and now Annie. How many more deaths are we in for this season? Give these guys a chance to grieve before you throw someone else off a bridge!
Of course, it's possible Annie could still be alive. Crazier things have happened.
We just watched a guy get his hand surgically attached to his leg. 
What do you guys think? Were you surprised by Annie's big jump? 
Will there be consequences of TC's actions to save that boy?
Are you ready for him to come home already?
Topher may be gone, but you can always go back and watch The Night Shift online if you're missing him. 
Stacy Glanzman was a staff writer for TV Fanatic. She retired in March, 2019.