The Night Shift Season 4 Episode 6 Review: Family Matters

Stacy Glanzman at . Updated at .
Whew! Thank goodness Kenny is okay!
His situation was looking pretty dire on The Night Shift Season 4 Episode 6, but he's going to make a full recovery. 
The cases involving one of their own are always the toughest, and needless to say, emotions were running high.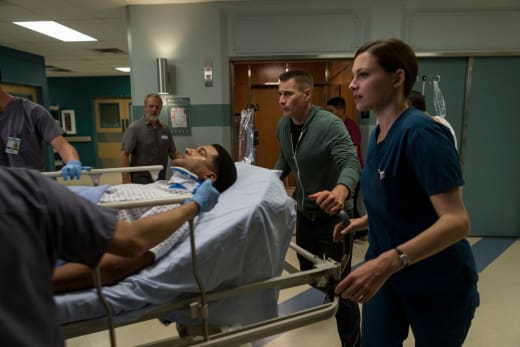 Was Drew out of line when he looked into the vet's records and confronted Mac? 
Probably, but could anyone really blame him? Kenny could have been paralyzed, and to be honest, it didn't really look like an accident. That guy did not seem to be in control of himself. 
Finding out he had a history of mental illness made sense. It may not be his fault, but he's still one dangerous dude. 
Who didn't see it coming when he stabbed Mac in the parking lot? 
As soon as Mac approached the truck, it was obvious this was not going to end well. 
Poor Mac has been through so much already. It's hard to imagine he will survive this one. Jordan will be devastated to lose another friend. 
Kenny: Could you just give me a minute, just to, you know, mentally prepare for this intrusion.
Bella: No.
Kenny: No? You gotta be kidding me.
Bella: I'm already done.
Kenny: That's it?
Bella: I told you I was good.
At least something good may have come out of Kenny's whole ordeal. 
Sparks were flying between him and Paul's sister Bella. Could there be a potential romance brewing? 
If it worked out between them, let's just say they'd have one hell of a "how we met" story to tell the grandkids. 
To be honest, I never actually thought Kenny would be paralyzed. That would have been a dark turn for a show that's already killed a beloved character. Still, it was hard not to feel his fear. JR Lemon did an excellent job.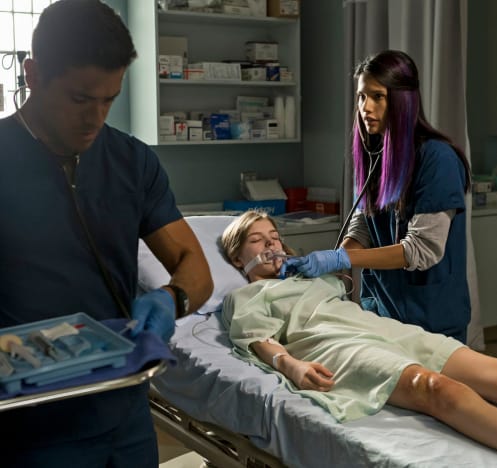 Okay, so I definitely did not see the sex trafficking thing coming. I figured the girls were just runaways and that's why the older girl was evading questions regarding their mother. But then revealing that the firefighter was involved in it? That was pretty crazy and unexpected.
Shannon has grown a lot over the seasons, and it was refreshing to see her connect with the older girl. Sharing her own scars and stories had to be inspiring to an 18-year-old who has had such a hard life so far and will definitely have a hard time learning to trust again. 
At least she knows she can trust Shannon. Still, it's going to be a tough road ahead. 
Jordan: I think we broke at least 100 HR rules.
Cain: We? No, no, no. I'm a resident, you're my boss. You broke the rules.
Jordan and Cain are officially sleeping together. That did not take long. 
Jordan's risking her career by sleeping with a resident. It doesn't seem worth it. Also, if that were the case on Grey's Anatomy, just about every attending would have been fired long ago.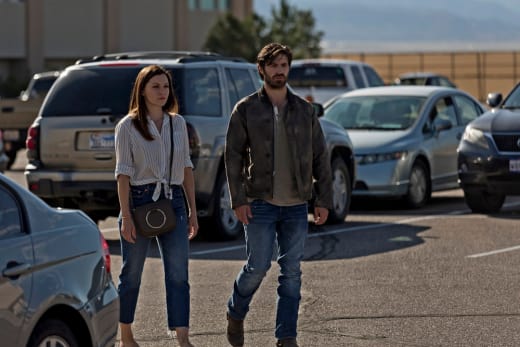 Now that TC is back home, will Jordan reconnect with him? He's only home for a month (or so he says), but that's more than enough time to rekindle old flames. At least her job won't be in jeopardy with him. 
Of course, it's possible the two are just bonding as friends and supporting each other through Topher's death. But, it probably won't surprise anyone if they take comfort in each other's arms. 
Then maybe she can convince him to stay instead of going back to Syria. 
Really, what's there for him now that Syd is back home and Amira has returned to London to get treatment for her disease? He can't keep hiding over there forever. Eventually, he has to face his demons head on and process his grief. 
Besides, story wise, we need him to rejoin the main cast. Having him on his own for a few episodes was fine, but it was getting old. His scenes with Jordan are usually some of the best. 
Are you guys glad to see TC home (even if it's only temporary)?
Were you worried about Kenny? Will Mac survive?
There was a lot of action to discuss, so be sure to hit the comments with your thoughts! 
Don't forget, you can watch The Night Shift online anytime!
Stacy Glanzman was a staff writer for TV Fanatic. She retired in March, 2019.