Younger Season 4 Episode 5 Review: The Gift of The Maggie
Carissa Pavlica at . Updated at .
Josh and Liza had a chance to talk on "The Gift of The Maggie." It was much appreciated, right?
What I didn't get enough of on Younger Season 4 Episode 5, considering her name was in the title, was Maggie.
Don't get me wrong. I really enjoyed this one but wish it had been centered on Maggie more than Montana, even if the nuggets coming from the mouths of Montana and her mum, Stacy, were too much to miss.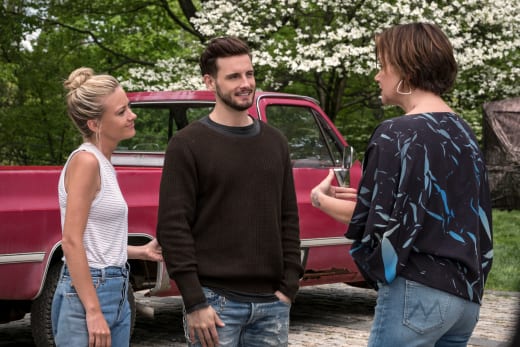 Without Miss Montana, there would have been no conversation between Josh and Liza nor would there have been the us-versus-them stuff that can be both delightful and frustrating depending upon the day.
This time out, trying to play sides with millennials and Gen Xers was more on the annoying side because Montana is not only an idiot but an entitled callous one, at that.
The entire trip to Croton-on-Hudson was Younger quotes gold. From Josh discovering Montana renamed herself Amy "as one does" upon moving to Brooklyn to Stacy's pride in only paying for her daughter's lawsuits, it's hard to imagine having more fun with a side character's backstory.
Getting Margaret Colin to play Stacy was a coup in itself. I love that woman. I only wish she had played someone we'd like see more than once. Even with the golden verbiage spewing from their lips, I hope we don't have to see Montana anymore. I mean, surely Josh isn't going to continue seeing her.
It's not like Ray Charles was mad at Kanye for sampling his music. It's the job of our generation to build on the generation that came before us. If Maggie's a true artist, she'll get that.

Montana
Way back when, at the time sampling first started (well, not first, but on such a recognizable scale), older kids were disgusted by the trend. Now it's accepted. But even as prolific and pop as Andy Warhol was with his lithographs, I don't see a stencil of the state of Montana over good work taking the art world by storm.
I was so thankful that Maggie's name was in the news after the show and that she was getting the acclaim for once again making her mark. 
One of the best parts of the story was Diana telling Liza she's proud of her for keeping older people in her life because it's good for her. There is a great friendship in there waiting to come out. Will we ever see it?
What if we're on the verge of an adult friendship between Diana and Maggie because Diana wants to meet Maggie? That might throw a wrench into Liza's life as a 27-year-old. It would be hard to watch two adults she loves getting friendly, I think.
But still, the Maggie drama led to the conversation between Josh and Liza. Finally.
It was so simple, too.
Josh: Just tell me. Why'd you have to kiss him?
Liza: Because some part of me just had to blow things up.
Josh: Why?
Liza: Because. I want you to have everything. I want you to have time to decide about kids. To decide when it's right, or, or if you want one or maybe even five. And maybe someday I can be that fun Aunt Liza who takes them to the beach or builds them fun blanket forts. I build the best blanket forts. Just please tell me that you'll be in my life. Please. Somehow. There's gotta be a better ending to us than this.
Josh: Yeah. OK. Goodnight, Liza.
All he wanted was to understand, and all she wanted was for him to understand. Some May/December couples can come from the same place and find common ground. The reason it's more than likely an older male with a younger female is because he won't necessarily rob her of having children.
The same can't be said of older women and younger men because biology sucks.
I love that Liza wants to be in Josh's life forever. It proves how much he meant to her. She wants to make sure he knows it was real. Where they go from here probably won't be as easy as it was picking up the friendship between Liza and Kelsey, but I look forward to it nonetheless.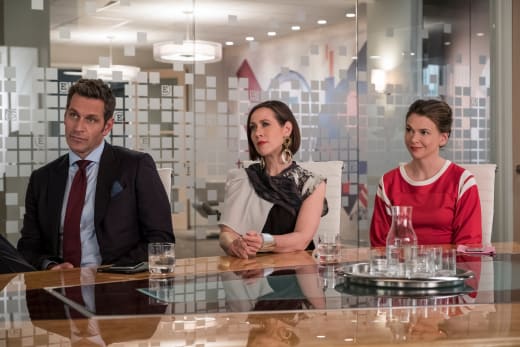 Getting her happy ending with Josh gave Liza a different perspective on a work matter, too.
Since Empirical has the rights to Belinda's posthumous works, they were searching for a new author to scribe her books. Personally, I thought they were onto something with going every couple of books without a happily ever after.
However, it all depends on how you look at it.
The woman hoping for tenure at Columbia who wanted to blow up the romance genre was speaking for me when she said heroines don't always walk into the sunset with the men they're dating. But I also don't know exactly what Belinda wrote about.
As a kid, I read romance novels out the yin yang. All of them, from Harlequin to the Kathleen E. Woodiwiss pirates and wench sagas. If I recall, some ended on cliffhangers. Our heroines were in the wrong place, while their true love desperately needed to find a way to save them.
Kind of pitiful in this modern world, but the heroines were never without their strengths. Biology puts women at a unique disadvantage in some situations, and romance novels take that to the nth level. They also take love and happy endings to different degrees.
It can be a bummer if you are the lonely woman always searching for love and never quite reaching it who doesn't find her happily ever after never feeling represented. For that, I'd say putting off the happy ending would be a boon for the romance industry. But maybe not Belinda's books.
Liza's life is going to parallel one of the novels, though, as she works ever closer with Charles. Her smile could not be more radiant than when she's beside him.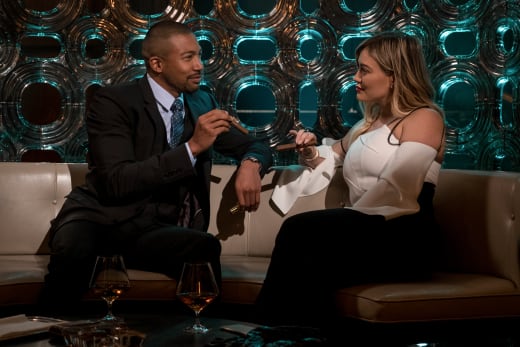 Yet Charles and Liza are not my only 'ship on Younger any longer.
Kelsey and Zane are HOT.
Is there anything better than an intellectual partnership and rivalry? Kelsey feels close enough to the man to share bits of her past with him and to tell him the truth about her score with Lachlan Flynn rather quickly, but even when he tosses some much-earned salt back in her direction, the fire still burns bright.
After a couple of dates, Zane is already doing for Kelsey what Montana wished of Josh; he's supporting her career goals, even if they may not be what she's expecting in the long run.
I couldn't help but wonder if Zane knew more about the Lachlan deal than he let on when he used The Wolf at the Door to describe Kelsey. She knows what she wants and will do what she has to do to get it. She called herself scrappy, but he seems to see her very deeply.
Zane is undoubtedly the most exciting of the suitors Kelsey has had so far on Younger. They're magical together. I hope he's a keeper.
What did you think of this one? 
Did it stir up as many emotions and thoughts as it did me? What couple are you shipping the most at the moment?
Share your thoughts in the comments.
And don't forget you can relive all of Kelsey's past paramours and Liza's entire relationship with Josh when you watch Younger online right here via TV Fanatic.
Carissa Pavlica is the managing editor and a staff writer for TV Fanatic. She's a member of the Critic's Choice Association, enjoys mentoring writers, cats, and passionately discussing the nuances of television and film. Follow her on Twitter and email her here at TV Fanatic.