Midnight, Texas Season 1 Episode 3 Review: Lemuel, Unchained

Lisa Babick at . Updated at .
Not all vampires are the same. 
On Midnight, Texas Season 1 Episode 3, we learn how Lem came to be a vampire when a friend from his past visits Midnight.
While Lem welcomes Zachariah with open arms, the rest of the gang questions his true intentions.
Midnight, Texas took us on a journey through Lem's past that answered many questions of how he came to be and why he doesn't need to feed on humans to live.
Okay, maybe it didn't answer the question of exactly what Zelda did to him all those years ago, but that little twist shed some light on Zelda's connection to Lem. The important thing is that she freed him from his bloodlust.
Zahn McClarnon (The Son, Fargo) graced our screens as the suave Zachariah, Lem's old friend from the past.
McClarnon always brings something special to every role he plays, and he didn't disappoint here. Lem owed his life to Zachariah. He freed him from his life as a slave by turning him into a vampire.
The show did a nice job creating an urban legend type of story with Zachariah as a freedom giver in the prairie – a supernatural underground railroad. After being turned, Lem needed to exact revenge on his former slave owner, but it was a scene that felt more obligatory than necessary. 
Still, it helped in showing how Lem's initial enthusiasm at being a vampire quickly faded through the years until he met Zelda.
Zachariah's intentions were very clear when he arrived. He and his nest weren't there to do good. Deep down Lem knew Zachariah was up to no good, but he felt a smidgen of loyalty to the man who helped him escape slavery.
Lucky for Lem, he has a bunch of people watching his back.
Olivia taking down Zachariah's girlfriend with the heel of her boot was one of the top moments of the hour. She's my favorite character, and if the show is going down the road of giving us a backstory on all the players, I can't wait until hers arrives.
Olivia was willing to do anything to save Lem, including giving him a taste of her blood. If she hadn't, he would have died, but it was more than that. Their relationship is deeper than we understand right now, and making that move took him a step closer to him turning her.
It's unclear if that's the intention, but it seems like it's going down that road.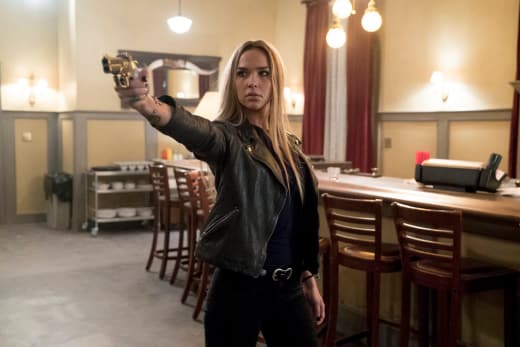 The rest of the team worked together to rid the town of Zachariah and friends with Manfred taking a lead role. If the team can work together this well now, they should have no problems when the demons try to break through the veil.
The fraying of the veil is still Joe's secret though he did share his information with the Rev. Fallen angel or not, what kind of angel shirks the responsibility of saving humankind on a were-creature like the Rev?
Maybe that's the reason he's fallen – because he's too afraid to take responsibility. Nobody is asking him to do it alone. He knows the stakes and knows what needs to be done. It's hard to believe he'd just walk away from Midnight like he's suggesting.
The Rev isn't going to be able to keep the secret to himself for long. He'll have to share with the rest of the group. And Joe has to let the group see the painting in his house. That's one of the keys the group will need to defeat what's coming.
Midnight, Texas has found its stride. Each progressive episode gets better and better. Slowing down the narrative and giving backstories for the characters has given viewers time to digest what's happening in the small Texas town. 
And so far, I'm loving what I'm seeing.
What did you think of "Lemuel, Unchained"? Did you like Lemuel's backstory?
Hit the comments and share your thoughts.
If you need to catch up, you can watch Midnight, Texas online right here via TV Fanatic!