Preacher Season 2 Episode 10 Review: Dirty Little Secret

Lisa Babick at .
We got out of the apartment for a while! Well, at least Jesse and Cassidy did.
And for a treat, we got to see how unholy Jesus was in an elongated cold open on Preacher Season 2 Episode 10 that I can't really decide was funny or not.
What was funny, though, was Jesus' umpteenth offspring, Humperdoo.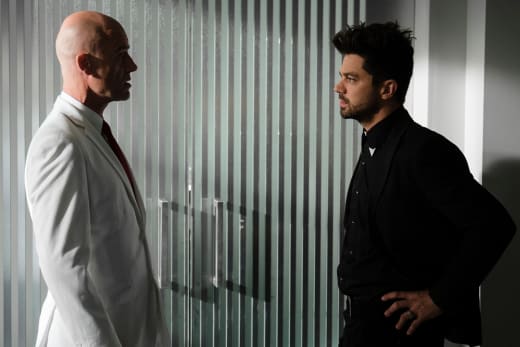 How the Grail came up with a name like that is beyond me, but just watching Herr Starr say it had me rolling. It was the most ridiculous thing ever, but it fit the state that Humperdoo was in. 
Jesse was so humbled to be in the Messiah's presence that he got down on his knees only to find that Messiah wasn't as powerful and almighty as we all think he might be.
Humperdoo was mentally-challenged and proceeded to bless Jesse by peeing on him and went on to hump Herr Starr for a moment before completely freaking out when Jesse used Genesis on him.
Jesse isn't getting any help from anyone when it comes to finding God, and you have to wonder why he's even bothering anymore. If the world is supposed to be saved by something like Humperdoo, what exactly is the point of God anyway?
Will finding God wipe out Humperdoo? Will God start over?
Despite all the roadblocks, Jesse is still intent on what he set out to do. He isn't stopping his quest, which is an interesting concept if you think about it.
Aren't most of searching for something — some illumination to our problems and the problems of the world? Aren't we always seeking hope, even in the face of despair?
So, why shouldn't Jesse be the same way? God has the answers he's seeking, and he's not going to stop until he finds Him.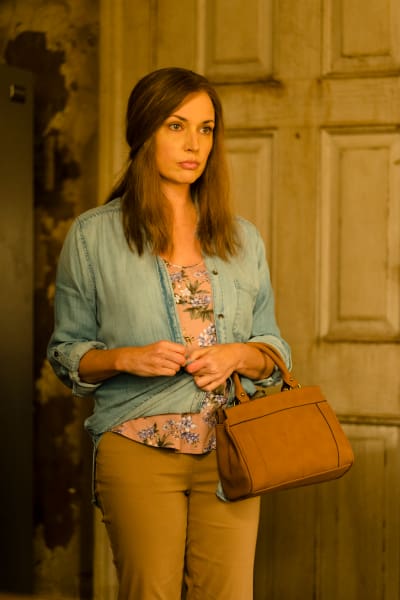 Unless, of course, he takes Herr Starr's advice and decides to become God himself.
But that wouldn't solve his problems. Sure, he could command people to do all his bidding, but what will he gain from it? It might be fun for a while, but I can't imagine he'd like it for long. 
I was surprised that Herr Starr succumbed to Genesis, but that just showed how powerful Genesis really is. I had thought maybe he would be immune, but apparently, Herr Starr has a soul, albeit a dark one.
Even if Jesse decided to become God for a while, one thing is certain: he'd lose Tulip in the process. Tulip already doesn't like Genesis, and if Jesse took it to the ultimate degree, she wouldn't tolerate it.
She'd leave him and Genesis behind without a second thought. And I'm going to guess that Cassidy would follow her just because it's her. Then Jesse would have nothing, and Jesse wouldn't be able to deal with that very well.
Tulip's already pretty ticked off at Jesse for hiding the Saint of Killers' weapons. She realizes that it must mean Jesse doesn't trust that SOK won't show up again.
Considering Tulip is still having horrific nightmares, that's a real problem. And when she finds out what Herr Starr suggested — if Jesse shares — the shite is going to hit the fan. Hell, the shite is going to hit the fan the minute he walks into the apartment. 
Tulip is not playing around.
I'm still not sure if she believes Lara/Jenny about Dallas. The guy Lara is with (sorry, forgot his name) pulled off a convincing Rodney which saved Lara's butt, but Tulip is smart as a whip.
I can't believe the tingle about Lara has completely gone away. Tulip may have other things on her mind right now, but if the tingle is still there, she's going to latch onto it. 
I don't get why Lara and her companion are still monitoring the apartment. What could they possibly learn that Herr Starr doesn't already know? It seems like a waste of time for them.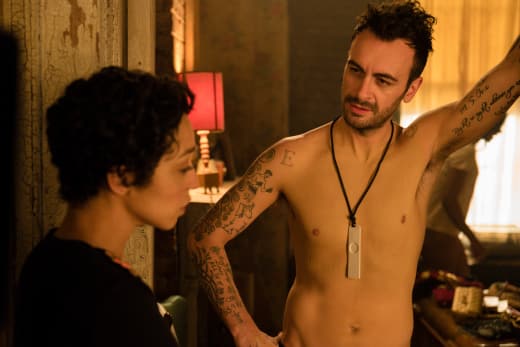 Still, they're around, and they're dangerous. Who knows if Lara is going to continue to follow orders or decide to just blow Tulip and Cassidy away? At least try to. Lara will have a big task trying to take on Tulip, and my money will be on Tulip. 
But Herr Starr isn't allowing them to do anything. Maybe he just wants to monitor what Jesse's going to do after his suggestion about becoming God.
Maybe Herr Starr will try to take Genesis from Jesse. It doesn't seem too far-fetched. Herr Starr wants power, and what better power to have than God-lite?
Jesse has a tough decision to make, or maybe it isn't a tough one at all. Maybe he's already made up his mind. Will he abandon his friends to become something greater, or will he continue his quest to find the answers he's seeking?
What do you guys think?
How did you like "Dirty Little Secrets"? What did you think about the cold open? Were you offended by Humperdoo?
Hit the comments and share your thoughts!
If you need to catch up, you can watch Preacher online right here via TV Fanatic!