Preacher Season 2 Episode 11 Review: Backdoors

Lisa Babick at .
On Preacher Season 2 Episode 11, Hitler and Eugene head back to the real world, the Saint of Killers is alive, and Herr Starr is still intent on making Jesse the God we all need.
And to top it all off, Jesse has been abandoned by Tulip and Cassidy.
It's a recipe for disaster, and it's headed straight for New Orleans.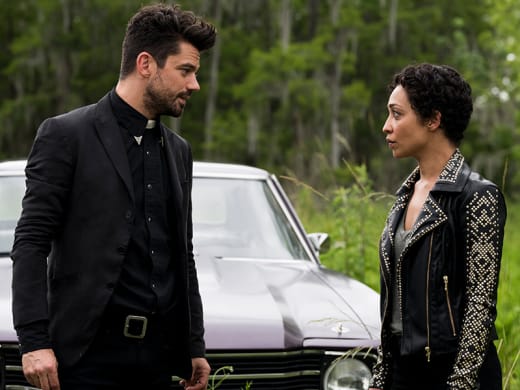 We don't know where Hitler and Eugene will land after jumping into the escape from Hell tunnel, but New Orleans seems like a good bet. Eugene has a bone to pick with Jesse and Hitler is along for the ride.
There's the possibility Hitler will just return to the moment in the restaurant that changed him. We got to see more of the moment that was responsible for him changing from an ordinary person to a monster. Hitler had a horrible day, and everyone eventually suffered for it.
Had the gallery owner not rejected Hitler and his drawings and had the restaurant not given the last piece of plum cake to the Jewish man, perhaps the horrors of his regime would never have happened.
It is true that Hitler wanted to go to art school, but was denied entrance because he wasn't good enough, and it's hard not to wonder if history would have changed had he been accepted instead.
Eugene had a hard time believing the moment was Hitler's worst, but living with regrets can become hell, and that's exactly how it seemed to be for Hitler as he lay on the cot.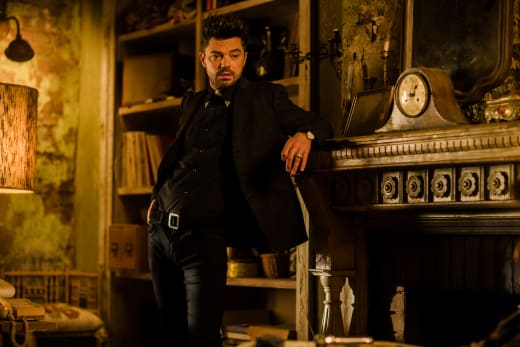 He was able to show his Hitlerness for one brief moment that allowed him and Eugene escape and it was a rather clever way for him to distract the guards.
I wish we would've seen how he convinced all those prisoners to sing "My Little Light," but he got the job done, and that's what matters.
Hitler is protective of Eugene, so if he does end up in New Orleans instead of Germany, he just might bring out more of his Hitlerness to deal with Jesse and friends. He's Adolf Freaking Hitler dont'cha know?
Not only will Jesse have to deal with an impending threat he knows nothing about, but he's also going to have to deal with the return of the Saint of Killers. 
It was unbelievable hearing Jesse tell Tulip he didn't send SOK to Hell because he couldn't do that to another soul. I just don't get why he can't remember what he did to Eugene. When he said that it should have triggered something, but it did nothing.
Of course, the reason Jesse didn't want to send SOK to Hell was that he gave part of his soul to the SOK, and he has no interest in being in Hell.
Now, the team is going to have to deal with the return of SOK and there's no doubt the Cowboy is going to be pissed.
Jesse: This Jesus is not right in the head. He's an imbecile.
Tulip: They're all imbeciles, Jesse. Jesus, Buddah, the President and God is probably the biggest imbecile of them all.
Tulip trying to get rid of the guns failed big time. SOK will find his guns just like he'll find Jesse and friends.
But Jesse might be on his own because Tulip and Cassidy have had enough of Jesse and his search for God even if Jesse finally figured out who God might be. Unfortunately, God has disappeared, and Jesse is at a dead end again.
It's become clear why Jesse hasn't given up his search for God. I might have said it before, but he feels responsible for his father's death and seeks forgiveness. He feels God is the only one who can give it to him which is why he's not stopping his search.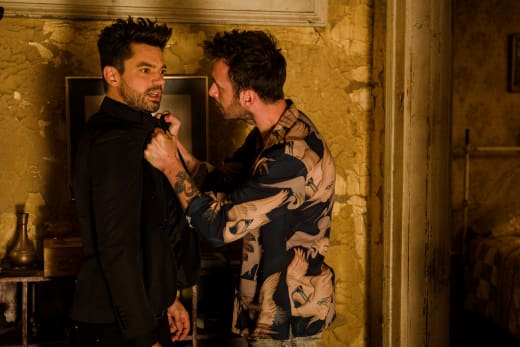 And despite his telling Herr Starr to shove everything up his ass, Starr isn't about to give up his quest to replace Humperdoo with the guy who controls Genesis.
A wildcard here is Denis who is becoming more and more undone as each hour passes.
He may or may not fit into the final play, but he might become useful when all the players begin their attack unless Cassidy decides to reverse what he did. Can he even do that?
What did you think of "Backdoors"? Will Hitler and Eugene get back to the real world? What's Herr Starr's Plan B?
Will Jesse make up with Tulip and Cassidy? What's Denis' role in all this?
Will Jesse find Dogman? Will Dogman even care about what's happening in the world?
Hit the comments and share your thoughts!
If you need to catch up, you can watch Preacher online right here via TV Fanatic!