Ray Donovan Season 5 Episode 4 Review: Sold
Paul Dailly at .
Ray Donovan may come across as a ruthless thug when he's on the clock, but he would do absolutely anything to get his family back together. 
On Ray Donovan Season 5 Episode 4, we found out more details about Abby's final months, and we got a stunning revelation about what happened with Smitty before Abby passed away.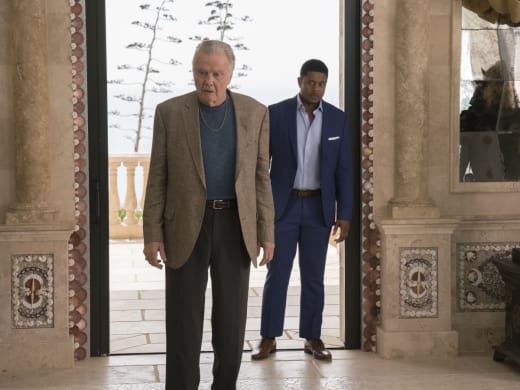 It was completely selfish of Ray to make Smitty ill to get Abby on the clinical trial. Obviously, he was in denial about the illness at first, but getting a ballpark figure for when to expect Abby to die made him spring into action. 
He knew he could not continue without her, and it probably never even crossed his mind that what he was doing was wrong. It was a dark turn, and I thought for sure Smitty was going to lash out at Bridget. 
It was completely out of the blue that she told Smitty the truth while they were in the tub. Did she decide at that moment that she could no longer live a lie?
Maybe she thought about all of the crap that went on between her parents because of Ray's lies over the years. 
Now, it looks like Smitty is on the outs with her. He will struggle to see her now that he knows her father was the one to screw up his treatment. It may not have been Bridget's fault, but I have to give her credit for her honesty. 
Bridget has been one of the most polarizing characters on the show, but Ray Donovan Season 5 is taking the less-is-more approach with her, and it's working wonders. 
Ray: How long?
Doctor: Well, as I said, it's not precise.
Ray: Three? Six? What?
Doctor: In that range.
Ray: Yeah, and then what after that?
Doctor: Well, there's a palliative of care.
Ray: Morphine.
Doctor: Hmm.
Ray: Yeah.
Doctor: Among other things.
Ray: You gotta do something. You gotta save her.
Doctor: I'm sorry, Mr. Donovan.
Ray: She's all I got, you know?
I'm genuinely intrigued to see whether Bridget returns home or if she finds a way to make things right with Smitty. I can only imagine the reaction on Ray's face if he ever had to meet him. 
Liev Schreiber is turning in the performance of his career as he tries to come to terms with Abby's death.
The house is a constant reminder of his deceased wife. Every single time he walks through it, he recalls a moment he shared with her. It makes for a flawless transition to the months leading up to the death.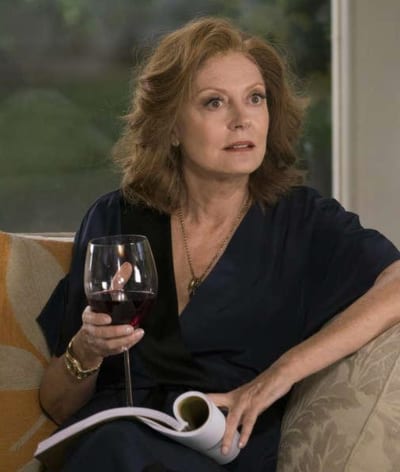 With the house essentially sold, it probably means Paula Malcomson's days on the show are numbered, and it's difficult to assess where the show will go without her. 
It's strange, but Abby's death has given the series a much-needed kick in the right direction, and it's slowly becoming one of my favorite shows again. Who would have thought it? 
Mickey is back to his old ways, and that's a good thing. Slapping the movie producer around made me laugh more than I probably should have. 
It was a vintage Mickey move to turn on Jay to get his movie one step closer to production. The crime scene was grotesque, but the plot was merely slotted in to bring Daryll and Mickey together to make the audience laugh. 
It was blatantly obvious, but can we talk about how Mickey and Daryll acted like Jay's crime was normal? Have father and son spent so much time in the world of crime that they are numb to any crime?
Mickey was straight on the ball to take the reigns of the operation. Jay was ready to give up and call his lawyer, but it would have been exciting to see how Daryll handled it without the help of family. 
Part of me thinks he would have let Jay call the cops and admit the crime. There's absolutely no chance that the death is not going to come back and haunt everyone. 
Questions will be asked about how Jay found himself taking on a role in a move from an unknown. The truth always comes out, and I can see Jay cracking sooner or later. 
Let's hope it does not result in Mickey going back to prison because we already had that storyline. 
I'm not buying the Avi storyline one bit. Once upon a time, he was a great character, but I can't say that I'm missing him right now. Obviously, it would be sad to have him killed off. 
But it's difficult to get on board with the storyline when it seems like Steven Bauer was not available to shoot and the powers that be are trying to work around it. 
Despite this, Mickey pulling the trigger and murdering Avi would put him on the outs with every single member of his family.
Avi has been around since the beginning of the series. The way the character is being treated is disappointing when you consider that all of the others have been given solid material to work with so far. 
Which brings me to Bunchy. Just when it seemed like his life was about to take a fresh and exciting turn, he was robbed of the $1.2 million he was using for the business deal. 
I had no idea what the significance of the sandwich shop being hijacked was going to have on the story, but seeing Bunchy walk in was sad. I know Bunchy is impulsive at the best of times, but I'm sure any other person would have gone straight to the bank to be rid of such a high sum of money. 
Now, the next few episodes are likely going to consist of Bunchy launching his own investigation into who the robbers were and doling out his own version of justice. 
It was laughable that he would think anyone would take him seriously about having that amount of money with him. The police officer must have thought he was trying to get a huge payout for the incident. 
"Sold" was another solid episode of this Showtime drama. The characters are at genuinely interesting stages in their lives, and I cannot wait to see what happens to them next. 
Remember you can watch Ray Donovan online right here via TV Fanatic. Get caught up now!
Over to you, Ray Donovan Fanatics. What did you think of all the developments?
Sound off below!
Note: Ray Donovan Season 5 Episode 5 airs September 3 on Showtime. 
Paul Dailly is the Associate Editor for TV Fanatic. Follow him on Twitter.