The Defenders Showrunner Talks Blending Four Shows Into One, Sigourney Weaver & MORE!!
Paul Dailly at .
After what feels like an eternity, The Defenders has finally been released on Netflix. 
We got on the phone with the series showrunner, Marco Ramirez who opened up about what it was like to have the four shows become one, the challenges that came with it and working with Sigourney Weaver.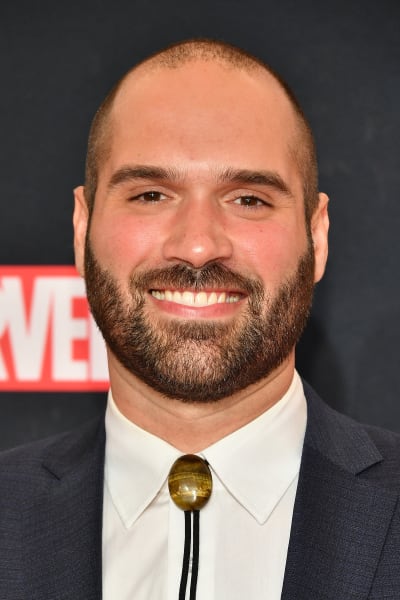 TV Fanatic: How did you come to be involved with The Defenders?
Marco Ramirez: I was in the writers room for Daredevil season one. So, I've been in The Marvel Netflix world since the very beginning. I had the honor of working with Drew Goddard and Steven DeKnight on that show and then I co-ran Daredevil season two.
And then, for whatever reason, the Marvel gods said, "How about you work on Defenders?" So that's really kind of it. I've been a comic-book fan my whole life, and I started working on TV about seven years ago, and this has kind of just been a dream gig.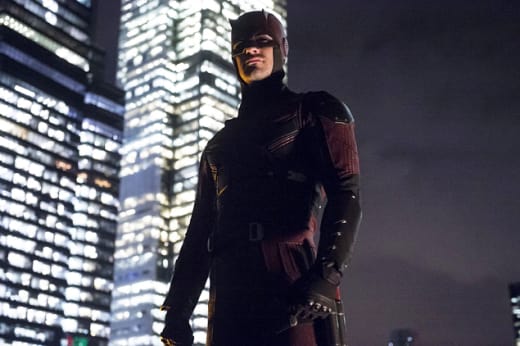 Was working on The Defenders a big adjustment from Daredevil?
It was a little bit of an adjustment because I had to think of not just one hero at the center of the story, but actually four. So that's been difficult. But at the end of season two, it bent into the direction of a little bit of a dry run almost because we had to do Daredevil, Frank Castle, and Elektra.
And those two characters are very important to Marvel. We're also creating Frank Castle and Elektra for the Netflix world for the first time. So shuffling through the major events of the characters wound up as a great rehearsal for them to be four.
But the benefit we had as writers, talking about Defenders, was the key two characters had already been born and had already been cast in the last thirteen episodes of Jessica Jones so we knew what they would be like in this world.
What was it like to have Sigourney Weaver on board as Alexandra?
She was wonderful. It was one of those weird, bizarre blessings that happen very infrequently. We had been talking about the character having a Sigourney Weaver type for months and then ultimately Jeph, and I just said, "I'm getting on the phone on Monday with Sigourney Weaver."
So that was a crazy blessing. She does whatever we ask her to do. She really elevated the material. She brought a certain presence, not only on screen but on set. You can almost tell, "Oh Sigourney's on set today." I don't know, she gives you an excited buzz. She really ... She's very special and terrific.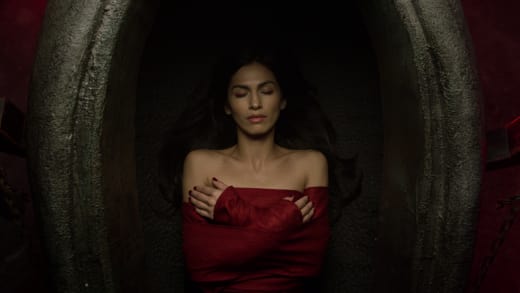 Are there any characters that you would have liked to appear in The Defenders that never made the cut?
There are always. I mean that's the thing about the Marvel world, you just have so many great characters. There are lots of conversation about that kind of thing very early on, always.
But it was basically about telling the best story with each of our characters, and at the end of the day, we had not only these four characters but all of our supportive cast as well. So really, it never felt like, "I can't wait to get a special guest star on this show."
If anything, it felt like, "I really wanna be able to tell the best story for every one of these major four plus Misty Knight plus Colleen Wing plus Karen Page." It really just felt like ... The show itself was an amalgamation of a bunch of cameos and people who we already knew and loved coming together.
So really, no. I didn't want to put any more extra toppings on the pizza, if that makes any sense.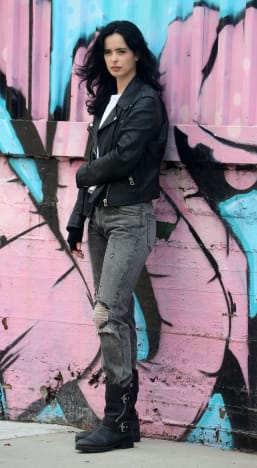 Was Matt showing up to help Jessica when she got arrested always part of the plan?
It was always the plan. It was never ... I'm not the kind of person who always wants to honor specific panels from comics, necessarily, understanding the stuff we do.
But there is a moment in the Brian Bendis Jessica Jones comic where there's a meeting with Matt Murdock, and that had a really specific impact on me. I remember when we were first imagining what the world of these shows, in general, would be from Daredevil season one days.
To me, that felt like, "Okay what we're looking toward is a kind of moment where people can cross paths, and it's the most exciting thing we'll find. Two people, we're rooting for are bumping head-to-head."
That was one of the most ... I knew from the beginning I really, really wanted to try and honor that moment in the comics. And that relationship, also, was probably one of my favorites we've done on the show.
Those scenes were interesting to write and ... There's just a lot of fun witticisms back and forth because they're both so smart and so sharp and such harsh New Yorkers. Those are some of my favorite scenes to write, absolutely.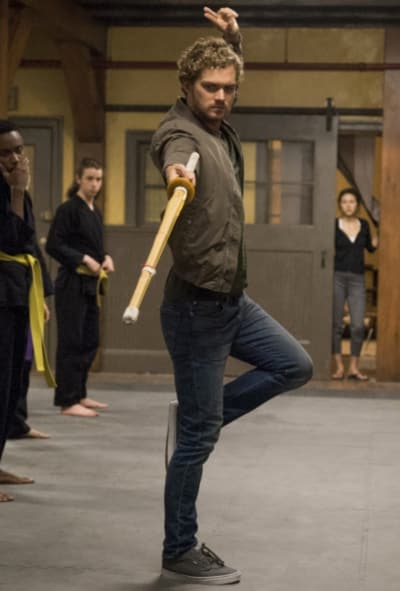 How did you come to go with Danny Rand punching Luke Cage during their war of words?
I think we kind of wanted to make sure they met each other at the most exciting and also the tensest experiences possible. We never wanted any of these first meetings, these first encounters ... I didn't want any of these first meetings to be like, "Hey, have you met so-and-so? Cool, yeah, you guys should really hang out sometime."
People in comic books, cinema, and TV, you want the person in the comic books to feel like they are epic in their own limits so I think we tried as much as we can to make some of these first encounters to feel really impactful. And if that means the Iron Fist is going to go up against someone then that's what's going to happen.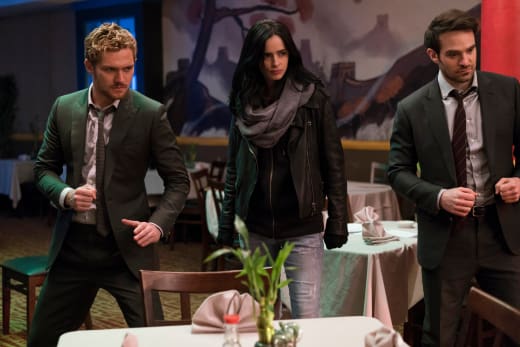 Was it difficult to blend the four shows because they're all different in their own ways?
Yeah, it was a very difficult undertaking. But everyone is upbeat, everyone's really excited to do it. And some of it has to do with the fact that these four characters are all really independent and they weren't gonna just be called into action on someone else's story.
They all need to get there on their own. The scripts very much contained, at least in the first three episodes, for example, spoke to very much each of their journeys to finding what's important. That kept them all kind of isolated in their own way because they all need to go through their own things to get there.
This was directed by a very talented director, S.J. Clarkson. At one point, she said when she came to us, "You're keeping them apart and bleeding them all together slowly. I want to do that visually, too."
So, visually, she really helped reinforce that idea. Matt Murdock's world is very red, Jessica Jones' is very blue and violet, Luke Cage's is very yellow and amber and Danny Rand's is very green and earth tone.
One of the things, when they cross paths, is that we started to get some of the cross-pollination of those colors and visually I think that is very exciting. It was a real stroke of genius on her part and on the other directors', as well.
Thanks so much for chatting with me today, Marco.
The Defenders Season 1 is available now on Netflix!
Paul Dailly is the Associate Editor for TV Fanatic. Follow him on Twitter.