Hang on while I straighten my hair. That was HOT!
Yes, there was a lot of heat generated on Younger Season 4 Episode 7, and new obstacles were dumped all over the middle of the road, too.
Not only am I completely on board for Liza and Charles but was surprised to discover the natural way Kelsey and Josh fell together, even if she stamped out that particular fire (for now).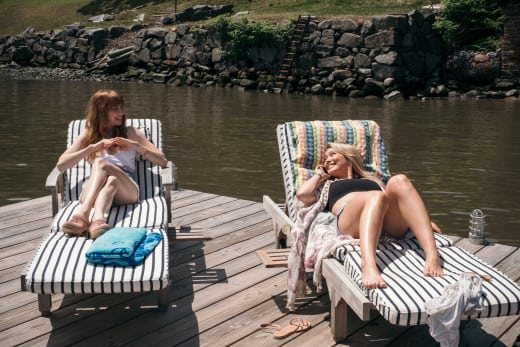 I only realized after the entire episode aired that there was no resolution with the Zane and the LL Moore stuff. 
Kelsey mentioned she was worried Charles would be looming over her desk when she got to work, but other than that and Diana's quick thoughts on Charles' absence at work, nothing.
That's why it was so easy for Kelsey to fall into something with Josh.
Kelsey is easily swayed by her emotions, and with Lauren back at her side cheering for her friend to take a swing at her hot roommate, it's even easier to notice Josh is more than available.
But there is still a girl code where we don't date each other's exes, so I'm glad Kelsey stopped herself at a kiss. Plus, why did she so quickly write off Zane without even hearing his side of the story?
We WILL hear his side of the LL Moore story, right? To me, Zane wasn't a half-baked character to swoosh in and out of Kelsey's life. They had a unique thing happening that suited Kelsey, even if it was a little edgy for the faint of heart.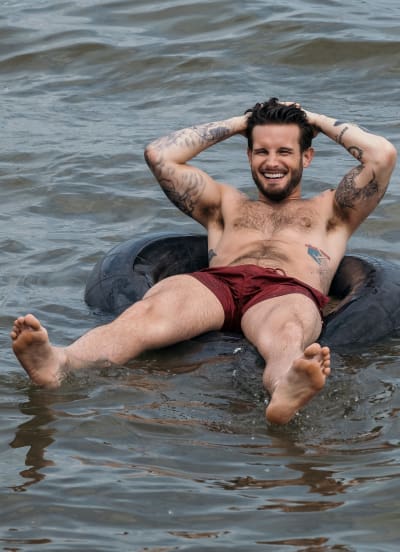 She stole one of his writers upon their first encounter, so it only seems fair she should give him the benefit of the doubt, hearing him out before deciding to kick him to the curb.
There is too much pain wrapped up in Kelsey and Josh where Liza is concerned to make that a thing just yet. If they want to go there next season after they've all have some breathing room, it might work.
As we saw during the time in the house and on the dock, they have wicked chemistry.
Also, huzzah for the house, which is now famous. Can anybody rent it? It's where Cole went to write when he separated from Helen on The Affair. It was not a Member's Only place in quite the same way at the time but was reserved for writers.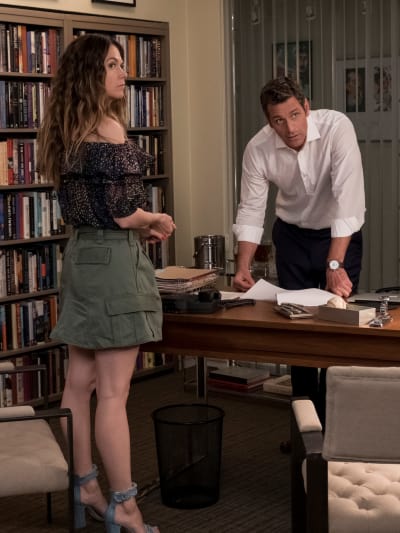 Liza's dream with Charles was the best sex she ever (never?) had. 
I cannot get enough of Liza and Charles together. They're adorable. Was she going to tell him her age before they started kissing? Did she expect to have full on sex in his office before the janitor arrived?
I've never understood the need for TV and movies to go 100 mpg from a first kiss to home base. If Liza enjoyed her dream, imagine how much better the sex would be if they denied each other a bit, got to know each other and their bodies and then hit the homer.
That mounting desire that aches and drives you wild. Why don't people understand the beauty of that anymore? Isn't that supposed to be the idea behind tantric sex (once you master it, you don't even need sex – or whatever)?
I was hoping Liza would have a friend in Pauline Turner. What's weird is that she would go to the Millennial table at all. Wasn't Charles just across the room? That whole scenario was crazy, but of COURSE it happened.
So help me, if Pauline's idea is to write this book to get her husband back, why I'm gonna...
Maybe Liza is going to end up asking Charles why he's with a middle aged woman in her 40s with children who isn't her. Hahaha. Ahh.
That's not funny. That I'm so invested in seeing something happen between Liza and Charles is a testament to the great performances from Sutton Foster and Peter Hermann. They went to great lengths ensuring we'd understand the longing their characters felt for one another.
Admittedly, it's exciting that the drama is finally not coming from Liza. Charles will be going through something on an equal level (or greater) than what could have been expected from the fallout of her age.
Feelings about your marriage and family when exploring a new relationship trump a secret about your age. 
It's been said before, but hell, let's say it again. Just when you think, hmmm, what's next? Younger triumphs with another surprising storytelling element we never saw coming. 
They're becoming the new master class for the 20-minute format. 
Let me know what you're thinking you guys! Whether it's now or after you watch Younger online.
Are you on board with Charles and Liza? Can you believe there's another rock in the road? What did you think of that steamy Kosh kiss? 
Hit the comments now!!
Carissa Pavlica is the managing editor and a staff writer and critic for TV Fanatic. She's a member of the Critic's Choice Association, enjoys mentoring writers, cats, and passionately discussing the nuances of television and film. Follow her on Twitter and email her here at TV Fanatic.