Ray Donovan Season 5 Episode 5 Review: Shabbos Goy
Paul Dailly at .
Bunchy should maybe stick to pulling pints at Abby's. 
On Ray Donovan Season 5 Episode 5, Bunchy learned that hard way that when it rains, it pours. 
Okay, let's get one thing out of the way: He should not have been driving drunk. That was completely irresponsible and picking up his daughter from day care while under the influence was just so bad. 
Obviously, Bunchy was very happy about the prospect of making something of his life and getting on the career chain, but losing the $1.2 million was just the start of his woes. 
Realistically, he should be letting Teresa know the full story and asking her to return from her tour, or whatever the heck she would like to call it. 
Following your dreams is one thing, but she knows just how crazy things can get in the Donovan family, so the very notion that she has left the kid with Bunch shows there is something seriously wrong. 
It made sense that Bunchy would spiral, but I never pegged him as the type to attempt to drive under the influence with a kid on board. That shows how much making a living of his own weighed on his mind. 
It's just a shame we never got to see him complete the deal and become the man he wanted to be.
It was kind of Mickey to help out recover some of the money. But in doing so, he sent Bunchy to the slammer, and it sucked to see it. Maybe it is the best place for him until he clears his head, but being on the inside for something he did not do will likely eat away at him. 
Mickey was presented with a horrible choice, and it genuinely seemed like he was going to kill Avi. It would not have been much of a shock because it seemed like the show has been gearing up for his exit. 
Simply put, Mickey would do anything to keep his family safe, but if money is put in the way, his loyalty can be compromised. That happens to a lot of people on TV. 
It seemed like he spared Avi's life to get the money to give to Bunchy so that Avi could have died and nobody would have known what happened to him. 
If Mickey pulled the trigger, it would have given Frank more leverage to get Mickey under his thumb, so it was probably better how things played out. 
Avi looked like a complete and utter wreck. He is a shell of the man he once was, and I hope he manages to get it together before the conclusion of Ray Donovan Season 5. 
There was finally some depth to the Sam Winslow storyline, but that's not to say it came without some glaring flaws. She wanted Ray to end the blackmailing and get the files back. 
Although she ultimately got her wish with a few caveats, I have no idea what role Adina Porter was supposed to be playing. She barely had two words to say before her character was killed. 
It was one of the most bizarre scenes on TV in recent memory. Yes, Ray was feeling the side effects of the medication, but was he being too cautious how sketchy it would look if he went down to the car?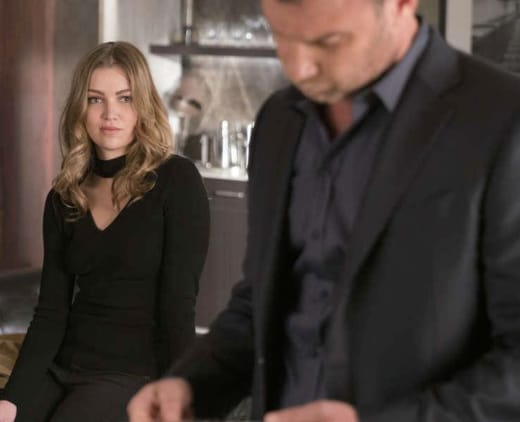 If anything, the civilians who rushed to the scene would probably think he was just there to help. We don't know what Vicky's motives are yet, but my best guess is that she's working for someone else who is intent on stirring the pot. 
It's also difficult to assess what is going on between Ray and Natalie. It's obvious Ray has feelings for the actress but doesn't seem like he's ready to move on from the death of his wife. 
I liked that his instinct was to protect her, but all he seems to do when he's around her is look anxious. Is it the guilt from boning her while Abby was dying of cancer?
We don't know, and it would be good to get answers on that front in the coming episodes. 
All things considered, "Shabbos Goy" was the weakest episode to date of Ray Donovan Season 5. Hopefully, the show manages to kick up the pace on Ray Donovan Season 5 Episode 6 because it would be a shame to ruin the solid momentum of the first three episodes. 
Other tidbits from the episode: 
Smitty needs to tell Bridget they are never going to work and ship her back to Calabasas. She will be a constant reminder to him that he could have gotten the treatment. 
Mickey continues to be the most quotable character on television. His interactions with the barmaid were the highlight of the episode. 
Did anyone really care for Terry taking Damon to New York? That storyline could have been covered in with a few lines of dialog. BORING. 
Remember you can watch Ray Donovan online right here via TV Fanatic. Get caught up now!
Over to you, Ray Donovan Fanatics. What did you think of the episode? Sound off below!
Ray Donovan continues September 17 on Showtime. 
Paul Dailly is the Associate Editor for TV Fanatic. Follow him on Twitter.