Designated Survivor Season 2 Episode 2 Review: Sting of the Tail

Tosh Smith at . Updated at .
On Designated Survivor Season 2 Episode 2, Patrick Lloyd met his demise. After months of chasing the terrorist around the world, Hannah Wells finally got her Capitol bomber. 
We started the episode with the FBI tracking Lloyd's entrance into the country using ear recognition software (ears could really be more unique than fingerprints). It seemed kind of sloppy for a mastermind like Lloyd to steal a car that could be tracked. It turns out, he was setting up his final move. 
I tracked this guy, for six months, all over Europe, with every single resource at my disposal, and I never even got close. He is so clever.

Wells
(Side note: When Wells and Aaron were in the command center, Mi6 agent Damian was there also. I know it makes sense for him to be there for the scene, but for an administration that dealt with a traitorous Vice President, wouldn't it make sense not to allow a foreign agent near a classified area?)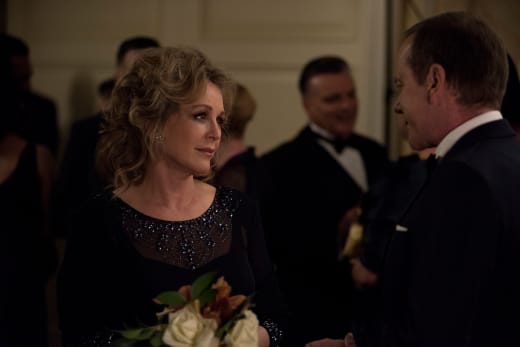 Viewers were introduced to the First Lady's mother this week. After Lloyd makes a stop to see his estranged son, he decides to send a message to the authorities by breaking into the home of the President's mother-in-law.
The seemingly sweet grandmother kept calm while her home was ransacked by a killer, and is sure to bring a soothing presence to the Kirkman White House in the future, depending on how the writers deal with Natascha McElhone's departure from the cast. 
Lloyd's break-in was illogical. First, he went out of his way to make a scene, when he could have been heading to his bunker instead.
Then, this trained killer made an elaborate plan to kidnap a federal agent and put her on a ship headed out of the country, but he couldn't find a grandma in a bathtub. 
At this point, Patrick Lloyd goes from calculating to full-blown crazy. He's unhinged, but certain members of Congress want to inform the public that a lunatic is on the loose through town.
Kirkman handled the Senator Feller leak more like Jack Bauer and less like his pacifist attitude last season. Kirkman continues to find his voice and flex his presidential muscle. 
All this is happening on the night of the White House Correspondents' dinner. Instead of toasting his guests, Kirkman spends his time in a makeshift bunker, trying to figure out how to coax Lloyd out of his hole. 
Having no progress with diplomatic means, the idea of using a drone seems like the best option to deal with the threat of sarin gas.
When Aaron is forced to defend the use of a drone on an American citizen on American soil, you can see how nuanced and complicated a terrorist situation can be for political figures. 
With Hannah and Damian on-site at Lloyd's bunker, I almost thought she would somehow find a secret entrance, but her brilliant plan almost gets both of them killed.
Lloyd really was on his last rope, because there seems to have been no way in the bunker other than through the front door. 
Wells: Damian, you've been tracking Lloyd as long as I have, right?
Damian: Unsuccessfully, I might add.
Wells: Correct, that's because every time you think you have him cornered...
Damian: You don't, because he always leaves himself… an escape hatch.
Turns out, Lloyd's whole reason for planning to overthrow the government is because he feels like his father and son were taken away from him.
For someone so narcissistic and unemotional, this revelation was used as a force to rush the story along. 
Ultimately, Patrick Lloyd went out as fast as he came in.
Lloyd being the orchestrator of the Capitol bombing would have made more sense if he was a central character from the beginning. Viewers never got a chance to connect with him, so his death had no impact. 
Even though the drone strike was unnecessary, Kirkman let the nation have its moment of triumph rather than raining on everyone's parade with his usual honesty and practicality.
I do wonder if Kirkman's decision to use a drone strike on American soil will come back to bite him.
Mr. President, Patrick Lloyd was responsible for the deaths of over 1,000 people. After all the suffering, the country deserves its moment.

Emily
All in all, Episode 2 had some mishaps. Lloyd's death was wrapped up a little too quickly.
It feels like the show has been building up this menacing character, only to have him killed fairly easily. It feels like an afterthought, rather than the death of a ruthless villain.
Further, Seth's storyline this week was as useless as his character felt last week. His inability to recognize humor was more cringe-worthy than anywhere near funny. The scene with Little P was a nice touch though. 
What do you think about the second episode of the season? 
Are you satisfied with how Patrick Lloyd finished? 
What do you think about the writer's introducing another member to the Kirkman team?
What did Lloyd upload onto the Government's network?
If you've missed any of the action from last week, you can catch up via TV Fanatic and watch Designated Survivor online.