Scorpion Season 4 Episode 6 Review: Queen Scary

Allison Nichols at . Updated at .
Team Scorpion was definitely afraid of a ghost for a minute there.
On Scorpion Season 4 Episode 6, Team Scorpion's latest case involved grabbing some ghosts or proving that ghosts don't exist and therefore can't be grabbed. Yeah, I was trying to have some fun with the show's title, and it didn't quite work.
Anyways, the premise is a lot of fun, and for about fifteen minutes or so, Scorpion was as well. It's amusing watching the team be spooked by ghosts when, moments before, they were talking about how there's no way ghosts are real.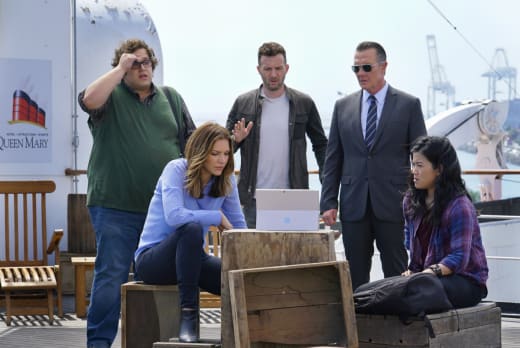 On top of all of that, Walter was chilling in the garage with his feet up providing some snark. It was an all-around good time.
Then, ghosts were disproved, and a new, much more boring mission took over.
Seriously stopping that ship did nothing for me. It wasn't thrilling. There wasn't any real fear that anything bad was going to happen. I spent most of the case wishing we were still hunting ghosts.
When discussing Scorpion Season 4 Episode 5, we talked about how Scorpion does a great job with wacky cases. It's where the show thrives.
So, why couldn't we have had a full-blown case involving ghosts? Surely there was a way to prolong the spookiness without just having Dave chime in with annoyances like "angry spirits" as a feeble attempt to keep the ghost theme going.
Walter: Paige, I was very clear. I can't defend my position as Top Five of the World's Smartest Men while running around on TV like Scooby Boo.
Cabe: Scooby who?
Walter: The animated great dane with the speech impediment.
Paige: Maybe you could watch an episode while we work because god forbid you do anything you don't want to do.
Toby: Ruh roh.
I think that those interjections made the case worse.
It's clear that ghosts weren't real and had nothing to do with the ship on a destruction course, and yet Dave kept bringing them up. The ghosts are dead, so stop trying to revive them, Dave.
Speaking of Dave, you have a great guest star in Joshua Gomez, who, hopefully, a lot of you recognized as Morgan from Chuck (if you didn't, please watch the adorable and fun spy show immediately), and his talent was squandered. 
Gomez has great comedic timing, but instead of being funny or even entertaining, Dave is annoying and then is treated terribly. He was kind of fun when he pitched the case to Team Scorpion, but it all went downhill from there.  
I still can't get over Sly, of all people, yelling at him. I felt sorry for Dave. He didn't deserve that.
Dave doesn't serve a clear purpose, and it's the most disappointed I've been in a random character for a case maybe ever. Between the ghost set up and Gomez appearing, I had high hopes this would be a night of ghostly fun, but sadly that didn't happen.
The science club Halloween party did its best to salvage things, and while costumes brought some laughs (except for Walter and Paige's attempt at a couple's costume because it was lame), the party couldn't save the day.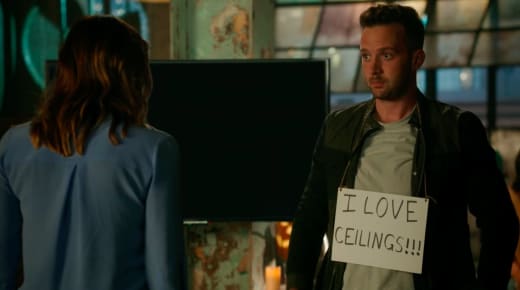 One of the highlights of the hour was the return of Ferret Bueller. 
He always brings a smile to my face, and I love how he is apparently constantly used as a lab rat for whatever the team is working on. Ferret Bueller is a very important member of Team Scorpion, that's for sure.
It became obvious very quickly that Cabe's concern about Ferret Bueller's living arrangements was actually about his fear that he might end up in prison.
The predictability isn't terrible. It just made me want someone to talk to him about it ASAP.
We don't often get to see Cabe and Toby have heart to heart, and we rarely get to see a more serious side of Toby, so it's great that both of these things were showcased in this storyline.
I lived with Cabe for weeks. He used a cereal bowl to shave, but the ferret gets creature comforts.

Happy
Hopefully, we will see more of Cabe's session with Toby. Cabe needs someone to talk to. I can't picture him sharing his fears with the team as a whole, or anyone else on the team, so maybe this can be a way for Toby and Cabe to grow closer.
On the Waige front, it was nice to see more of how Paige is trying to make their relationship work. 
The focus has been more on the numerous ways and reasons that they could break up, and Walter's been the one doing all the worrying and self-sabotaging. This time around, Paige was making sure she was giving the relationship her all.
Why do you guys always look so surprised when I know something?

Paige
I loved that not only did Paige work hard on making sense of the lecture Walter wanted to attend, she actually understood a good bit of it and was able to apply it to the case.
She may not be a genius, but Paige is smart. It's great that she's getting a chance to shine intellectually.
What did you think of the episode? Who had your favorite costume? Share your thoughts in the comments below!
Remember you can watch Scorpion online anytime via TV Fanatic.