Crazy Ex-Girlfriend Season 3 Episode 6 Review: Josh Is Irrelevant

Yana Grebenyuk at . Updated at .
Handling the aftermath of a horrible decision that tackles mental illness has to be difficult. Crazy Ex-Girlfriend made it both simple and complicated in the most important way.
Rebecca is still just starting to recover, and she already had to learn some new lessons.
On Crazy Ex-Girlfriend Season 3 Episode 6, Rebecca was informed of her diagnosis, but she wasn't happy with it, so she chose to find another one for herself. As for her friends, they all handled her decision in different ways, demonstrating various forms of comfort.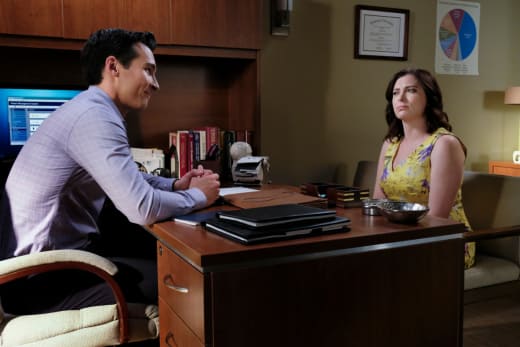 Rebecca has a long road ahead of her, yet it was nice to watch this episode slow down a bit but still manage to cover an important conversation.
It is very weird to envision a mental illness being better over another one, but the stigma is still there even within groups of people who all are struggling with something. 
Rebecca learned just that when she got diagnosed with BPD and decided that just wasn't for her. It is very easy to see where she is coming from, even from just the standpoint about what mental illness is more or less common. 
But Rebecca can't just change her diagnosis if she googled and didn't like what she saw. This will be a rough road for Rebecca, but it is through moments like when she had her Josh revelation that she can start to get better.
Josh was never anything more to her than a placeholder, yet through that placeholder, she changed everything she knew about herself only to see that she barely even though of him. 
Committing to the idea of Josh was very drastic but also a very simple decision for Rebecca to embark on after such a meeting. She was struggling and decided to anchor herself to him, but what I am excited about is seeing her hold herself up above water. 
Hopefully, through appointments with a doctor, Rebecca can start to take charge of her disorder instead of letting it lead her all through life. 
Being suicidal has nothing to do with any one life event or person; it comes from a lifelong struggle with mental illness.

Hector
Paula continues to go along with what Rebecca thinks and wants. But after a certain amount of time and a certain amount of issues, it seems like Paula will have to look into why enables Rebecca like this.
Their friendship isn't exactly at risk, but this is a form of being supportive that then no longer provides that positive support to the person who is struggling.
In the beginning, having Paula on the same side with ideas helped Rebecca, but it fueled her disorder and her obsession. So Paula agreeing to every plan that Rebecca had, it played into the fantasy that Josh would one day want her back on the same level that she had. 
Had Paula at some point made it clear to Rebecca that this might not be the best idea then maybe things would go a different way. None of this is on Paula but especially after what Rebecca went through, enabling her thoughts of switching to another diagnosis is absurd. 
I didn't know a friend's suicide attempt was a plus one event.

Valencia
Josh to no one's surprise made it all about him and his feelings. It isn't far from what others usually do, reverting the situation back to them and how they are at fault. 
It isn't always or even ever true, but this helps the person heal when they are struggling to understand why someone in their life would go through this.
It is also just human nature to make everything about us, even tragic events that in no way can be traced back but yet somehow we can only entirely be there if we can put ourselves in there somewhere. 
People do that very often when someone they know is suffering, mostly because it is easier to make it all about us than to admit that we may not matter to this person at all right now. 
Josh assumes exactly what he picked up from being with Rebecca, and I am glad that it is through her that he got clued in that she isn't focused on him.
Josh may have become her go-to way to avoid the real issues she was facing, but at the end, it is not at all about him which is why she wasn't even thinking of him while she tried to handle what comes forward after all this. 
Rebecca is moving forward without Josh, and it will be very interesting to see Josh going forward since now he is no longer there to be Rebecca's motivation for everything.
I mean not to judge V, at all. But what you are doing is pathetic and vain and and stupid and cringey and trendy and selfish and basic.

Heather
Nathaniel was another example of a person who wants to help his friend but doesn't know how only to then deal with his trauma.
Him not being able to pick out what the card should say is too real. I struggle myself when something happens, and I want to express how much the person means to me and how horrible it is, but it doesn't come out. 
There has to be a middle ground, but also words sometimes don't do as much as we expect. Nathaniel has to go through that himself, and I think it is through his better understanding of mental illness in his own family that he could relate back to Rebecca and be a better friend to her.
It was great to see that mental illness affects people that you wouldn't even expect to. 
I just wanted the pain to stop.

Rebecca
What did you think of the episode? What steps forward do you hope to see Rebecca take? Which friend did you identify with most when it came to them dealing with what happened? What did you find to be the best part? And what could you do without? What would you like to see going forward? Let us know what you think below.
Don't forget that you can also watch Crazy Ex-Girlfriend online right here on TV Fanatic.
Yana Grebenyuk is a staff writer for TV Fanatic. Follow her on Twitter.