Agents of S.H.I.E.L.D. Season 5 Episode 5 Review: Rewind

Kathleen Wiedel at .
From the moment (most of) Team Coulson was sucked through a monolith into the future, we've been waiting to find out what happened to Fitz in the past. Agents of S.H.I.E.L.D. Season 5 Episode 5 answered that question in truly awesome fashion.
In short: welcome back, Lance Hunter. We've missed you.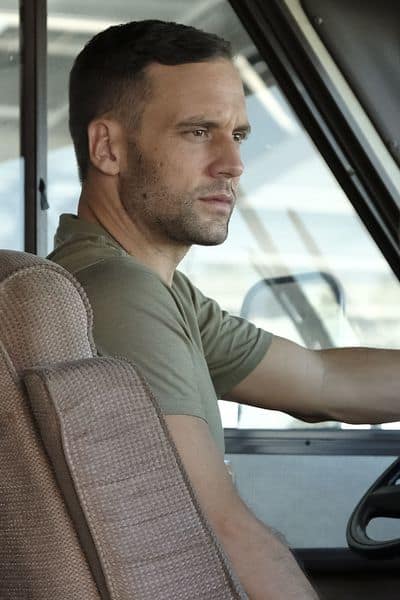 We all knew that poor Fitz wouldn't take the disappearance of all his friends laying down. Curiously, his most out-there theory (abducted by aliens) actually turned out to be true, more or less!
It does beg the question why everyone was so dubious of this particular idea. Aliens are well-known to exist in the MCU, after all, and Coulson personally knows high-ranking Asgardians!
Really, though, that's just nitpicking, because I absolutely loved this episode.
The greatest burden rested on the shoulders of Iain De Caestecker as Fitz, and he was simply brilliant throughout, from Fitz's progression from shock and confusion through frustration to weariness to a new hope.
Plus the grief at losing Simmons, again, while still dealing with the emotional trauma and fallout of what happened in the Framework.
He's no longer the shy, nervous engineer who boarded the Bus at the start of the series. While him going guns akimbo on the airmen near the end might be classified as a little over the top, it certainly showcased how much he's changed.
The closing shot of the episode truly caught this, as well, with the very particular stark lighting and harsh shadows on his face.
Lending a strong supporting hand was Nick Blood's Lance Hunter, making a very welcome return to save the day.
Fitz: Well, at least you gave me enough time to come up with a good escape plan. So, it's a mechanism that can slowly assemble, but I'm gonna need you to smuggle it in piece by piece. So, if you can visit three times a week for a month, then I should have everything I need-- what're you doing?
Hunter [staring at his watch]: I'm gonna need you to move two meters to your left. Mm-hm. And come forward. [He presses a button, and the wall explodes.]
Fitz: What… the bloody *hell*?!
Hunter: Your coded message didn't have an escape plan, so I had to come up with one of my own. Come on! Let's go.
Sort of sums up the two of them together, doesn't it?
After The Great Escape portion of the episode, they embarked on something of a road-trip comedy, complete with ferrets and comments on their love lives.
For such a serious story full of direness and gloomy outcomes in the future, it really was quite funny. From Lance and Fitz stopping to complain about each other's soccer team to Lance being annoyed about Enoch's lack of surprise, I found myself laughing quite a lot.
They even threw in a Star Wars reference as Fitz went into cryo-sleep, which was totally awesome. "I love you." "I know."
While part of me is incredibly disappointed that Lance and Bobbi's intended spinoff never got the green light, and I'm sad that Adrianne Palicki wasn't here for this episode, I'm glad she's having fun on The Orville.
And I desperately hope this isn't the last we ever see of Lance Hunter and/or Bobbi Morse. Even as occasional guest stars.
We're a hundred percent compatible. Fifty percent of the time. Nearly got married again. Until the ninjas showed up.

Hunter [on his relationship with Bobbi]
Naturally, this episode left us with numerous questions to be answered, like how Daisy could destroy the world if she's not there to do so, or why the two poor people were so abruptly murdered by their boss.
Also, who actually built the Lighthouse, how, why, and when? I sense a deeper conspiracy at play.
A few final thoughts before I turn the discussion over to you, my fellow fans:
It's worth noting that General Talbot still isn't dead, as far as we know.
Why was humanity's refuge called "The Lighthouse"? Because it was a facility built under a lighthouse. I get the sneaking suspicion that Lance and Bobbi may have had something to do with so many people being there to survive the end of the world.
How does one predict the future? By making a self-fulfilling prophecy. Which also handily convinces Enoch to help with Fitz's little issue of getting to the future.
Nice to know that the Air Force follows basic safety protocols and stores weapons unloaded and separately from ammunition. Oh, wait...
If you enjoyed this episode or missed it, you can always watch Agents of S.H.I.E.L.D. online. And check out our Agents of S.H.I.E.L.D. quotes page, too!
Be sure to tune in when the show returns in the new year with Agents of S.H.I.E.L.D. Season 5 Episode 6, "Fun & Games," directed by cast lead Clark Gregg! It's slated to air January 5, 2018 at 9/8c on ABC.
What did you think of "Rewind"? Were you happy to see Lance Hunter again? Are you excited to see Fitz reunite with the rest of Team Coulson? What is Enoch's plan?
Let us know in the comments section below!