Scorpion Season 4 Episode 12 Review: A Christmas Car-Roll

Allison Nichols at . Updated at .
Walter, you can't even walk down a flight of stairs by yourself, let alone work a case.
On Scorpion Season 4 Episode 12, Walter got a visit from the Ray of Christmas Alternate Reality. It's a very strange reality, for a variety of reasons, but somehow Walter has to save himself in the alternate reality in order to save himself in real life.
Did anyone else find it strange that Car!Walter was left alone for a while? Oh, we need to go find Cabe! Car!Walter will be fine as we drive to the LAPD office and then go track down Happy Quinn.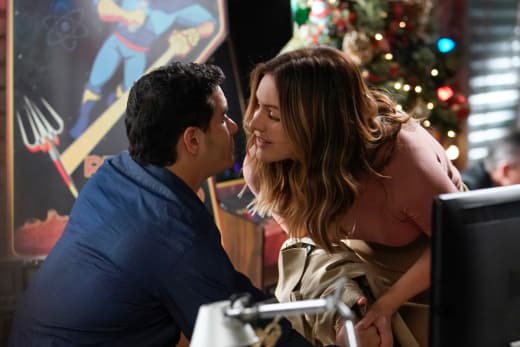 Yes, it's an alternate reality where "things change quickly," but it still made me laugh a bit. At least once Cabe was involved he stayed behind to keep an eye on the very panicky Car!Walter.
Speaking of panicky Car!Walter, it was very unusual to see this version of himself. Walter, even when in life or death situations, is never panicky or afraid. He's always, well, Walter, about his potential impending doom.
All in all, this trip to an alternate reality is a lot of fun.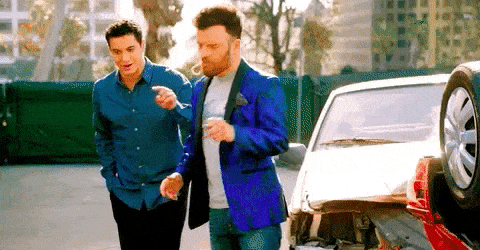 Ray's there, and he always brings a dose of wacky to things. His outfits and random accessorizing were enjoyable.
This was a way to have Walter be in actual real life danger without the whole point of the life or death situation be suspense. There's no desire to get the audience on the edge of their seat.
That's normally what Scorpion aims for, and it got old fast.
During Walter's time in the alternate reality, we knew things were getting worse and worse for him, but the point was to focus on Walter bringing all of Team Scorpion together.
The purpose of the alternate reality wasn't to watch Team Scorpion solve the case and save Car!Walter's life; it was to watch Walter bring Team Scorpion back together and realize how much he needs them.
Walter: I'm so sorry. I told you all that I didn't need you. Well the truth is, my subconscious knows the opposite is true: you'd do better without me.
Toby: Imagine this 197, did we all know each other in your dream?
Walter: No. Happy was lonely. You were hanging on to an old memory for happiness, and Sly you were, you were living in shame. By the way I have a fix for your game. And Cabe you were grumpy, and you didn't have any friends at work.
Toby: But you said that we all saved your life?
[Walter nods]
Toby: Deep down your psyche knows that we are better together. You know that you need us, but you also know that we need each other, that we need you, Walter. We were successful in your dream because you think highly of us.
Each of the Team Scorpion members' alternate personas weren't happy for one reason or another, and Walter was able to pinpoint why for each one.
We actually learn a good bit about Happy through Walter's read of alt!Happy.
The fact that she was so lonely she would slow down working in order to be able to talk to someone is heartbreaking. It shows how isolated she was back when Walter first met her, and it also shows how far she's coming. She has a family now.
Which of the alternates was your favorite?
Toby: O'Brien, a penny for your thoughts?
Walter: How about a dime to leave me alone.
Okay, at first it appeared as if Walter and Florence being married in the alternate universe was just a fun way to include her in the mix. It was amusing and a nice twist, but there didn't seem to be any reason to think it was an indication of real feelings.
Until, Florence actually showed up with those peppermint patties, and they exchanged looks at the hospital in the end. Should we be worried about Waige?
If Waige wasn't a thing, sure, Walter dating Florence wouldn't seem too farfetched. 
Ray: No, no, here's you're a professor at USC, married to your wife Florence.
Walter: I'm don't work at USC, and I'm not married to Florence.
Chief of Police Cabe Gallo: Good for you. I don't work at Six Flags, and I'm not married to Big Bird.
Just like how Tim represented someone with Paige's level of EQ, Florence matches Walter's level of IQ. It's not hard to see why they would work.
It's definitely an unexpected wrench to throw in Waige's way as well.
When Walter and Paige finally got together, it was clear that this wouldn't be smooth sailing, but aside from the EQ/IQ difference, there wasn't an obvious red flag that signaled the downfall of their relationship.
Walter potentially having feelings for someone else wasn't even on the radar of possibilities. He couldn't, wouldn't cheat on Paige...right?
Walter: Are you sure you don't recognize me?
Sgt. Patty Logan: Negative, but if you are as crazy as you seem to be, I'm sure I'll get an APB any minute now about some loony escaped from the bin.
Ray: Oo! She is as salty as the Dead Sea.
What are your thoughts on Walter and Florence? Are you interested in seeing if this develops anything or are you not a fan?
Right now, Florence is entertaining. It's fun to watch her mingle with Team Scorpion and forge new friendships, so I'm all for seeing more of her. It's too soon to decide about the potential romance or flirtation, at least for me.
This alternate reality further proves that Patty is an absolute gift.
It was so entertaining to watch her pop up everywhere in various roles. Walter being amused and frustrated with her was hilarious.
Every time she appears, you know you are in for some laughs. It's great to see her utilized so much in this alternate reality. Which Patty is your favorite? Mine is probably Sgt. Logan.
What did you think of the episode? Leave your thoughts in the comments below!
Remember you can watch Scorpion online anytime via TV Fanatic.