Lethal Weapon Season 2 Episode 12 Review: Diggin' Up Dirt

Lisa Babick at .
Trish and Leo Getz make a pretty good team!
The unlikely duo teamed up to help Roger and Riggs solve a murder case, and Getz proved himself to be a real Sherlock Holmes.
While Lethal Weapon Season 2 Episode 12, was lackluster, watching Leo and Trish in action together was lots of fun.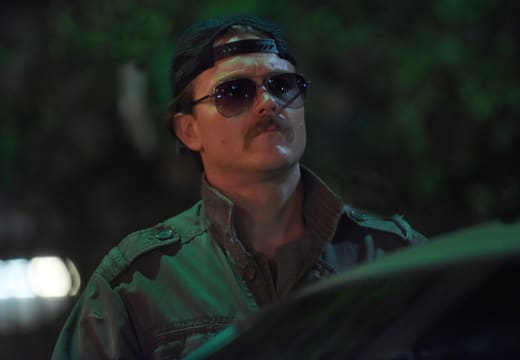 Leo Getz is not someone you want around all the time, but in small doses he works. He was at the right place at the right place at the right time, but isn't he always?
It's surprising that the guy doesn't have a stack of lawsuits against him for stalking because he sure does a lot of that. 
I liked that Trish stepped out of the lines at the funeral when Leo teased her with the idea to do their own investigation. Roger was more interested in positioning himself as the next department captain, so he completely missed what was completely obvious to Leo.
Leo struck the right chords when he suggested they work together because she wanted justice for her friend. It wasn't that she didn't have faith in Roger and Riggs and the LAPD, but she wanted to do something to help, and Leo opened the door.
Besides, he had all the answers and the evidence. Even Roger was impressed with his sleuthing.
I loved every scene between Trish and Leo, but my favorite had to be when the two of them and Riggs and Murtaugh were in Avery's office.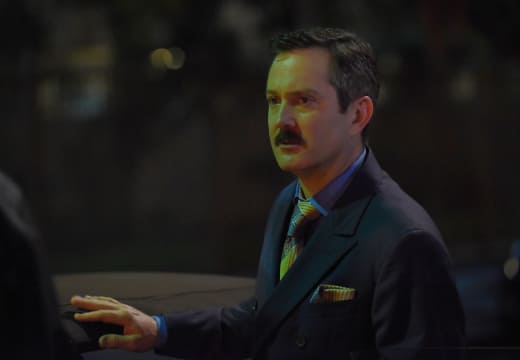 Avery has such a high tolerance for the ridiculous, and the four of them being in there after Leo crashed into Murtaugh's car was hilarious.
But my big question is when are we going to see more of the bromance between Riggs and Murtaugh because it has been lacking the last few episodes. They're together, but they're not really together. Not like they used to be. 
Maybe it's just me, but the chemistry and banter I loved so much are gone. They're barely together. They barely talk anymore. Where is our Peaches and Cream, our salsa and chips, our Starsky and Hutch?
In the old days, Roger would be questioning Riggs about Molly and Ben and what was happening with that relationship. He'd be asking Riggs about what was going on with his dad, and why he went back to Texas.
Did Roger decide to take a step back because he wasn't getting anywhere with Martin?
It's disappointing. I miss the old days and the old Roger and Riggs! 
Riggs spent a good part of the hour in flashback mode. Riggs' relationship with his dad almost had an impact on his relationship with Miranda.
Although we didn't learn anything more about Riggs dad, what we did learn was that she investigated Riggs before they got married.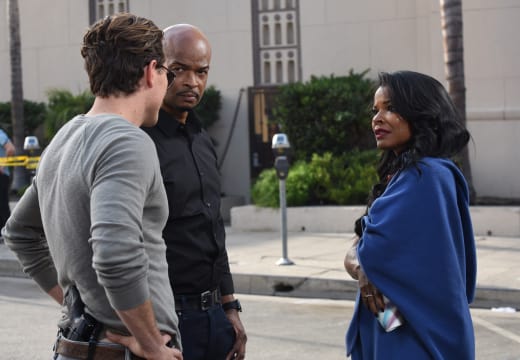 Riggs didn't even open up to Miranda about his dad. I thought she was the love of his life? The one person you can tell anything to and not have to worry about judgment yet Riggs didn't feel compelled to share anything with her about his father.
He kept secrets. She investigated him. Not a good way to start a marriage, but somehow it worked for them. 
It was hard for him to find out what she did and that she knew the truth but married him anyway. She obviously loved him, but he should have trusted her enough to tell her everything. 
Learning that hired a private investigator to dig into his past shocked him. He wasn't prepared for what Solano said. Riggs' anger hid his shock, but why he took it out on goldfish is beyond me. I guess it made for more drama.
What happened in the restaurant would have provided a great opportunity for Roger to open up conversation about what was going on with Riggs.
The only questioning Roger had was when he went to Riggs' place and found all the bottles. Yet, he didn't dig deep like he's done in the past.
Riggs can't keep everything inside forever. The guy is going to implode at some point, and it's not going to be pretty.
What did you think of "Diggin' Up Dirt"? What was your favorite part?
Do you want to see more Leo and Trish? Are you relieved Avery isn't going anywhere?
Do you miss the old Murtaugh and Riggs? Were you sad about Ronnie's death?
Hit the comments and share your thoughts.
You can watch Lethal Weapon online anytime you need to catch up on all of Riggs' and Murtaugh's crazy adventures!