DC's Legends of Tomorrow Season 3 Episode 10 Review: Daddy Darhkest

Jay Ruymann at . Updated at .
Alas, this is not a Supergirl review. We have to wait until April to know what's next for Kara Danvers.
Well, for an episode that ultimately didn't lead to much (other than some new information on Mallus), DC's Legends of Tomorrow Season 3 Episode 10 was an interesting ride through a new section of the DCTV universe never seen on The CW thus far.
With demons, it's opening an unlikely new world for the DCTV shows on The CW and how they handle magic, which is going to be interesting if it's ever expanded upon on any of the other series.
Nora Darhk's entire storyline this season is a mess, and this episode just made it a little worse. Before, thinking she was willingly working with Mallus to help save her father was enough information to be believable, but this new twist was unnecessary.
That girl you're trying to save is Nora freaking Darhk.

Zari
Knowing Nora was attempting to fight off Mallus but ultimately failed — because of her father's surprise appearance — makes the story more difficult to understand. Did she doubt the plan? Did she blame her father for what Mallus was doing with her body?
Related: Legends of Tomorrow: Wally West Slips into Empty Seat on the Waverider
It doesn't make sense to see where Nora ended up vs. the little girl we saw in Star City during 2017 who was fighting off Mallus, talking with Sara about the darkness of her life, and only wanted to be normal to live a life free of the scrutiny she got because of her father.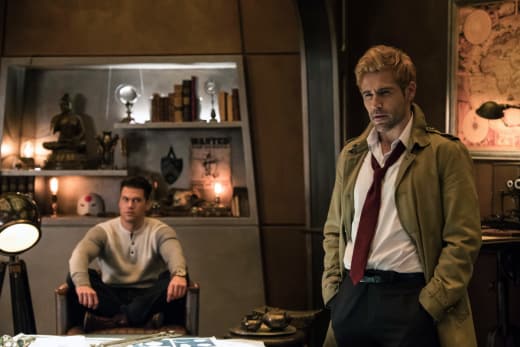 The conversation with Sara is something I expect will be used to rid Mallus of Nora's body in future episodes, if they have the chance to do so. Sara's become a conduit for Mallus, just like Nora, and she's going to be dealing with the consequences of letting him inhabit her body temporarily.
Related: DC's Legends of Tomorrow Season 3 Episode 5 Review: Return of the Mack
What does Mallus want with Sara? I think it may only be an easy way aboard the ship. No one else has the dark past and the weakness due to their past like Sara Lance. Mick Rory, maybe, but he also doesn't seem to care much, whereas Sara does.
I don't need saving... and I am done fighting demons.

Sara
I want to see another conversation between Nora and Sara as the season closes where Mallus is inhabiting their bodies and they discuss what has happened to them because of this entire mess. Also, they can both talk about what Damien Darhk took from them.
Darhk using his daughter to be possessed for power is another low for his character, and it's just tired by now. All he cares about is power, and Nora is just the latest victim to his desperate need to be in control and in charge of everything.
Related: DC's Legends of Tomorrow Season 3 Episode 9 Review: Beebo the God of War
Darhk likely doesn't even know what Mallus wants, which is probably to destroy the world. Once he realizes Mallus' desires, Darhk's not going to care because all he wants is for the world to be his perfect vision.
This should be Darhk's last season as a villain on any DCTV show because he's not necessary, and it's just rude and awful to keep bringing back the character who killed Laurel Lance to hurt Sara (and the fans who loved Laurel).
Sara Lance... what the bloody hell have you gotten yourself into?

Constantine
The most interesting tidbit of information to arise was Mallus' weakness. The totems have been a giant focus this season, and I'm thankful that wasn't just for Kuasa and had a purpose for the overarching villain.
That said, a demon afraid of a few necklaces? It's a strange thing they chose to be Mallus' weakness, especially considering there are only two members with those magical talismans on the team, but I'm intrigued where they're going with it.
Kuasa is an interesting character, though, and it looks like the ultimate goal is redemption for her. After all, they're going to need her help to stop Mallus, as she's part of "the six," but it's going to be very similar to Black Siren's situation on Arrow.
Related: Arrow: Can Black Siren Respect Laurel's True Legacy?
Kuasa's ties to Amaya are the only reason anyone on the team is going to be okay with her eventual redemption (they wouldn't care as long as she helped them), but how long will Amaya be on the team to keep Kuasa on the straight and narrow?
Amaya's time seems to be coming to a close on Legends of Tomorrow because not an episode goes by without her saying how guilty she feels over leaving the timeline to help the Legends on their journey.
These are just my thoughts, of course, but I'm getting a serious vibe that after Mallus is taken down by The Six, Amaya will have her memories wiped and will return to her own time.
Enjoy it while it lasts.
What do you think? Did you enjoy the episode? Leave your thoughts in the comments below!
Legends of Tomorrow airs Mondays at 8/7c on The CW! See y'all next week (hopefully with Wally West)!
Don't forget, you can watch DC's Legends of Tomorrow online right here at TV Fanatic.
Jay Ruymann was a staff writer for TV Fanatic. He retired in January 2018.