9-1-1 Season 1 Episode 9 Review: Trapped

Stacy Glanzman at . Updated at .
Buck and Abby may have already faced a near-death experience, but this was the first time their new relationship was truly tested. 
After Abby's mom interrupted an insanely romantic hot air balloon date (seriously, who does that?) on 9-1-1 Season 1 Episode 9, both Buck and Abby considered taking a step back. 
So, are these two in it for the long haul? 
Buck's conversation with Bobby reiterated how young and inexperienced he is when it comes to relationships. He's not used to this, and that's okay. The important thing is that he is starting to understand that relationships are hard and require work, but he's willing to fight for this one. 
And he may have to do just that. 
There have been some theories floating around that perhaps there's something between Abby and Bobby, and that possibility became more apparent during that same conversation. 
They both have baggage and are in similar places in their lives. They would understand each other and have a lot in common. If Bobby's interested though, he's going to have his work cut out for him, because Buck isn't standing down anytime soon. 
I feel like anyone else, most people, if they were dealing with the stuff you have to deal with every single day, they would see it as a cage. But you don't. You find a way to break free. You find a way to be yourself. You find...life. And if the price I have to pay for being close to a woman like you is, yeah, whatever, a couple of canceled dates, then you know what? That is one heck of a good deal. I am in. I'm not going anywhere.

Buck
For a minute there, the couple got to be in their happy place. 
Alas, the moment didn't last long. 
I had a bad feeling I knew how this would end, and when Abby woke up to find her mom dead in her bed, I wasn't the least bit surprised, sad as it was. 
So, what does that mean for the couple? 
Obviously, there will be a grieving period, but after that, well, the obstacle that has been driving a wedge between them has been removed. Of course, Abby loved her mother and was happy to take care of her, but now that her suffering is over, Abby is free to live her life. 
Related: Enjoy UNLIMITED access to thousands of Movies and TV shows with Amazon Prime Video. WATCH ANYWHERE. CANCEL ANYTIME!
The problem is, Abby has been doing that for so long that she doesn't really know how to live. From the preview, it appears she may be leaving town for awhile. It makes sense that she might need some time to herself not only to grieve but to process where she goes from there. 
Chances are, she's going to be feeling some guilt. She'll probably wish she had decided to stay home when her mom asked her to, and she may need time to process those feelings as well. 
She has to figure out what her life looks like without her mom in it, and we'll just have to wait and see if that picture includes Buck.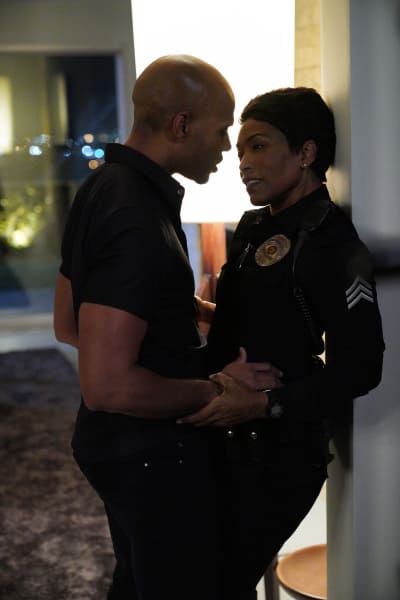 Athena's one night stand turned out to be more than just the one night, and hey, good for her. 
She deserves to have a little fun and blow off steam after everything she's been through with her marriage, and it's reasonable that she would not want to jump into a new relationship so soon. Like she said, she's not even divorced yet. This is a time to be enjoying herself and meeting new people with no strings attached. 
Aaron's a sexy one, so I can't blame her for wanting to keep him around a little longer. 
Athena: Sir, I'm afraid I'm going to have to put you under arrest.
Aaron: On what charges?
Athena: Being so damn fine.
With everything Hen is going through, she really needed that laugh. 
I can't believe after being handcuffed to the bed for however long, Athena didn't actually want to unlock the handcuffs yet. I mean, I get wanting to finish what they started, but her hand had to be hurting. That is one moment Hen is not going to let her live down for a very long time. Who can blame her?
Hen's situation is rough, and I feel like the writers just give us little tidbits of information at a time about her former relationship with Eva. I'm ready for them to fill in the blanks and tell us what actually happened between them and how she ended up in jail. 
Related: 9-1-1 Renewed for Second Season by Fox!
Eva being the birth mother of Hen's son could make this a hairy custody hearing, but I think Hen will win in the end. Whether or not Karen is by her side when that happens, though, could go either way. 
Hen just better not allow herself to be pulled back into a relationship with Eva. It's clear she was hurt, and the last thing she needs is to throw away what she has with Karen over someone that is toxic for her. 
Hopefully, she can reconcile with Karen, but even if she can't, she needs to stay far away from Eva.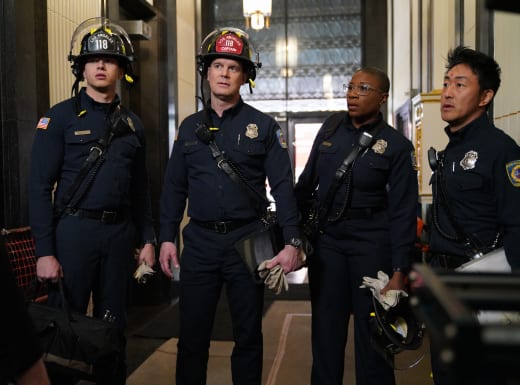 Do you guys think that Buck and Abby can make it work, especially now that her mom has passed away? Being that the season finale is up next, I would not be surprised if she decides to put their relationship on hold, but that doesn't necessarily mean it's doomed. 
Hit the comments with your thoughts, and don't forget to watch 9-1-1 online before next week's finale!
Stacy Glanzman was a staff writer for TV Fanatic. She retired in March, 2019.