DC's Legends of Tomorrow Season 3 Episode 15 Review: Necromancing the Stone

Jay Ruymann at .
Well, despite the terrible outfit choice and wig they chose for Caity Lotz's Death Witch, Sara's struggle with Mallus' reach and death, while admirable, just seemed like character regression for Sara after all of these years as a DCTV character.
DC's Legends of Tomorrow Season 3 Episode 15 can definitely be counted as one of the season's best; however, the struggle with Sara and her inherent nature to kill was a bit too late for her character's journey, though that didn't stop the writers.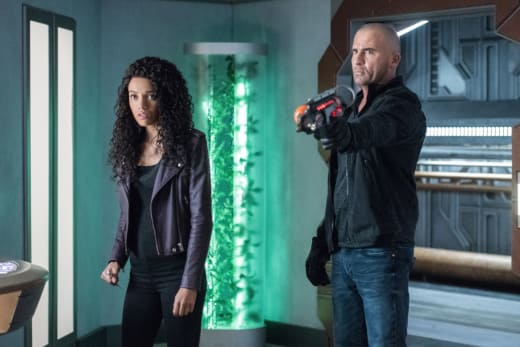 Obviously, I'm not very happy with what the writers did with Sara. First of all, her struggle with finding the light inside of herself was supposed to be over after she was brought back to life, then after her bloodlust was gone, but it's still returned.
Who else on your team is capable of wielding death?

Sara
I can understand revisiting this in the past, but one of the promises made about Sara's character after her resurrection was she'd begin to find the light inside of herself and not be so gloomy and dark all of the time, but she's slowly returning back to that same person.
Related: Legends of Tomorrow: Matt Ryan Promoted to Series Regular!
Coming back to life was supposed to be her second chance to let go of all she's done, move on, and find her new purpose in life, yet the character regression went so far to have Sara say she is death.
Sure, Sara's done some terrible things that we have yet to see during her League of Assassins phase, but grappling with this side of her and letting go of all she's done has seemed to end, like, three times.
The writers need to decide whether Sara is going to move on with her life because being the White Canary at this point has no meaning.
Sara Lance is lost to you. I am death.

Mallus
This was supposed to be Sara's second chance at heroism and living a good life, but she may as well put on her old outfit again because she's acting more and more like she did as the Canary.
Related: The CW Sets Season Finale Dates for The Flash, Riverdale & MORE!
Also, the entire Ava and Sara relationship is progressing really fast, and many of the moments between the two did not seem earned.
Of all people, Ava, who Sara has known for a few months and only grown attached to recently, is the person to bring her back from the edge, but not one of the members of her team?
Sara: Three weeks before I had a girlfriend.
Ava: Did you just call me your girlfriend?
Sara: Yeah. Why not?
Seeing Sara in a long-term, committed relationship is definitely something I'd like to see in her future, and maybe even with Ava, but these relationship moments should not have happened only three episodes after their first date.
Ava's presence on the Waverider is really enjoyable and she brings out a side to Sara we don't get to see very often, but the entire story needs to slow down.
As we're seeing, we don't even know very much about Ava, so this relationship could just be destined to fail, so the writers shouldn't be basing a pivotal character moment on a relationship they're not even sure they're going to be pursuing shortly.
Related: DC's Legends of Tomorrow Season 3 Episode 14 Review: Amazing Grace
All in all, Sara's regression to the "I'm just a killer" attitude is a total downer, and hopefully she's able to tie up that part of her life and move forward eventually like she was supposed to do almost three years ago.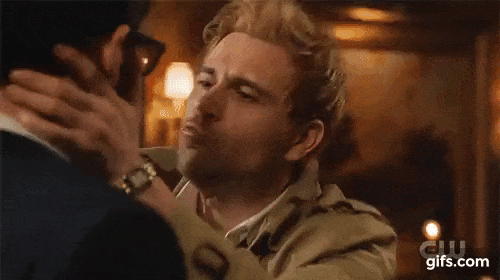 Constantine returning aboard the Waverider is definitely something that made the hour much more enjoyable, and I'm looking forward to him being a full-time Legend if the show returns for another season.
That said, it's disheartening to see Constantine's return made out to be solely about his relationship with Sara. He's a very important character with a unique set of skills, and he even had his own series for a while, so maybe let's not make another character all about Sara Lance?
Related: Carissa's Corner: We Need to Talk about Our Reboot Problem
His return would have been much more exciting if it had been more about defeating Mallus than about saving Sara's soul, yet again, and after their tryst in the 1960's, it seems Constantine is nothing but a love interest for Sara with a flair for exorcisms.
Wally: I'm going to knock her out, tie her up, and no one gets hurt.
Zari: Oh, we're screwed.
He's a bisexual man with a unique ability to hunt demons and send them back to hell, and no one else in the DCTV universe could even compare to his skills because he's one of a kind.
That said, don't put him up against the Winchesters.
Overall, this episode furthered the stories of the totems and Mallus quite nicely, but the rest of the team sort of fell flat compared to Sara, Ava, and Constantine. And even Sara's story was just unoriginal, and something we've seen so many times from her.
Related: Get CBS All Access via Amazon Channels for Hit Shows, Exclusive Originals & Live TV!
Maybe this is the beginning of Sara finally letting go of her past and embracing the light inside of her like her sister always wanted, but who knows? Next season will probably just see Sara fighting her urge to kill and embrace death yet again.
What do you think? Leave your thoughts in the comments below!
As we wait for the finale, watch DC's Legends of Tomorrow online right here at TV Fanatic and catch up!
Jay Ruymann was a staff writer for TV Fanatic. He retired in January 2018.