Life Sentence Season 1 Episode 1 Review: Is a New Lease on Life Enough?
Allyson Johnson at . Updated at .
If we were to isolate Life Sentence Season 1 Episode 1 from the entire series starring a charismatic Lucy Hale, the show would be a delightful triumph, breezy and fun and easy on the eyes with that CW sheen and glow of beautiful people on our screens. 
Life Sentence is a charmer about one woman facing down the prospect of life after having come to terms with her death and the relationships built in just an hour feel lived in, well rounded and cared for by actors who already feel at home in the skin of the character. 
But this isn't merely a one hour story, nor is it a mini-series.
Instead, it's only just the pilot of the latest CW series, and while that charm is apparent and striking, there's only so much it can do to power along a show whose shelf-life seems rather limited.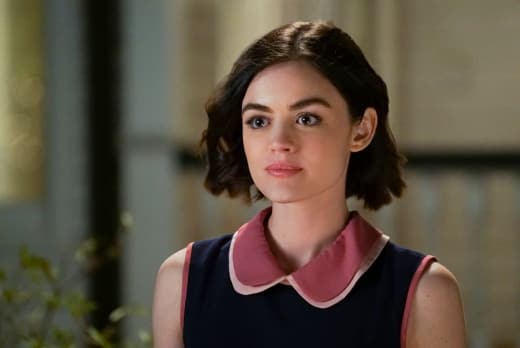 There is an issue where once the drama of her being sick comes to an abrupt end, the show immediately seems to shrug its proverbial shoulders, hoping that the abundant, bright-eyed charm of its leading lady will propel the audience through the next 50 minutes.
Related: The CW Expands Programming to Sunday Nights
Perhaps, the show might've benefited from lingering a moment or two longer in the world where Stella believes her time on Earth is limited.
If we'd been granted the opportunity to delve further into her adrenaline rush of being alive in the face of her mortality, rather than breezed through it on fast forward so that we can get to her next chapter, it would have allowed the weight of the happy news to be all the more compelling. 
What are you going to do with the first day of the rest of your life?

Elizabeth
There's been a draw to this type of narrative in the past where a dying woman finds love, comes to peace with her life and relationships and lives her last moments to the fullest.
We've seen it in hackneyed Young Adult dramas such as The Fault in Our Stars, or Me and Earl and the Dying Girl, and earlier in films such as A Walk to Remember, and Sweet November.
There's a want from audiences to see that lust for life that and declarations of love that come when time is running out. Life Sentence takes us past the fantasy of those films, of which they reference often. This isn't, Stella says, the movie she thought her life would turn out to be.
I used to have all of the answers but now I know nothing at all.

Stella
Stella (Lucy Hale) is full of life, compassion and optimism in the face of a cruel diagnosis that looks to take her life at the time in her life where bonds are formed, dreams are realized, and love is found (in an ideal life).
She's an easy character to root for and anchors the revolving proceedings excellently, drawing focus whenever a new development crash lands into her life. It's a strong pivot for Hale from her Pretty Little Liars role, embracing a sweet enthusiasm that gives credence to her ignorance regarding her family. 
Related: Riverdale Season 2 Episode 14 Review: Chapter Twenty-Seven: The Hills Have Eyes
Luckily for us, it isn't only Stella who comes out of the hour as a fully rounded character. Despite having to be told certain character traits rather than being shown them, her family already exists in that perfect, digestible level of dysfunction.
Her parents, played by Dylan Walsh and Gillian Vigman, are weakest in terms of first impressions but their threads are intriguing, with the former dealing with potential financial chaos and the latter, her relatively new discovery of her bisexuality. 
For the first time in my life my dad needed my help more than I needed his.

Stella
It's a nice reminder, by the way, that The CW excels in bisexual visibility and representation. 
Her siblings are instantly more relatable even though they're walking in the footsteps of some pretty domineering archetypes. She, Elizabeth, is high strung and unhappy in her family life while he is an aimless floater, content with living his life behind the safe walls of arrested development. 
Despite the cliches, however, Brooke Lyons and Jayson Blair are instantly appealing, and Blair lands some of the funniest lines of the episode. It's hard not to be charmed by him, regardless of his man-child attitude.
You beat certain death, I'm sure you can figure out how to beat uncertain life.

Aiden
Similarly, Elliot Knight does as much as he can with Wes, Stella's well-tempered husband who has been used to doing whatever Stella wanted in their marriage because why wouldn't he want his dying wife to be happy and comfortable?
It's a fun dynamic to see the two explore new waters with one another and by doing so creates an adult and cemented relationship to center the series -- as long as they don't do that silly thing so many shows do where they believe a happy leading couple makes for a boring show. 
Related: iZombie Season 4 Episode 2 Review: Blue Bloody
Despite the light humor and generally appealing aesthetic, there's simply not much to Life Sentence to hold onto, especially when we realize just how much story they intend to tell.
Where exactly, does the show go from here? The story, like so many of the CW series, is being sped through and while it can make for something ambitious and exciting, it can also make for a cluttered one that loses steam quick. 
Life Sentence feels like a show of old, a simple mix of The OC and Parenthood with life lessons to be learned and family to fight for. It's just hard not to be uncertain on how a series with such a flimsy premise can sustain itself farther than what they can give us in a neatly packaged pilot episode.
It's fun, but is fun enough? 
Will you be watching next week? Or is one episode enough? 
Allyson Johnson was a staff writer for TV Fanatic. She retired in May 2018. Follow her on Twitter.