NCIS Season 15 Episode 16 Review: Handle With Care

Kathleen Wiedel at . Updated at .
After the conclusion of the Switch Hitter arc, NCIS Season 15 Episode 16 returns to the Case of the Week staple of the series with a take-it-or-leave-it investigation and a much more moving subplot.
Oh, and Torres' tax problems. (It's tax season, remember? Remember?!)
Drew Carey guest starred as retired Sgt. John Ross, who suffered greatly as a prisoner in Iran for five years. But, as his story demonstrated, the pain didn't end with his release.
He came home emotionally traumatized by his experience, only to discover that the love of his life had married another man and that his young daughter had a man she called Dad who wasn't him.
One can't help but be moved by the story. Ross' girlfriend wasn't wrong to move on with her life, and he clearly didn't blame her for it. And there's nothing to suggest her new husband was anything but a good and loving spouse and father.
Related: Get CBS All Access via Amazon Channels for Hit Shows, Exclusive Originals & Live TV!
But Ross, in his damaged state, figured that everyone he loved was better off without him. How ironic that a stranger framing him for murder actually united him with his daughter in a roundabout way.
Cary gave a wonderful performance: at different turns kind, furious, hopeless, and nervous, and all within the span of a single episode. How often can a guest performer boast as much?
That, of course, in turn, informed Jack Sloane's character and backstory.
Sloane: This is *not* about getting hooked up to a car battery! These are not emotions I can just get over! This is not a problem that can be solved! [beat] I should've saved them.
Vance: You didn't kill them.
Sloane [voice breaking]: But I let them die.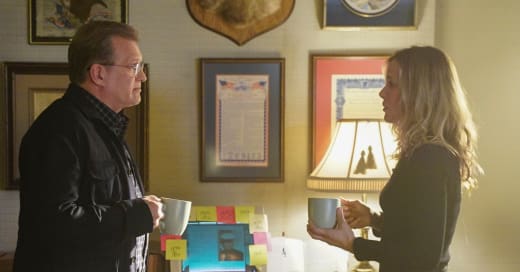 We finally got to learn a bit more about her, specifically her horrifying experience being held captive for months in Afghanistan. Despite her outburst at Vance, Sloane seems remarkably put together.
And yet, the final moments of the episode, with her barely able to look at the patches stowed in the glove box, showed that she's still greatly affected and suffering.
This was probably the most revealing episode about Sloane we've had since the character first appeared. While there's something to be said about mystery, this probably doesn't need to be one of them.
What's slightly frustrating about this particular situation is that the audience is left in the dark, unlike the characters (at least Vance, if not Gibbs), who are well aware of all the circumstances of what happened with Sloane.
But I'm very grateful to see her layers being peeled away, even as slowly as it is. While Sloane hasn't been my favorite addition to the cast, I'm glad that they continue to develop her backstory.
Related: Ch-ch-changes: How to Handle Evolving Casts Without Killing the Show
By the way, did you know it's tax season?
Anyway, the case of the week, as mentioned in the intro, didn't exactly stand out either positively or negatively. Since it was fairly obvious that neither John Ross nor Mr. Shock Jock sent the poisoned cookies, there weren't very many options.
That left the victim's brother, the victim's wife, and the victim's uncle – the latter of whom (correctly!) pointed the finger at the wife. Tony DiNozzo would be proud.
I didn't quite predict that the brother and the wife would be in it together, but still.
It does make for a sad state of affairs when the wife is so eager to get out of her marriage that she opts for murder instead of, you know, divorce.
A few final thoughts before I turn the discussion over to you:
Ominous thought: It's a good thing that PO Sweeney didn't share his care package cookies with anyone.
Acute cyanide poisoning generally displays symptoms (such as death) within seconds to minutes of exposure, one of the reasons it has a reputation as a suicide pill.
Fun fact: the ability to smell potassium cyanide (that notorious "bitter almonds" scent) is actually genetic and hereditary. No wonder the cookies were made with almonds!
Stop by our NCIS quotes page for some of the best lines from this episode.
Oh, did I mention that it was tax season? (Yeah, it got old the fifteenth time or so they mentioned it.)
On a more serious note, though, don't mess with the IRS. And keep your tax information for at least seven years in case of an audit.
Note to Nick Torres: Usually, you can press "0" to get connected to a live person.
Don't forget that you can watch NCIS online while you wait for the latest installment! NCIS Season 15 Episode 17, "One Man's Trash," will feature Mike Wolfe from American Pickers.
That episode is slated to air on Tuesday, March 13, 2018, at 8/7c on CBS. Until then, my friends, I'll see you in the comments section below!
What did you think of "Handle With Care"? Did John Ross' story move you? Were you surprised that the postal worker was his daughter? What're your thoughts on Jack Sloane!
Join in the conversation and let us know!