The Magicians Season 3 Episode 9 Review: All That Josh

Abbey White at .
The Brakebills crew runs into an old friend and proves that no one gets left behind on The Magicians Season 3 Episode 9. 
Before we dive into any other part of this week's episode, I have to give this show props for acknowledging some narrative shortcomings. In fact, I want to applaud The Magicians willingness to do this so consistently, as it has become easily one of my top three favorite things about the show.
Plot holes shouldn't happen, but when you're dealing with big worlds and big casts, they do. As viewers we mostly expect the show to address them and understandably get disappointed when they don't. Don't start a plot you can't finish is a big rule for me.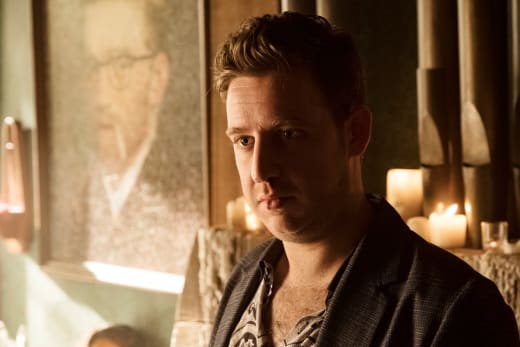 But The Magicians has offered another way to deal with plot holes beyond quietly taking audience ire when you don't: build them into your plot. Almost the entirety of "All That Josh" is about acknowledging a character's long, long absence.
They don't just drop a cute quip about how characters missed him or even just leave Josh bitter. Either Josh's absence – and the main cast's lack of acknowledgment – forces everyone to prove how much they've grown together as a group. Quite frankly, it's genius.
I'm a big advocate of giving character's their emotional due, and this episode really let Josh not only have "his" moment, but have the space to be emotional about the show and thus his friends forgetting him. However, not only do we see Josh calling out his friends, we get backstory about it.
Related: The Magicians Season 3 Episode 8 Review: Six Short Stories About Magic
Josh's abandonment is built into his character arc by way of a reveal, specifically, that his brother replaced him with a girl for David Bowie's last U.S. performance.
It's a triple development whammy where a plot hole becomes a plot driver for a quest, personal, and interpersonal character development.
The demon's literal playground was also just plainly one of the most fun "pocket universes" we've seen in the show. There was singing, there was dancing, there was strip teasing, and a mind meld where all of the characters got to be temporarily within one another's heads.
This sets off the big finale twist, where the Brakebills kids from literally across time and space lean on each other to save a handful of them. I'm an absolute sucker for team bonding moments, and this one felt overdue.
Since season one the show has played with all of the characters' cliqueness and trust issues. It's expected us to expect them to eventually turn on one another.
This quest forced them and us to see that you don't have to be the closest people in the world to care about each other.
Friendship isn't always defined by how much you know about it one another, but by who shows up (even begrudgingly) when you're in need. For someone like me who has been desperate for this show to give me "teamwork" feels, "All That Josh" hit the entire spot.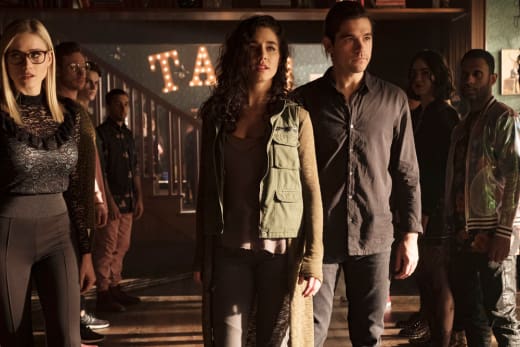 Back in Fillory, Eliot and Margo were putting their heads together after realizing that one of their second-hand men was not actually on their side. It was a great plot twist that set up a few laughs and also a new set of challenges for Fillory's royalty.
It also saw the tree boat pay Margo back, which was such a sweet, touching moment. I know the boat isn't a person, but women having each other's backs is magnificent.
To be honest, I'm not entirely sure how the show is going to juggle these two dealing with both the fairies and the "assumed" ruler of Fillory. I imagine it would have to be at the same time to wrap the plot line by season's end.
Related: The Magicians Season 3 Episode 7 Review: Poached Eggs
I do know it will be interesting to watch though, particularly in the context of the conversation Margo, Eliot and Tick had about "humans" continually being ignorant of the magical world they rule.
I recognize and respect how much Margo wants to succeed. I also think that Fillory is a bit much for her and Eliot to handle. Fixing their mess and walking away might not be the end of the world.
Finally, back at Brakebills, Fen and Julia attempt to help Sky realize her power. The continued deconstruction of whether it's ever okay to harm those who have harmed you – even within degrees of separation – ended up offering some great development for Fen.
It was nice to see her work out Sky's place in her world and more importantly in relation to Fen's losses. Fen transcended the sort of soft, child-like minded persona she's had much of the time.
Here, alongside Julia, she looked strong like a ruler, and someone who wouldn't return to Fillory or Eliot the same way.
Related: The Magicians Season 3 Episode 6 Review: Do You Like Teeth?
Watching Julia help Sky with the powers she so begrudged felt meaningful. It also further reinforced that power is in the hands of the beholder, and we can choose to help or hurt with it.
Julia helping Sky discover her powers in the way her own blossomed (secretly in the shadows) was also a great full circle moment as well.
In the process, Julia also managed to unlock more of her powers, which makes me think Julia's growing strength as a "god" might become pivotal when the time comes to bring magic back. The key count and Julia's powers can't be growing in tandem just for the fun of it.
In all the episode was one of the most lighthearted, positive and joyous The Magicians has ever offered – from Josh's return to the "nice(r)" demon to the perfect Bowie number.
That musical final is one of the best scenes this show has ever produced, and that is saying a lot in a season that been pretty outstanding.
I do fear that it's a sign things are about to take a sour turn, but for now, I'm going to enjoy the heck out of this little musically driven gift.
If you have thoughts about The Magicians' latest episode, "All That Josh," comment below! And if you haven't caught up, you can watch The Magicians online. 
Abbey White is a staff writer for TV Fanatic. Follow her on Twitter.