Black Lightning Season 1 Episode 13 Review: Shadow of Death: The Book of War
Paul Dailly at .
The Pierce family is made up of the heroes Freeland needs. 
That much became abundantly clear on Black Lightning Season 1 Episode 13, and the hour served as a compelling conclusion to Black Lightning Season 1. 
Jennifer embracing her powers was everything I wanted and then some. It was always going to come down to her harnessing them when the family was in dire need. 
Alas, saving Jefferson's life on Black Lightning Season 1 Episode 12 was no fluke, and she continued to do so on "The Book of War."
It was fitting that the powers kicked in once again during a life or death situation, and thankfully, the teenager knows how to control them now. 
The only major flaw with the scene was that it left time for Jennifer to swoop in and save the day again, and using her powers as a plot device will quickly cheapen the effect of them. 
If you watch Black Lightning online, you know that Jennifer has struggled the most because she had aspirations of leading a normal teenage life, and they were stolen from her. But she really came into her own in spite of that. 
Related: Black Lightning Season 1 Episode 12 Review: The Book of Pain
Jefferson needed to find a way to save both his family and Freeland, and that's why he was adamant about going to battle with the ASA while he had no powers. 
It was an emotional scene for sure, and one that brought a tear to my eye because it seemed more like a farewell. 
A part of me kept thinking that Lynn was not going to make it out of the finale alive, so I am very happy she got to join in on the fighting and got to live. 
Superhero shows are notorious for taking out the parental figures, and given that Jefferson is not going to die for more than a few scenes, Lynn would be the likely candidate.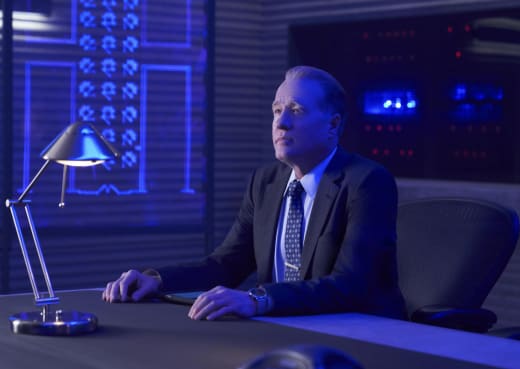 That said, if Lynn were to die, I would probably quit watching the show. Christine Adams is an asset to the show, and I don't like the odds of the family functioning without Lynn. 
The scenes with Jefferson out of it and thinking about his father were beautifully shot and offered insight that was previously lacking into what really happened all those years ago. 
What I liked the most were the similarities between the father and son. You can tell that Alvin's traits had clearly rubbed off on Jefferson. 
Related: Enjoy UNLIMITED access to thousands of Movies and TV shows with Amazon Prime Video. WATCH ANYWHERE. CANCEL ANYTIME!
It was moving to see his father sending him back to the land of the living to do what he had to do. The acting from Cress Williams during that scene was nothing short of phenomenal. 
It was nice to see the family (including Gambi) orchestrate a near-flawless attack on the ASA agents. The odds were against them, but they all worked very well together. I could get on board with Lynn waving a gun about more often. 
However, Martin's comments were a little too on the nose for me to take seriously, and he came across as one of television's most one-dimensional villains in recent memory.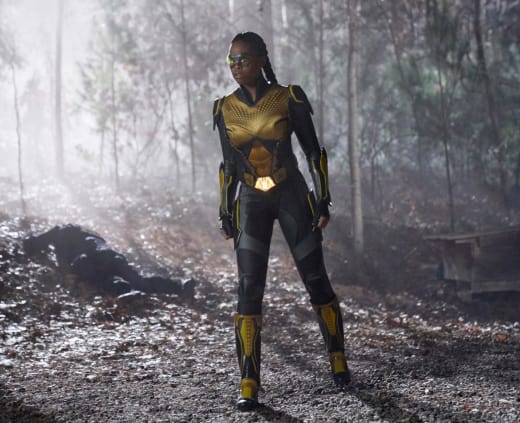 His motives for infecting all of the children were murky, and we never got much of an explanation for what his long-term plan was. 
Also, Kara disappeared off the face of the earth, and it was bizarre not to have her included in the finale. I guess Kara's storyline will heat up during Black Lightning Season 2. 
Tobias living to fight another day was music to my ears. He's one of those villains that gets more ridiculous by the episode. 
He talks a big game, and he knows how to get his point across ... whether that means using violence or finding creative ways to destroy his enemies. 
Related: The CW Renewals: The Flash, Riverdale, Dynasty & 7 More!
In fact, his sidekicks, Syonide and Khalil are equally as engaging. Tobias asserts his power over his sidekicks by picking them up from the gutter and nurturing them. 
He's a different kind of villain and knows how to have all of his bases covered. There's no telling what he'll do now that he's in possession of the briefcase. 
He holds the key to creating as many metahumans as he wants, but that will create a whole lot of conflict between the people of Freeland. 
Henderson has been a recurring character throughout Black Lightning Season 1, but I hope Damon Gupton gets promoted in Season 2. 
Henderson is one of the good cops, and publicly thanking the metahumans who saved the city proved that. 
Freeland may be a corrupt town, but having even a handful of good people in powerful positions could help keep the streets clean and the fighting at bay. 
What did you think of the hour? Did it live up to the hype? Were you happy with the way the family rallied to save one another?
Hit the comments below. 
Black Lightning returns during the 2018-2019 season!
Paul Dailly is the Associate Editor for TV Fanatic. Follow him on Twitter.