Days of Our Lives Round Table: For Which Salem Romance Are You Rooting?

Christine Orlando at . Updated at .
The jury came to a verdict in Andre's murder case, Dr. Laura revealed herself to Marlena, and Lani's pregnancy was in jeopardy on this week's Days of Our Lives.
Our TV Fanatics Jack Ori and Christine Orlando are joined by Fluffysmom from MyHourglass a Days of Our Lives fan forum to debate what the verdict will be, the chances of Lani miscarrying, Marlena letting Abigail leave the office, and their favorite romantic couple in Salem.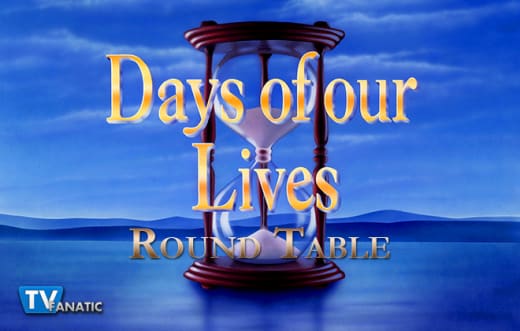 Do you hope Gabi will be found guilty or innocent? Which do you think it will be?
Fluffysmom: I hope Gabi will be found innocent. I'm sure she's going to be found guilty after Abby's testimony. It's so sad seeing Gabi knowing she's going to be convicted even though she's innocent.
Jack: I hope Gabi is found innocent, since there's zero evidence against her, but I suspect she will be found guilty. She should sue Justin for providing inadequate counsel.
Christine: I hope she's found innocent so she can go back home to her little girl, but I'm expecting her to be found guilty. Justin put on almost no defense at all. How could he not bring up Chad and Gabi's former romantic relationship as a reason for Abigail to hold a grudge?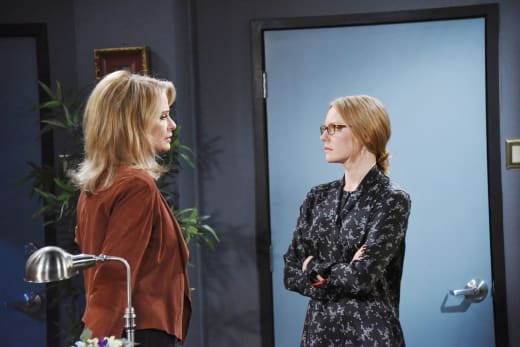 Marlena knows Abigail is suffering from DID. Should she have allowed her to leave the office?
Fluffysmom: Marlena probably shouldn't have let Abigail leave but short of locking her up in the psych ward I don't know what she could have done to stop her.
Jack: Absolutely not. She knew that Abigail might not be able to control her actions and could do God knows what, and would likely not come back to the office. What is wrong with Marlena?
Related: Get True Crime Files by ID via Prime Video Channels for Over 1,000 Real-life Mystery & Suspense Shows!
Christine: I couldn't believe she let her walk out the door knowing that her alters could take control at any time. If that's not the definition of "a danger to oneself or others" I'm not sure what is!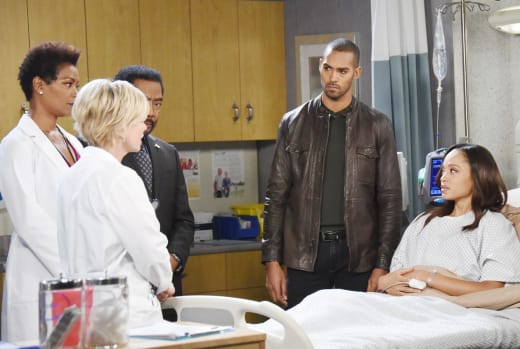 Will Lani miscarry the baby or will she and Eli have their child? Do you hope for one or the other?
Fluffysmom: I'm relieved that the truth is out. I can't stand Lani so I'm not excited about her having a baby. My fear is that if she loses the baby it will lead to a reunion between Lani and JJ. If having the baby ensures they stay apart then I hope she has the baby.
Jack: My only interest in Lani was having her lies unmasked and her removed permanently from JJ's orbit. Unfortunately the show thinks this liar, manipulator, and rapist is a hero and is determined to make her a front burner character, so now we're stuck with this baby story that I don't care about at all.
I just wish that whatever happens with the baby would happen off screen after Lani leaves in disgrace, but that doesn't appear to be in the cards.
Christine: I don't care at all about Lani. If we could ship her out of Salem to have this baby, I'd be perfectly happy. But as long as she stays away from JJ from here on out, I'll deal with what ever happens with the baby.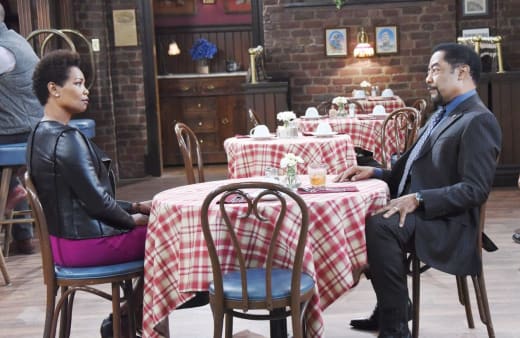 Was Abe's anger and then quick forgiveness of Valerie believable?
Fluffysmom: I think it was fairly believable. He lashed out at Valerie in anger when Lani pulled her victim act. He seems to have taken John's advice to heart. I liked Abe admitting that Valerie did the right thing.
Jack: It was a welcome change from all the other repeated conversations in Salem! I didn't like Abe's anger towards Valerie, which should have been aimed at his amoral daughter. But I'm glad that they actually talked and worked things out quickly.
Christine: I was more upset that he appeared to have no problem with his daughter lying for weeks about the baby to JJ and his family. Abe's anger towards Valerie was overblown, so I'm thrilled he got over it so quickly and we can all move on.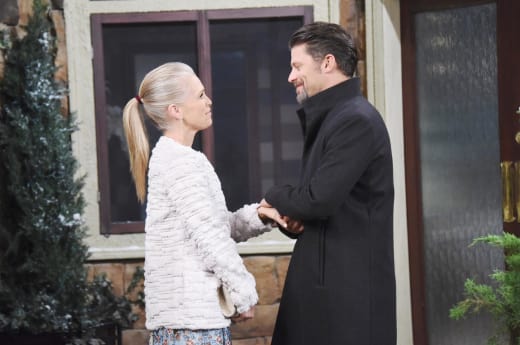 Is there a current romantic couple for which you are rooting?
Fluffysmom: I'm rooting for Jennifer and Eric but I'd like to see more romance between them. I really like Valerie so I'm rooting for her and Abe.
Jack: Steve and Kayla!!! After all these years they still have chemistry and true love, and seeing them support each other through Steve's health issues is the best part of the show these days.
Related: Get Hallmark Movies Now via Prime Video Channels for Stories with Heart, Captivating Movies & More!
Christine: Steve and Kayla are the most romantic couples on the show right now. I also enjoy the easy chemistry between Will and Paul and would like to see that relationship grow over time.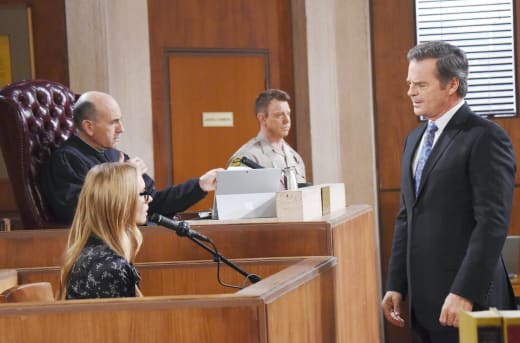 What, if anything, disappointed you this week in Salem?
Fluffysmom: Abigail's alters lying in court to convict Gabi.
Jack: Where to begin? There's nothing I can say that's acceptable to print about how I feel about Lani being written as this hero we're supposed to sympathize with or this awful DID storyline.
Justin and Adrienne were a flop that I couldn't get into, Paul and Will lay in bed talking about Sonny, and Adrienne needs a hobby because she's too interested in other people's sex lives.
Marlena was an incompetent therapist and Jen and Eric were written ridiculously. Not a stellar week in my opinion.
Christine: Lani talking as though her baby's worth was completely tied to keeping JJ was disturbing. Abigail and her alters have become boring on all levels. I just don't care what happens as long as we see less of all of them on screen.
What was your favorite quote, scene or storyline on this week's Days of Our Lives?
Fluffysmom: Steve's scenes were the highlight of the week for me. I also liked JJ and Eli's conversation about the baby.
Jack: I loved Steve talking to Tripp. I found Steve's attitude towards his blindness inspiring and I have been saying this Days of Our Lives quote to myself to help me get through some challenges in my own life this week:
Sometimes you choose the challenge. Sometimes the challenge chooses you.

Steve
I also enjoyed JJ and Chad bonding. It's about time these two supported each other instead of Chad being a Dimera getting in the way!
Christine: I loved JJ still thinking about what was best for the baby, despite it not being his. And I agree that he and Chad bonding was long overdue. But Steve was the highlight of the week. I loved every scene he had this week, and his conversation with Tripp was really touching. 
Now it's your turn TV Fanatics! Which romantic couple are you rooting for in Salem?
Want to chat more about the happenings in Salem? Check out Jack Ori's Days of Our Lives review here at TV Fanatic.
C. Orlando is a TV Fanatic Staff Writer. Follow her on Twitter.