Lethal Weapon Season 2 Episode 20 Review: Jesse's Girl

Lisa Babick at .
It was hard to watch Lethal Weapon Season 2 Episode 20 without thinking about the controversy surrounding Clayne Crawford and his alleged onset behavior.
One of my biggest gripes about the show over the last several episodes has been the lack of connection between Riggs and Murtaugh. The bromance that made us all fall in love with this show has been off kilter like the entire show has been lately.
If the stories are true, then it makes complete sense why this is so, and that's a disappointment.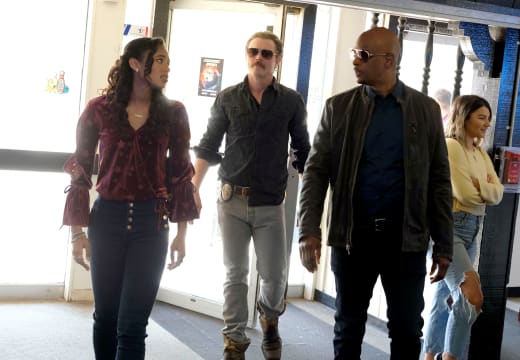 I'm not going to pass judgment on Crawford because all the facts have yet to be laid out, but what a mess. And what a disservice to fans who have supported the show since the beginning.
"Jesse's Girl" seemed to emulate the mess behind the scenes. There was no Riggs and Roger connection. Trish and Roger were way off base with Riana. Riana herself was out of character.
And those awful flashbacks returned. Oh, and let's not forget about the ridiculousness of Riggs arresting Ben's baseball coach. 
Related: Lethal Weapon: Fox Set to Cancel Series Due to Clayne Crawford's Behavior?!
It's been a while since my son played baseball, but when he started, he didn't know how to play. That's the point of putting a kid in Little League -- they learn how to play the game.
Maybe it's different in California, but here in Chicago where I live, all kids get an opportunity to play whether they're a good player or a bad player. It's one of the reasons that Little League baseball is so great -- everybody gets a chance.
A coach isn't just going to let a kid sit on a bench. He's going to talk to the parents if there's an issue. Little League is like a family, anyway -- dysfunctional at times, yes -- but there's a lot of communication that happens between parents and coaches and kids.
I know this is only a TV show, but if you're going to portray something, try to be realistic about it.
Riggs threatening a baseball coach and then arresting him was completely out of line. In real life, Riggs would have been relieved of his duties eons ago for his out-of-control behavior. 
But what bothers me the most is why Riggs wouldn't have just gone and talked to the coach about Ben instead of threatening him. Don't tell me it's a Riggs thing because Riggs' behavior has calmed down significantly.
His behavior now is inconsistent, and the only reason we even had to endure the coach scene was so that there was something to tie in another one of Riggs' awful childhood flashbacks.
Related: Get Cinemax via Prime Video Channels for Hit Movies & Series that Keep You on the Edge of Your Seat!
I'm still stuck on Riggs' dad almost being killed in prison. Has Riggs forgotten about his dad nearly getting killed for helping him? The show can't seem to make up its mind what it wants to do with Riggs dad. 
For the longest time, we were shown all the reasons we should hate Riggs' dad. Then, we were shown reasons why maybe we should give Riggs' dad and their relationship a chance. Now, we're back to abusive dad flashbacks. 
Do we need more proof that Riggs' dad is a bastard? Do we need more evidence as to why Molly and Riggs work so well together?
Enough with Riggs' childhood stuff already. It's becoming trite.
Riana's story wasn't much better. Roger is definitely overprotective of his kids because that's his nature, but Trish usually balances him out. 
I'm not saying that good kids like Riana won't do stupid things, but Riana hanging around someone like Phoebe is way off base. I also have a hard time with Riana lying to her parents about where she went. They've never given her a reason to have to lie because they've always been open as a family. 
Related: Lethal Weapon Season 2 Episode 19 Review: Leo Getz Hitched
And Riana stealing the car was out of character, too. Riana is a smart girl and taking a car without permission is stepping way over the line. It's not something she would do.
RJ would do it, but Riana? Not a chance.
Over to you.
What did you think of "Jesse's Girl"? Do you think Riana really would have stolen a car to hang out with someone like Phoebe?
Are you tired of Riggs' horrid flashbacks?
What's your opinion on the Clayne Crawford controversy?
Hit the comments and share your thoughts.
If you need to catch up, you can watch Lethal Weapon online right here via TV Fanatic!