Immigration is definitely a hot button issue right now, and everyone's got something to say. Well, NCIS Season 15 Episode 19 had something to say, too.
And Director Vance summed it up pretty well near the end of the the story: "It's complicated."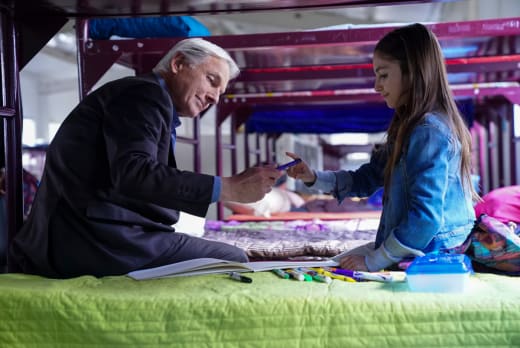 The A story involving precocious Elena from El Salvador dominated the episode, with only the briefest of detours into side stories.
From a purely critical standpoint, I found it the tiniest bit annoying that nearly every time children pop into the care of our noble protagonists on NCIS, they're these super-bright, super-sweet, cavity-inducing munchkins.
Sure, practically, making Elena able to speak perfect English made sense for the ease of an American audience. But by sheer coincidence, her dad was a carpenter, too.
And she appeared remarkably non-traumatized by her mother's horrible death, too, which just seemed strange. Maybe she was desensitized by living around all the violence in her native country.
This isn't a huge problem with the episode, as far as I'm concerned, and "The Numerical Limit" was definitely an improvement over the previous installment.
Related: NCIS Season 15 Episode 18 Review, "Death From Above"
One positive to come out of said episode was one of the aforementioned side stories. Rather than just staying a single-episode gag, the death of Major Mass Spec turned into Abby's mission.
Bishop's hope to put the blame for the unfortunate destruction of the expensive (and beloved) lab equipment on the intruders provided probably the best exchange of the night:
Bishop: I thought you said you were gonna--
Gibbs: Lie to Abby? [chuckles]
Bishop: Ha, no! But by 'no' I mean 'yeah.'
Bishop, you should just 'fess up now and save yourself a lot of grief. This was definitely not one of her wisest moves.
Unsurprisingly, "The Numerical Limit" was dominated by Gibbs and Elena.
Child actors can often come across stiff and unconvincing, but the girl who played Elena did a pretty good job for the most part. I wonder if a goodly percentage of viewers were hoping Gibbs might actually adopt Elena before the episode ended.
The reveal that the supposed La Vida Mala gang member who had been photographing Elena was actually her own father made for a rather convenient ending. Well, sort of.
It's complicated.
Elena and her father have no legal status in the United States, after all. Her father also used a fake ID to unlawfully enter a military base and steal RPG launchers.
And he trespassed in Gibbs' house, too. Twice!
On the other hand, he is a cooperating witness against a very dangerous gang leader. Surely what he did would earn him and his daughter a place in Witness Protection?
Maybe not so complicated after all? Ah, well. I like a happy ending.
Related: Enjoy UNLIMITED access to thousands of Movies and TV shows with Amazon Prime Video. WATCH ANYWHERE. CANCEL ANYTIME!;
Though one truly enormous What the Heck moment came when Gibbs and company made their dramatic arrest of the La Vida Mala boss, bringing their starring witness to the arrest!
At a place full of the very people who want to kill him!
Dramatic, sure. But not in any way a good idea.
Final assessment: a fairly strong episode that acknowledged complicated issues but avoided proffering expansive opinions or positions in favor of a more individual and personal story.
Here are a few assorted thoughts and musings before I turn the discussion over to you, my friends:
Gibbs mentioned briefly that they'd run into La Vida Mala before. That happened in NCIS Season 3 Episode 19, "Iced."
During the initial interrogation of the gang boss, he made fairly obvious death threats. Which, if I'm not mistaken, is an arrestable offense.
While I'm definitely no metallurgical expert, I wonder whether freezing weapons in dry ice wouldn't damage them. Extreme cold can make certain metals brittle.
File this under "Didn't Think This Through": Was Elena's dad planning to carry her off from Gibbs' house in the middle of the night? Then what?
Stop by our NCIS quotes page for some of the great lines from this episode!
While viewers enjoy a week's break, remember that you can watch NCIS online, and be sure to tune in on Tuesday, April 17, 2018 at 8/7c on CBS for NCIS Season 15 Episode 20, "Sight Unseen."
What did you think of "The Numerical Limit"? Did you appreciate the nuanced approach to the hot-button issue, or do you think they dodged anything controversial? What do you think will happen to Elena and her father?
Let us know in the comments section below and join in the conversation!
Related: Get CBS All Access via Amazon Channels for Hit Shows, Exclusive Originals & Live TV!