Little Paul is, for all intents and purposes, dead.
Or at least his family believes he is throughout the majority of Trust Season 1 Episode 6.
"John, Chapter 11" didn't do much plot-forwarding, but it did allow for some excellent performances.
We're just past the midpoint mark of the season, so it's not too surprising that the show has slowed down (momentarily) to take a look inward. And it was certainly worthwhile!
Picking up shortly after where Trust Season 1 Episode 5 left off, the discovery of a burned body led the public and the Getty family to believe that Paul was dead for the majority of the installment. In reality – as anyone who is remotely familiar with the real-life Getty family's history is well aware – that body was not Paul at all. It was Angelo.
Related: Get True Crime Files by ID via Prime Video Channels for Over 1,000 Real-life Mystery & Suspense Shows!
(RIP, Angelo. I'll miss seeing your beautiful face on my TV screen.)
Interestingly, the writers allowed the audience to go along with Gail and Getty and John Paul Jr. and everyone else in believing that the body may have been Paul. We didn't get a glimpse of him until fairly well on.
This allowed for viewers to grieve right along with them.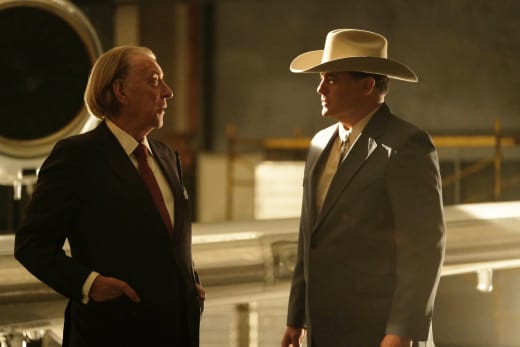 Jr., predictably, retreated into drug abuse. He's not exactly the most interesting or complex of the characters, but Michael Esper has done solid work with what he's been given. "John, Chapter 11" contained his most impressive performance to date.
We also got a further glimpse of his damaged backstory.
Jr. was traumatized by his former wife Talitha's death due to a drug overdose. When thinking Paul is also dead, he bemoaned the fact that he'd lost them both – his late wife and his son.
Related: Enjoy UNLIMITED access to thousands of Movies and TV shows with Amazon Prime Video. WATCH ANYWHERE. CANCEL ANYTIME!
It's an ... interesting choice, given that we've already seen how little Jr. cared about his son.
First, on Trust Season 1 Episode 1, we saw him rat out Paul's drug use to Getty, prompted by jealousy. Then, he immediately believed Paul was faking his kidnapping – which turned out to be true (at first), obviously, but still.
But the best performance of the hour, by a landslide, belonged to Hilary Swank as Gail, Paul's heartbroken and determined mom.
As the writers have represented the events, Gail was crushed when she thought Paul was dead, to the point where she wasn't willing to accept it was true. Her hunch turned out to be correct, as we saw during that brutal scene where she returned to the morgue to view the burned body once again.
One of the greatest moments was Gail's quiet musing on the nature of being a parent and having favorites when she confessed to Chace that Paul had been her favorite child of the four she had with Jr.
Never have favorites. That's the number one rule of parenting. But he was our first. And he looked like such an angel. All that curly red hair. I tried not to... I was extra strict with him, to make sure he wasn't. But all he had to do was smile. How could he not be favorite? No. The number one rule of parenting is to keep your child alive.

Gail
It was a stunningly beautiful monologue. The flashback sequences to Paul's younger days with Gail were also seamlessly interwoven with the present timeline, reiterating Gail's clear guilt over not having protected her son from Lang.
Getty also had a surprisingly tender – for him, anyway – reaction to the news of Paul's "death."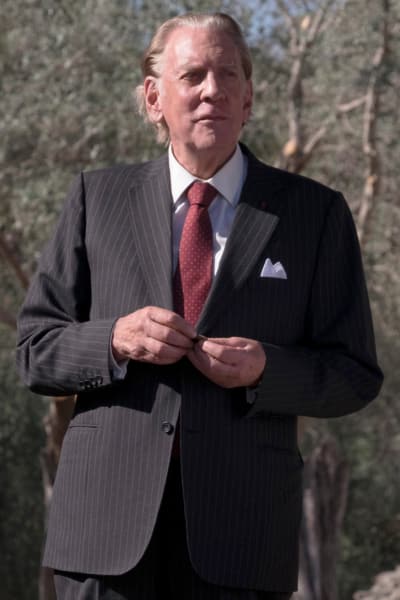 In a moving exchange with his secretary, Getty allowed himself to get emotional about his grandson's apparent demise. He finally voiced, aloud, what was made clear to every viewer who tuned in to the premiere: Getty and Paul had bonded, and Getty saw a bit of himself in his young namesake.
He had a way with him — young Paul. Fearless. That was me when I was his age. Fearless. [crying] He made me laugh. No one does that.

Getty
Donald Sutherland deserves all the awards for his performance in this series. It's perfectly calibrated and nuanced.
In addition to that emotional moment, Getty also carried one of the hour's most memorable scenes: his ransom negotiation with Don Salvatore.
Related: Get Showtime via Prime Video Channels for Award-Winning Original Series, Hit Movies, Sports & More!
Getty stared the don right down, unblinkingly, as he negotiated the amount he'd be willing to part with for his grandson's life. And despite his emotional breakthrough earlier, Getty was still Getty, in the end, and wasn't willing to part with much – or anything at all.
"John, Chapter 11" ended with a tense moment, following what appeared to be the resolution of the kidnapping and ransom negotiation. Salvatore and Getty agreed on an amount – $5 million. But when Chace asked about gathering the funds, Getty stopped him in his tracks.
Fletcher: Should I get those funds together for you now, sir?
Getty: Hm?
Fletcher: The ransom?
Getty: Oh. Get hold of Paul. Right away.
Fletcher: Your son Paul, sir?
Getty: Who else would I be talking about? Yes. I did the difficult bit. All he has to do is pay.
Obviously, the idea that Getty expects his (broke, drug addicted) son to pay for Paul's ransom throws a whole new complication into the mix. But in the end, this "twist" wasn't surprising.
It's only the sixth of a 10 episode season, after all. There's plenty more story to tease out before it all comes to an end. It will, however, be interesting to see how Jr. and Gail react to this new complication.
Other Thoughts:
Donald Sutherland should win an Emmy just for that bit where he's dancing to "Puttin' On The Ritz." Go ahead, start the campaign!
Chace is and has been very much a side character thus far. But I'm still enjoying every second Brendan Fraser is on screen. I hope that this role is just the start of a thriving TV career comeback for him.

(And yes, for the record, I know that the last season of The Affair technically marked his big return, but this is a far more substantial role.)
The Bullimore-Gardener subplot continued to be great. We learned the butler's real name, and Jahangir was finally confronted with the reality of the gardener's sexual interest in him – courtesy of the tactless aunt's mattress comment.

Needless to say, he shut down completely and handled it poorly, leaving their "party" abruptly and awkwardly. Poor, deeply closeted Bullimore.
There was only the briefest glimpse of Paul himself, but the moment was an intriguing one. Leonardo accused Paul of having caused Angelo's death, indirectly, by convincing Angelo to help him get away. Obviously, this will have terrible implications for Paul's mental health and his eventual survivor's guilt.
My one, major criticism of "John, Chapter 11" was that there was a definitive lack of Primo. Sure, he was there, but he was very much a background character this time around.
What did you think of "John, Chapter 11"? Share your thoughts in the comments below, and don't forget that you can watch Trust online here at TV Fanatic anytime!
Caralynn Lippo is a staff writer for TV Fanatic. Follow her on Twitter.