"Hell's Gate" is definitely a step in the right direction, case-wise.
On Quantico Season 3 Episode 3, the case of the week ended up being entertaining and funny. It wasn't as dull as the previous two installments of this season, but it's far from the Quantico that we know and loved and sometimes hated.
Has this season and its change in direction impressed you yet, or are you still longing for the Quantico that was?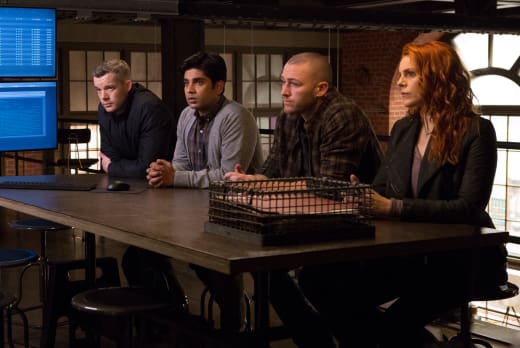 It was so nice to watch Owen get a case. It is such a small thing, but considering there are still questions about why they work the cases they do, it was great to see Owen be approached with a case.
The case selection process seems to be on a case by case basis. This time around they got the case because it was a high profile trial, and the US Marshals weren't getting the job done.
So we got an answer as to how the team got this case, but we didn't get much of a glimpse as to how they get the rest of their cases. Whatever, it's something, and I'll take it!
Related: Quantico Season 3 Episode 2 Review
Of course, this introduction also served the purpose of introducing us to the US Marshal who would end up being the mole, which was not at all surprising. Did anyone else see this twist coming from a mile away? 
Thankfully, Quantico made up for it by giving us the twists that Charlie was the boyfriend of the Culebra's sister and that he was going to kill Culebra. Those were some pretty good twists.
Speaking of Charlie, he was entertaining. He provided a good bit of comic relief during the hour, and his scenes with Alex were great.
Alex: So you're a horologist?
Mike: A horologist?
Charlie Hill: It means clockmaker, not the study of your mother.
Shelby: Burn.
As Jocelyn said, he's still a legend, and Charlie demonstrated that by reading Alex and the situation with Shelby rather easily. What did you think of Charlie?
Quantico continues to do a great job with tackling the case through multiple angles.
Deep & Celine working the social media angle of the case provided some laughs. I don't know when Quantico was ever that funny. The fake profiles? AMAZING.
Ryan: What the hell have you two been doing?
Celine: Maybe we should have looped you guys in.
Owen: You think? Before forging shirtless pictures of us and posting them on a hook up site? Yeah, maybe.
Harry: I mean guys, come on. You know my pecs are better than that.
Deep: Look, guys, listen.
Owen: My alias is Lance Castle.
While we still don't know the two of them that well, it was nice to see them address the fact that they are very much rookies. Deep going on about how he's been shot at was all sorts of adorable.
They don't have any real field training, and they have so much to learn still. They're growing on me though. What are your thoughts on the rookies?
The two of them made a good team, and I wish we could have seen them come up with the idea to make fake profiles for the guys. I'll never be over it.
I'm an otter turned leather daddy. What does that even mean?

Ryan
Ryan managed to screw up the case by refusing to make out with the guy. Was it because he's a dude or a cartel member? Whatever Ryan's reasoning, he really should have just kissed the guy. 
Related: Renewal Scorecard 2018-2019: What's Coming Back?
Making out with the guy is a lot better than getting stabbed, right? 
Unfortunately, the fallout from Ryan attempting to kiss Alex was heavily featured. No one cares about y'all's drama!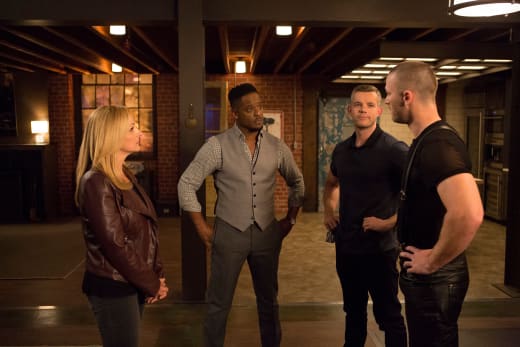 The fact that Ryan had the nerve to ask Alex to keep it from Shelby was astounding and yet wholly Ryan-like. That at least hinted Ryan and Shelby are together and not fake married for cover reasons.
Ryan would not be that upset about Shelby finding out if they were married for undercover/work reasons, so he must have some real feelings for her. We haven't seen them on display much, but they have to be there.
Honestly, it's the biggest moment we've gotten that proves they're a real couple. Yay?
Alex: I know I blew into town like a storm that no one wanted.
Shelby: A storm? You are at least a category three. But I was glad to have my friend back.
The only bright side was that the focus was more on Alex and Shelby's friendship. 
"Hell's Gate" reminded us that the two of them were close and were good friends. I didn't realize how much I missed the two of them being friends. Hopefully, we get to see more of it.
Alex didn't end up coming clean to Shelby, which is disappointing, but we must save that drama for later, I suppose. Harry foreshadowed as much when he stated that these kinds of things can infect a unit.
Related: Get Starz via Prime Video Channels for Captivating Original Series & Hit Movies!
Ryan didn't think about that because he's solely focused on himself. Who do you think should tell Shelby: Ryan or Alex? I think Alex should because I'm far more invested in her friendship with Shelby than any of Ryan's relationships.
What did you think of the episode? Share your thoughts and your theories in the comments below.
Remember you can watch Quantico online anytime via TV Fanatic.