Quantico Season 3 Episode 7 Review: Bullet Train

Allison Nichols at . Updated at .
Well, this was a mediocre episode.
It's difficult to connect to the case on Quantico Season 3 Episode 7. We go from Celine's death on Quantico Season 3 Episode 6, straight into a mission.
There was not even a briefing at the loft or anything to ease us into this new case. We're all of a sudden in the middle of an op, trying to figure out what's going on.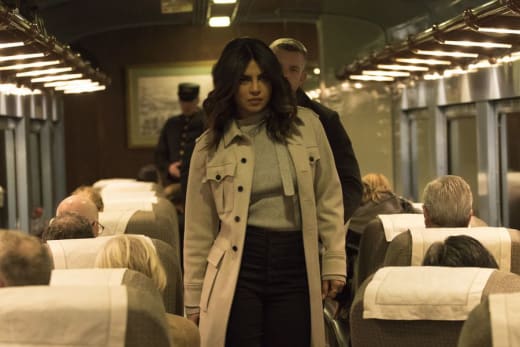 Trying to put the pieces together and understand what's going on isn't an exciting way to begin an op. It's confusing and frustrating.
You don't get all the pieces until the second half of the hour, and by that point, too much time has passed to care fully. Did anyone else have a problem with the way we were introduced to the op?
It's clear that this was done to highlight Deep's point at the end of the hour -- everyone moved on and acted as if Celine's death was not bothering them.
I don't want to lose my humanity. I don't want to have to put a knife in one of you to survive some day. I don't want to live in the shadows or with secrets or beyond the law. Don't any of you ever stop to wonder who you are anymore? Well I don't want to wonder who I am. I want to stay me.

Deep
The point is well made, and the way the op started out did strengthen Deep's case, but it didn't resonate. 
The issue is that Deep's the one who made this grand speech. We don't know enough about him. We don't care about him.
Related: Quantico Season 3 Episode 6 Review: The Heavens Fall
We aren't connected to Deep at all, which, if you recall, is one of the problems we had with Celine's death.
You can't try to make these new characters serve some grand purpose if you don't allow people to get attached to them first. They should've been prominent figures in the earlier episodes.
We should have cared about them, wanted them to succeed on the team, watched them forge new friendships with everyone else. Instead, Celine and Deep were maybe given two standout scenes a piece.
No amount of blame you put on her can match the blame she puts on herself.

Owen
Deep's speech would have made more sense if someone else had said it. Simon could have said this towards the end of Quantico Season 1, and it would have worked great.
The speech will definitely impact other characters moving forward, but it's sad that it wasn't all that it could be. What did you think of Deep resigning?
Deep grieving all throughout the hour was awkward and a bit annoying.
Related: Enjoy UNLIMTED access to thousands of Movies and TV shows with Amazon Prime Video. WATCH ANYWHERE. CANCEL ANYTIME!
Maybe it's because we know how these type of procedurals work. There's a job to do; no one wants to watch you mope, especially if you're going to be moody.
There's a way to portray grief well to where it hits viewers right in the gut. Quantico did not even come close to that during "Bullet Train."
You didn't really feel for Deep at all. I don't know about you, but I found myself wishing to be spending more time with everyone on the train every time we would cut back to the loft.
Us Brits are very good at hiding things, joy, sadness, impure thoughts. I mean I hid myself in the closet for 19 years.

Harry
Then, there's the case of the week.
It's not engaging. A lot of new people are thrown our way that we're supposed to care about and know.
Leslie is the only entertaining one. She and Alex have some good scenes together, but that doesn't mean that we're invested enough in Leslie for her to have her own little side storyline. 
Alex: Leslie, I told you to run.
Leslie: Leslie, thank you. You saved my pretty ass.
Her running off to see her mom was a dumb move, and Leslie isn't dumb. She proved as much with her number puzzles and with the few details we knew about her job.
But hey, this little side storyline showcased that Alex has something else she's super good at: numbers! It feels like it's been awhile since we saw Alex excel at absolutely everything.
Honestly, my first thought was that Leslie was a traitor and stealing the weapon for herself. Upon further reflection on Alex and Leslie's conversations during the hour, it doesn't make a lot of sense, but it would have been a whole lot more entertaining.
Okay, let's talk about the pregnancy chatter.
Ryan's slip up about how he wants a daughter was pretty cute. I know, I'm surprised too. They finally had a moment that highlighted the potential for shipability.
It's too soon to tell whether or not Alex getting pregnant will be a good or bad thing.
Thankfully, Andrea is the father. Now is no time to throw in a surprise baby daddy into the mix. What are your thoughts on this twist?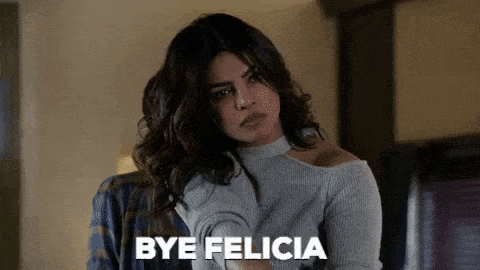 What did you think of the episode? Leave your thoughts in the comments below.
Remember you can watch Quantico online anytime via TV Fanatic.